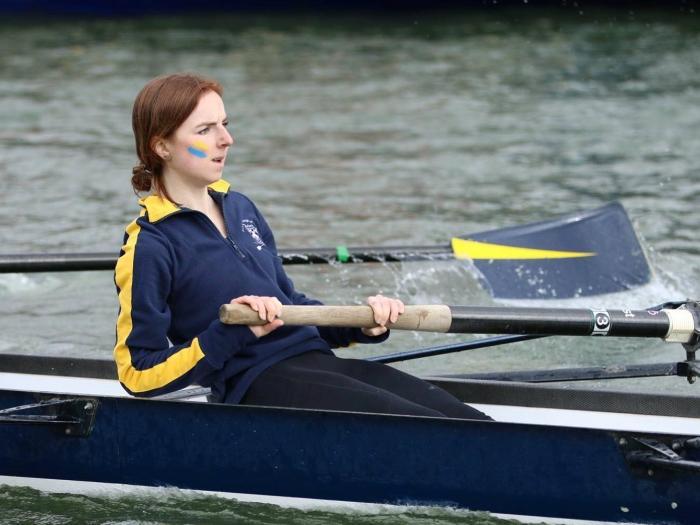 On 'summer eights' and 'bumps racing'
'This week [5th Week of Trinity term] is the culmination of the rowing year in Oxford. Everyone from novices who first picked up an oar in October, to rowers coming back from the Oxford boat that raced Cambridge will be down at the river racing at 'Summer Eights'.
'Bumps racing' is an adrenaline fuelled high octane style of racing, where 14 boats will line up one behind the other with a gap of 10m between boats. After a cannon is fired, they all set off and literally attempt to 'bump' one another - either through physical contact, or a concession by the boat ahead.
Crews that bump will stop racing and on the next day those crews change positions in the ladder. The aim of every boat is to climb up the ladder as high as possible and be top at the end of the week. Successful crews have to harness power, determination, teamwork, rhythm and timing to drive their boat forwards and hit the boat ahead.
Bumps was first raced in 1830. Positions on the river carry over from one year to another, so all crews are racing on the back of the results of the crews of their college from previous years. This means whether they're fast or slow, all crews have something at stake in every race.
LMH entered 4 boats in 2019. With a few substitutes and reserves, over 45 students are involved. Nearly every single rower in those boats learnt to row at LMH. The men's and women's 1st boats have been training hard all term and are racing to be considered one of the fastest colleges in Oxford. The men are boosted by the addition of Felix Drinkall, a two-time representative for Oxford in the Boat Race against Cambridge. They are currently one place behind their highest ranking of all time, and are looking to push on further up the rankings to beat that record.
The two remaining boats are the men's second and third boats - 'M2' and 'M3' respectively. M2 is a boat of relative newcomers, who are mainly rowers who have learnt to row this year. They carry the highest hopes for bumps, as they compete with other colleges' second and third boats.
M3 is a haphazard mix of men and women including former first boat rowers who couldn't train fully this term due to exams. They join some of the rowers who row socially. M3 are looking to enjoy being out on the river in the sun, without being too concerned about how the results play out.
So far this week, M2 have been bumping crews, M1 have stayed where they are - having been unable to catch the crew ahead, and W1 and M3 have sadly been bumped and are falling down in the rankings. With two more days of racing to come, hopes are high that M2 can carry on working their way up, while the other crews will rally and begin to also get some bumps.
Racing ends on Saturday 1 June with the coxes being thrown in the river (and a few rowers might also go for a swim), a barbecue and plenty of Pimms, followed by celebrations back at college. For many newcomers, the combination of team spirit and the excitement of bumps racing gets them hooked on the sport.'
Ollie Watson, Lady Margaret Hall Boat Club secretary and graduate