Cox and Stroke in the Dark Blue Boat
We are particularly excited about tomorrow's Oxford / Cambridge Boat Race, as we have two LMH students representing the University. Rowing at Stroke position is Felix Drinkall, Engineering Undergraduate, while Zachary Thomas Johnson, an LMH Graduate in Musicology, is sitting in the hot seat as the Cox of the Dark Blue Boat.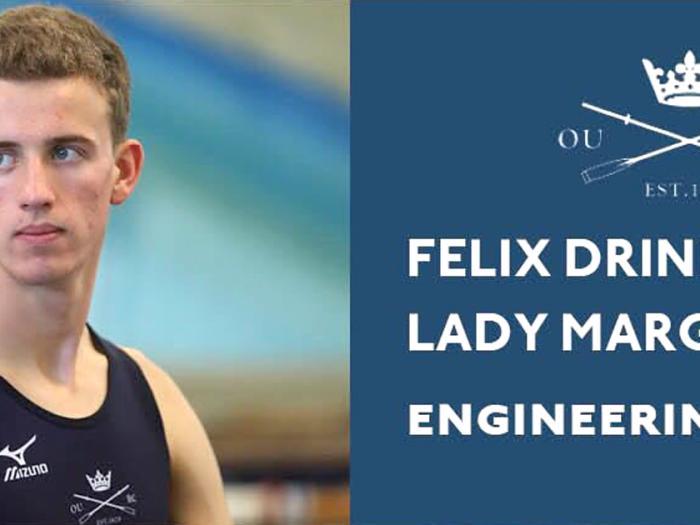 Felix Drinkall
Felix Drinkall, who will be at Stroke position in the Oxford Boat, already has a long track record of impressive rowing achievement in international competition. Last summer, he became World Junior Champion, and has more recently had success at Team GB trials. He hopes to represent Britain in future Olympics, but was also recently featured in the Oxford Mail, when he took time out of a rigorous training schedule to motivate and inspire local schoolchildren in aid of Sport Relief. 
Zachary Thomas Johnson
Blue Boat Cox, Zachary Thomas Johnson, has also been featured in the media. He is studying at LMH for a Master's Degree in Musicology, which he describes as 'essentially a history degree but focusing on music with a bit of philosophy and theory.'
He was originally a rower, and admits that many are less keen to cox, as it involves a lot of early mornings and getting very wet and cold. However, in a recent interview with BBC Sport, he likens the rhythmic nature of rowing to musical composition, and said that the role of the cox in the boat is remarkably similar to that of a conductor who stands before an orchestra. 
"You're analysing what you can see and hear. Blades going into the water - are they coming out at the same time? How high are they out of the water? All that crosses over with what you're feeling in an orchestra: Are people playing in tune? Are the violins loud enough? Is the flute playing softly enough? All of that stuff is quite transferable." 
Oxford go into the race as the favourites, but Thomas Johnson is keen to stress that the Dark Blues aren't taking anything for granted. You can catch coverage of both men's and women's races on Saturday 24th March, on BBC One, Connected TV and the BBC Sport website (15:50-18:15), or : BBC Radio 5 live (16:30-18:30).