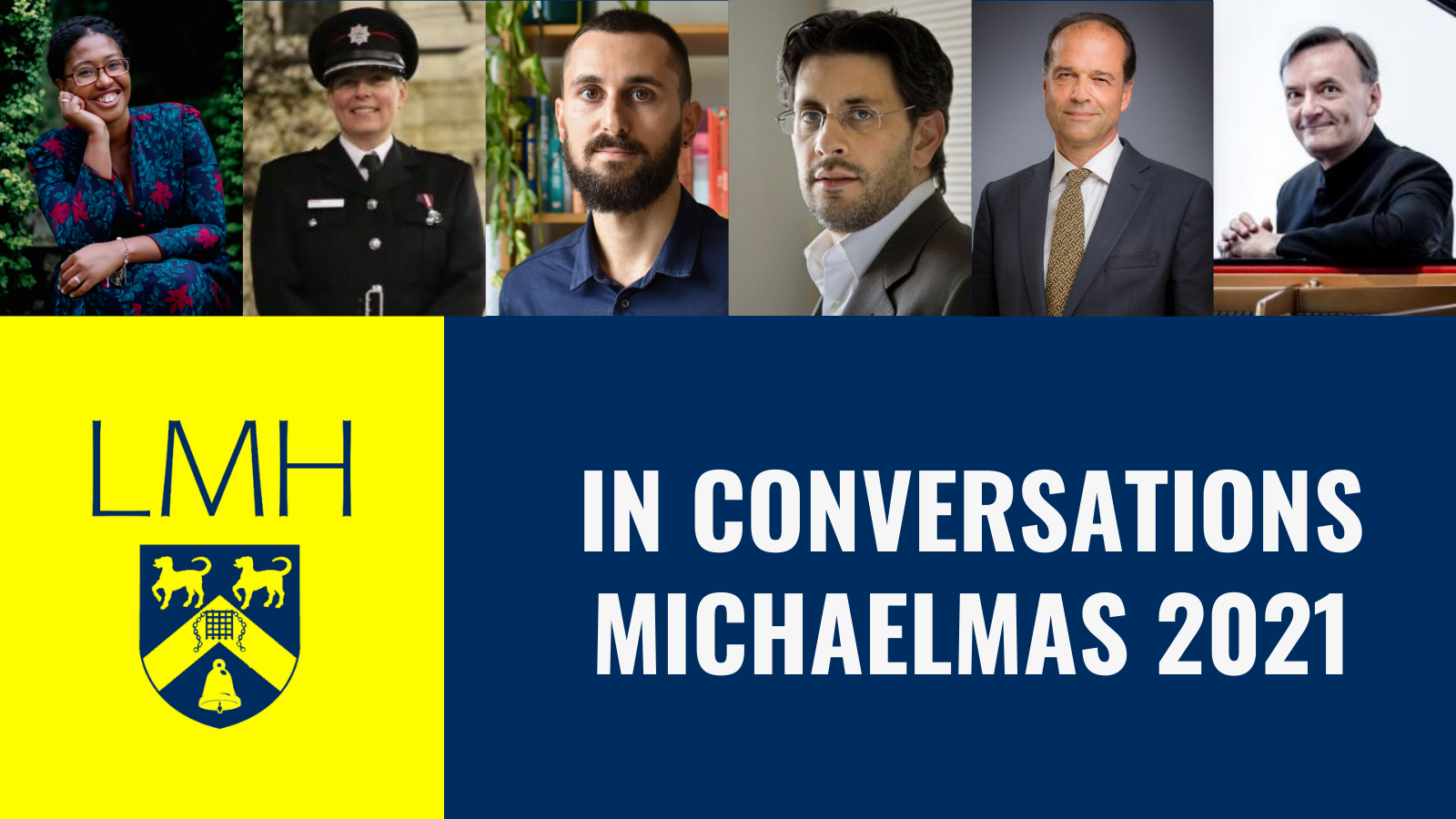 LMH has had several fantastic guest speakers visit us in Michaelmas term 2021 to take part in our In Conversation series. These events have been hybrid for the first time and we have had guests joining us in the Simpkins Lee Theatre as well as online.
Our first guest was LMH alumna Jasmine Richards (English Language and Literature, 1999) who was interviewed by our Principal Christine Gerrard and two LMH students, Aneela Shah and Amy Evans. She is is an author and founder of Storymix an inclusive fiction studio with a social purpose. Storymix creates children's stories with diverse casts of characters in an organic, joyful and authentic way. Jasmine discussed her time at LMH as a student before going on to discuss the importance of diversity in children's books and literature as a whole. She also gave some great tips to our student writers in the audience Q&A at the end.
Next we hosted our Visiting Fellow Keeley Foster, who is Deputy Assistant Commissioner at the London Fire Brigade. She is also Head of Cultural Change & Talent Management. She spoke about the importance of diversity within the fire service and the barriers which we need to overcome in order to achieve that. She discussed how you can make decisions in high pressure situations and also touched upon the response the Grenfell Tower fire in 2017. She was interviewed by our Principal alongside two LMH students, Amelia Tharme and Celine McCready.
Three days later LMH alumnus Alex Christofi (English Language and Literature, 2005) joined us for an In Conversation and was interviewed by the Principal and two LMH students, Ivan Harjehausen and Patrick Dybell. Alex is a prize winning author and Editorial Director at Transworld Publishers. He has also recently written a reconstructed memoir on Fyodor Dostoevsky, Dostoevsky in Love, which received fantastic reviews. He spoke about Dostoevsky and blurring the lines between autobiographical work and fiction. He also gave some fantastic advice for those looking to become a successful writer.
The following event was with TV executive Danny Cohen who is also an LMH alumnus (English Language and Literature, 1992). Danny is President of Access Entertainment and the former Director of BBC Television. He was interviewed by our Principal Christine Gerrard who was also one of his teachers when he was a student. They spoke about LMH and how he ended up going into the TV industry. They also touched on several influential programmes he has been involved in such as Big Brother. Many of our students were particularly keen to hear about Skins, a unique British TV series he commissioned in 2007 which is still very popular today.
Next we had an In Conversation with Sir George Hollingbery, a politician who has been appointed as Her Majesty's Ambassador to Cuba for 2022. George has been a Member of Parliament for Meon Valley, Minister of State for Trade Policy and Parliamentary Private Secretary to the Prime Minister. He has also founded and operated several businesses including a renewable design company called Rendesco. George spoke about the differences between politics and business, as well as what it takes to be a successful politician. He also touched upon his decision to become the Ambassador to Cuba, why the role appealed to him and what challenges the country faces.
The final In Conversation of the term was with Visiting Fellow Stephen Hough who was interviewed by our Emeritus Fellow Vincent Gillespie. Stephen is a classical pianist, composer and writer. Since taking first prize at the 1983 Naumburg Competition in New York, Stephen has performed with many of the world's major orchestras and has given recitals at the most prestigious concert halls. The discussion covered Stephen's musical development, the importance of live performances, and the link between music and other art forms such as poetry.
LMH would like to thank all our guest speakers, interviewers and support staff who made these events possible.
All these events are now available to watch on the LMH YouTube Channel.