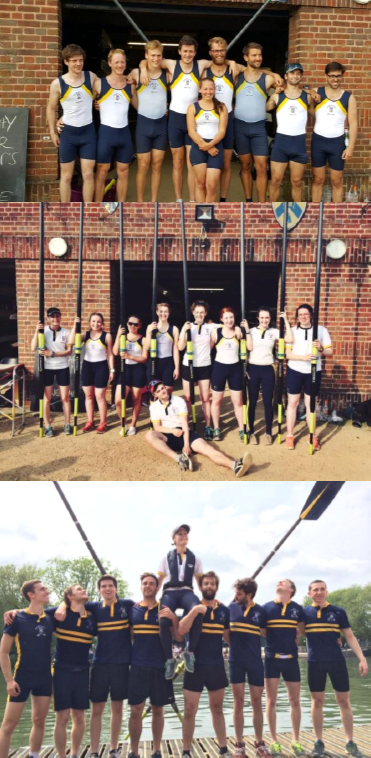 The LMH Boat Club enjoyed a fantastic run of success last week at Summer Eights. The annual four-day long regatta, in which college boats compete against each other to 'bump' the boat beginning the race in the position ahead of them, saw two of LMH's five boats win 'blades' in spectacular fashion.
In unprecedented success, each of the women's first boat and the men's second boat managed to climb five places on the river, by bumping not just every day but by reaching the top of the division in which they started and 'bumping' again into the division above. This now means that the men's second boat, which had to qualify for Summer Eights in 'rowing on', has a place in fixed divisions, and will automatically be able to take part Summer Eights next year. Congratulations to W1 and M2 for winning blades!
The men's first Eight also had an outstanding campaign, and achieved the highest Summer Eights ranking ever for an LMH men's crew. Their final race saw them outrun a Mansfield boat that came within inches of bumping them, leading to much celebration when they crossed the finish line.
This year was also the first in a while in which LMHBC managed to get all three of its lower boats through the qualifying round of Summer Eights. Both the women's second boat and the men's third boat gave it their best shot, and though they did not achieve any 'bumps', they also did not get 'spoons' (for crews who get bumped every day of Summer Eights).
LMHBC would like to thank everyone who came to support us during Summer Eights, and to our fellow students and alumni who celebrated with us afterwards. Our next event will be a sponsored 24-hour relay on rowing machines in 7th week, in order to fundraise for some crucial rowing machines on which to train. If you would like to know more about the Boat Club at LMH, or would like to join our alumni network, please contact Victoria Rees (victoria.rees@lmh.ox.ac.uk).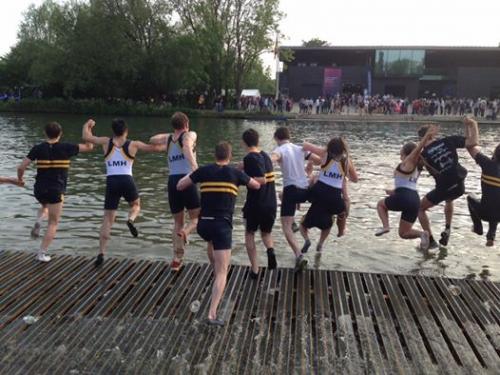 Women's first boat blade-winning bump on Day 4: 
Mens's first boat bumping Brasenose on Day 1: