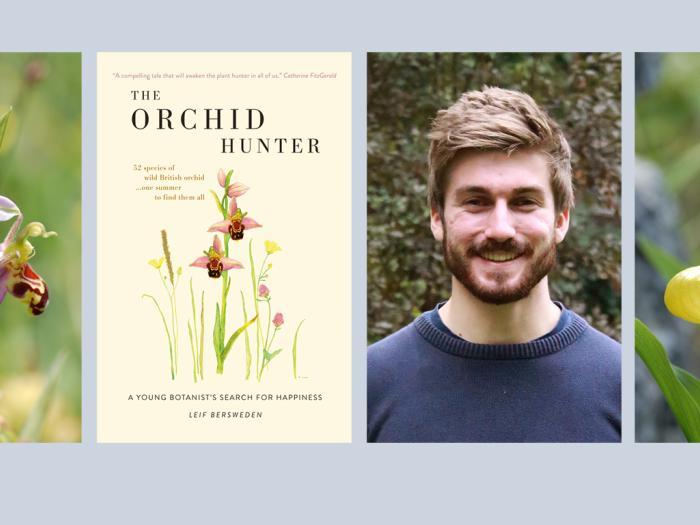 An Interview with Leif Bersweden (2013, Biological Sciences)
Leif Bersweden, recent LMH graduate in Biological Sciences, has just published a book about hunting rare wild orchids, a passion that helped get him a place at Oxford, and has now led him to write a botanical best-seller. We interviewed him to discover more about the project, his next move, and his reflections on his time at the College. 
How did your orchid study come about?
"I took a gap year between school and university, but opted against jetting off to South East Asia or working for charitable schemes in Africa. Instead, I decided to travel around Britain and Ireland to hunt down all 52 species of wild orchid. Having planned the trip, it seemed like a good thing to include in my personal statement for my Oxford application. It was a great way of showing the tutors my enthusiasm for Biology. I spent my three years at LMH focusing on my degree, then wrote most of the book between January and June 2017, having graduated the previous summer."
Where did the idea for the book come from?
"I had the idea for this project in 2010, though I didn't originally plan to write about it. It got the go-ahead after I was rejected by Oxford following my first application in 2012. I've always loved writing about nature, so decided I would try to write a book about my quest. While travelling, I kept detailed notebooks and a travel-log of my experiences – something that proved invaluable, in hindsight."
Now your book is published, how would you describe it?
"There is very little literature about the botanists who go plant hunting in Britain, so I wanted to bring together the stories of those who have been looking for orchids in the UK over the last 500 years, in the context of tracking my own journey around the wild landscapes of our country to see them all. As well as British plant-hunting history you can expect folklore, science and personal stories from my childhood, as well as anecdotes about the places I went and the people I met. It's aimed at the general public, so there's definitely no need for any kind of scientific background!"
Where are you going next in your career?
"I'm currently doing a PhD on the London NERC DTP (National Environment Research Council Doctorate Training Partnership). I'm based at Kew Gardens, where I'm working on orchid conservation genetics, looking at species integrity and gene flow in anthropomorphic Orchis species (orchids which have a human-like appearance). My research involves four orchids that look very different (Lady, Man, Monkey and Military varieties); when they grow together, they can't keep their hands off one another (literally, as each flower looks like a tiny human)! The result: hybrid offspring that are intermediate in appearance, looking half like one species, and half like another. I'm looking at their DNA to try and work out why these four orchids remain separate, discrete entities, rather than merging into one big, mixed-up, super-species. My PhD will finish in 2020, so there's a while to go yet, but I really want to make Botany more popular, because it's incredibly interesting and so important. Whether that's through academia, the media or authoring books, I'm not sure yet!"
Can you tell us a bit about your experience of LMH?
"It's difficult to put into words the impact my time at LMH had on me. I arrived with very few expectations about what Oxford would be like. I suppose I was slightly starstruck by the whole thing: I couldn't believe I was here. I remember arriving and thinking everyone was so normal. Perhaps I'd been anticipating characters befitting the private school stereotype I'd been told to expect."
It's just a year since you graduated from Oxford, and you're already in print. What advice would you give to new students who are just starting their Oxford experience?
"My three years at LMH were the most rewarding of my life so far; socially, personally and academically. I made friends for life, became more confident and developed my interests and knowledge base through our lectures and tutorials. University is an extremely formative time and LMH has had a huge positive influence on who I am today. For those just starting out at LMH, I'd say it's important to work hard, but at the end of the day your degree class isn't the most important thing. Take the time during your three years to make the most of everything College and the wider University have to offer. My LMH experience was so much the richer because of doing that."
The Orchid Hunter: A Young Botanist's Search for Happiness is published by Short Books Ltd, and came out earlier this month. You can read a Spectator review of the book here, see Leif's stunning orchid photography on Flickr, or follow him on Twitter @LeifBersweden.