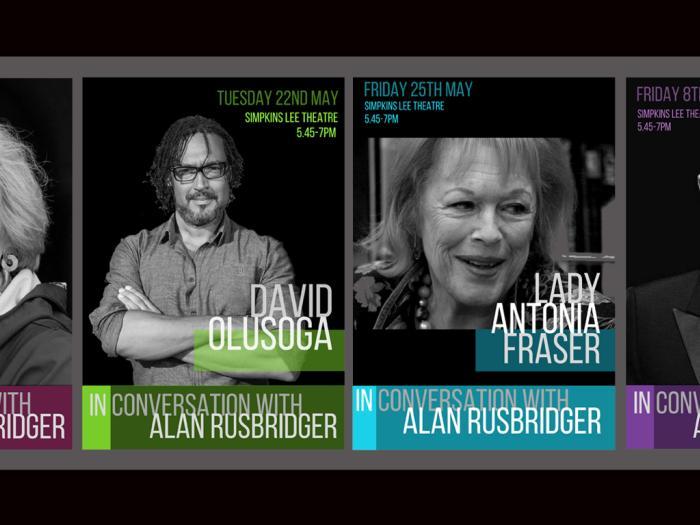 Our Guests for Trinity Term 2018
We have an exciting and diverse range of guests lined up this term for our popular LMH Conversation events with LMH Principal Alan Rusbridger. These events are open to the general public and are free of charge, but booking is essential. They commonly get fully booked, so secure your place now. You can read brief details on the speakers and find the booking links below:
Margaret MacMillan (7th May, 5.45-7pm)
Distinguished modern historian and former Warden of St Antony's College, Professor MacMillan recently became an Honorary Fellow of LMH. She is a Companion of the Order of Canada, and will be this summer's BBC Reith Lecturer. Her area of particular interest is the tangled history of war and society, our feelings towards conflict, and those who engage in it. Book your place via Eventbrite here. 
David Olusoga (22nd May, 5.45-7pm)
Historian, broadcaster and writer David Olusoga has worked for the BBC both behind the camera, and more recently as the presenter for a number of popular historical series, including Fighting for King and Empire: Britain's Caribbean Heroes, Britain's Forgotten Slave Owners and more recently, Civilisations, which examines art across over thirty different countries. Book your place via Eventbrite here. 
Lady Antonia Fraser (25th May, 5.45-7pm)
LMH Alumna Lady Fraser (History, 1950), whose mother also attended LMH, has had a prolific literary and academic career, spanning over 45 years. Her works include histories of the 16th - 19th centuries, historical fiction, novels, biography and memoir. Book your place via Eventbrite here. 
Neil Tennant (8th June, 5.45-7pm)
Composer, Singer and Writer, Neil Tennant is an LMH Visiting Fellow who is best known as one half of the electronic music duo, Pet Shop Boys, who have had four number one hits, sold 50 million records, written a musical and a ballet and toured the world several times. He is also a public advocate of contemporary art and has served as a judge for the Turner Prize. Book your place via Eventbrite here.