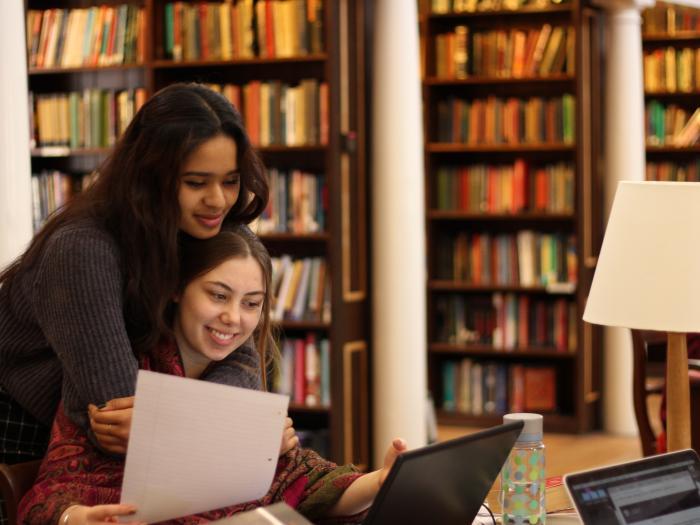 About the Library
LMH Library is located right in the heart of the college, and is open for all college members 24 hours a day and 7 days a week. It is normally staffed on weekdays 9am to 5pm, with a break for lunch: but thanks to the self-service machine people can borrow and return books at any time of the day or night. The core members of library staff are the Librarian, Jamie Fishwick-Ford; the new Assistant Librarian, Sally Hamer; and the Librarian's cat, Isambard (a hypoallergenic Siberian Forest Cat who comes to the Librarian's office a few days a week – you are welcome to visit him when he's in!) Their offices are on the middle floor of the library. 
The library holds more than 75,000 books, supporting the full range of academic endeavours of the college, from undergraduate core textbooks to books not found elsewhere in Oxford. We are always keen to develop our collections and support our students. We buy the vast majority of requests made to us by email, including e-books. We can also often get books in just a day or two, via Amazon or Blackwells in city centre. So please, do make suggestions!
Email: library.admin@lmh.ox.ac.uk
As well as the core academic holdings, we also have a collection of books on study and life skills, as well as DVDs and Emma Watson's Feminist Bookclub. LMH has a small but interesting rare books collection, which can be consulted by asking the library staff – we also work closely with the Archivist, who holds records about the college's history and former members.
All our books are catalogued onto SOLO, along with the collections of most other libraries in Oxford. This catalogue is constantly updated, so it can tell you if the books you want are owned by LMH and if they are on loan or not. 
Find more information on using the LMH Library.
Changes to Services
Some changes to normal library services have been made:
Face masks are expected at all times when not seated inside the library.

Nothing may be left on desks when you aren't present, as this interferes with the cleaning schedule. Desks will be cleared overnight by the Night Porters, and belongings taken to the Lodge. Please return all books that you have used to a reshelving trolley, even if you haven't checked them out. 

All returned books, and all books left on reshelving trolleys, will be quarantined for at least 40 hours before being reshelved. 

There are hand sanitiser points by the entrance, exit, printer/photocopier/scanner, and self-service machine. Please use them. 

If you want books to be delivered to your college room, for example because you are quarantining or are in a higher risk category, email us and we will aim to deliver them within 1 working day. We can drop books off at addresses inside Oxford, or post them to you if you're away from Oxford.