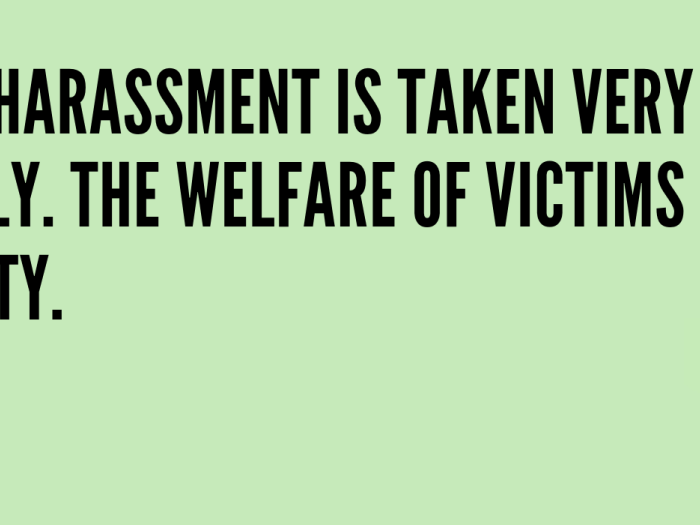 If you are experiencing harassment of any kind, find out where you can go for support.
Forms of harassment can include bullying, stalking, sexual abuse, emotional abuse, relationship abuse and more. At LMH, harassment is taken very seriously, and the welfare of victims is a priority. LMH has its own harassment policy and procedure. The University policy on harassment, based on the Equality Act, can be found here.
Much of the information below is taken from the University's webpage on Harassment & Abuse. There is a flow diagram with possible procedural steps here.
Reporting to police
Your approach to dealing with harassment is your own choice, but if you would like to contact the police you are encouraged to do so.
Sexual Abuse, Sexual Harassment, Discrimination and Stalking are crimes and can at any time be reported to the police.

Call 999 for emergencies, or 101 for non-emergencies. If you are frightened, the police can help you.
College & university advice & support
LMH has a Harassment Advisor: Prof Philip Biggin. He will be willing to talk to you about any harassment you are experiencing, including behaviour that is unwelcome towards you but you might be unsure whether it's harassment. You can also contact any of the Welfare Team - find contacts here.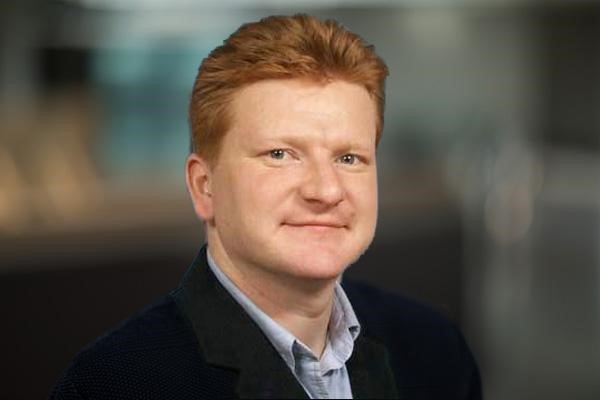 Local and national resources
Local resources
National resources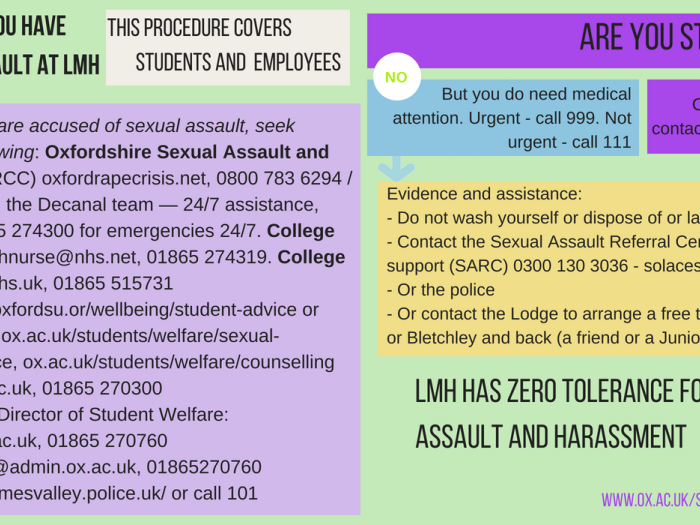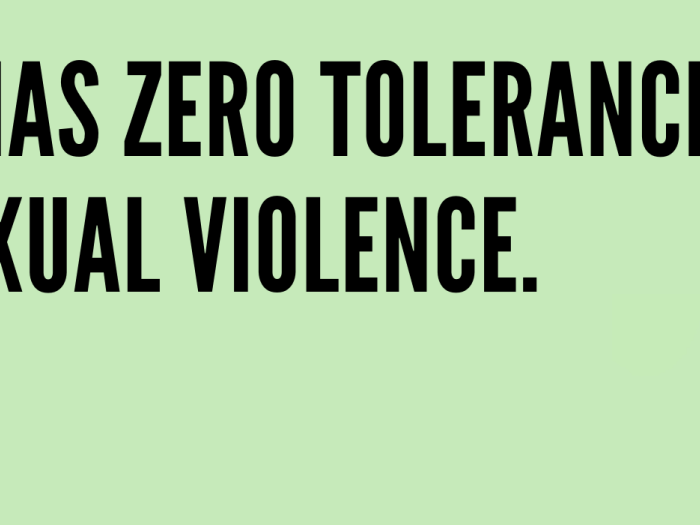 Sexual Violence
Here you can find details of information, support and links for those who have experienced or are still experiencing sexual violence or harassment.
LMH has zero tolerance of sexual violence. LMH has its own harassment policy and procedure. You can also follow this link to the University's policy and procedures on sexual violence. There are more resources for the LGBTQ+ community here.
If you have experienced sexual violence you may wish to consider any or all of the options below, but how you proceed is entirely your decision:
You can call the police and report the incident, where evidence will be collected. Information about preserving evidence can be found here.
You can go to a Solace or Sexual Assault Referral Centre, where you can receive medical and forensic help without necessarily getting the police involved.
You can receive medical attention from A&E, your GP or Anne Harpin. You can receive emotional support from our Sexual Assault First Responders, or any of our Welfare Team - all contacts are listed here. You can also receive emotional support from the University's free Counselling Service (not an emergency service).
Sexual Harassment and Violence Support Service
The University emphasises that drugs and alcohol do not constitute excuses for any type of harassment. It also underlines that a victim should not have to state that any behaviour they have experience is unwanted. Oxford University's new support centre, campaign and web resource is called Oxford Against Sexual Violence.
If you are approached by an individual for advice and support in relation to sexual assault or sexual violence, including rape, you should support them in contacting the Sexual Harassment and Violence Support Service at supportservice@admin.ox.ac.uk
The new Sexual Harassment and Violence Support Service provides a safe place for students be heard - independent of their college or department. It offers free support and advice to any student who has been affected by sexual harassment or violence.
The service supports students in all situations, whether the experiences of sexual harassment or violence happened in Oxford or elsewhere, and whether it was recent or in the past.
The specialist advisors are trained to support students at their pace. We help them explore their options, and we'll be there to support them through whatever option they choose.
Credits
Whistle logo by © Niamh Simpson