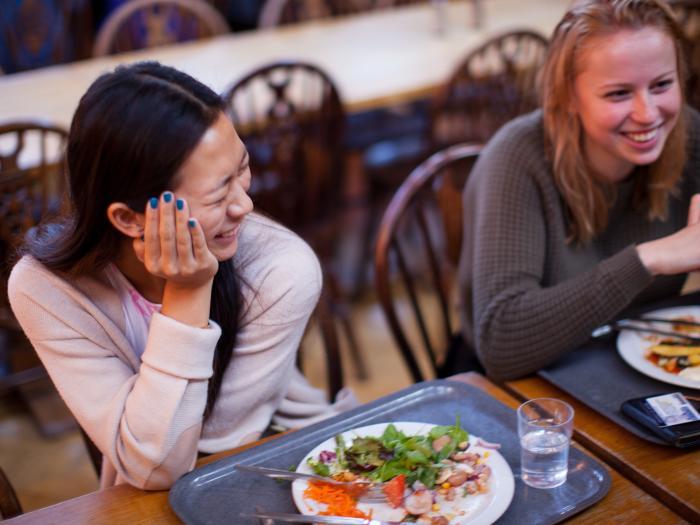 Overview
The LMH dining hall is open for breakfast, lunch and dinner Monday-Friday, as well as Saturday brunch and Sunday dinner.
Food is served informally, cafeteria-style 
There are several kitchens where you can cook for yourself and friends. 
We also have vending machines (24/7) and the bar is open 7 nights a week in term
LMH is one of fewer than five Oxford Colleges to be accredited Fairtrade College
Vegetarian and vegan options are always available at meal times, and our catering staff are also always happy to cater to any other allergies or dietary requirements, such as halal.
The biggest culinary event of the week is formal hall on Friday evening: a delicious, three-course, waiter-served meal complete with candelabras and good company!
Average meal cost for each meal: Breakfast/brunch: £5-£7; Lunch & Dinner: £6-£8; Formal Halls: £12- 15 for LMH members & £17-£20 for guests.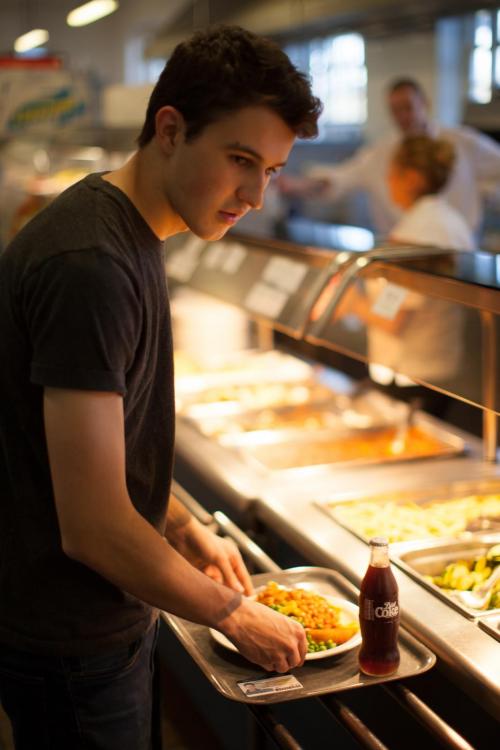 Deneke Dining Hall
At LMH we use a cashless payment system in our Dining Hall where transactions are charged to your account as you buy food using your University Card. Items are charged individually at a subsidised rate. Once your University Card has been activated you will receive a welcome email from Upay with instructions about how to register your account - please contact the Bursary if you have any issues in doing this. You can then easily add credit to your account through the Upay website www.upay.co.uk, where you can also see what you've spent by downloading a statement.
Opening times for Hall will be available on the LMH Intranet, display screens or on the noticeboard outside the Dining Hall.
Student kitchens
If you are living in College you will have access to a small pantry in your building, usually shared by around 8 people, in which small amounts of food can be stored and simple meals can be produced.
Vending
Confectionary, cold drinks and refrigerated snacks are available from the vending machines on the Ground Floor of Toynbee and Kathleen Lea. If you experience any issues with the vending machines, or have any ideas about what products you want to see featured, contact Wendy on catering.manager@lmh.ox.ac.uk.