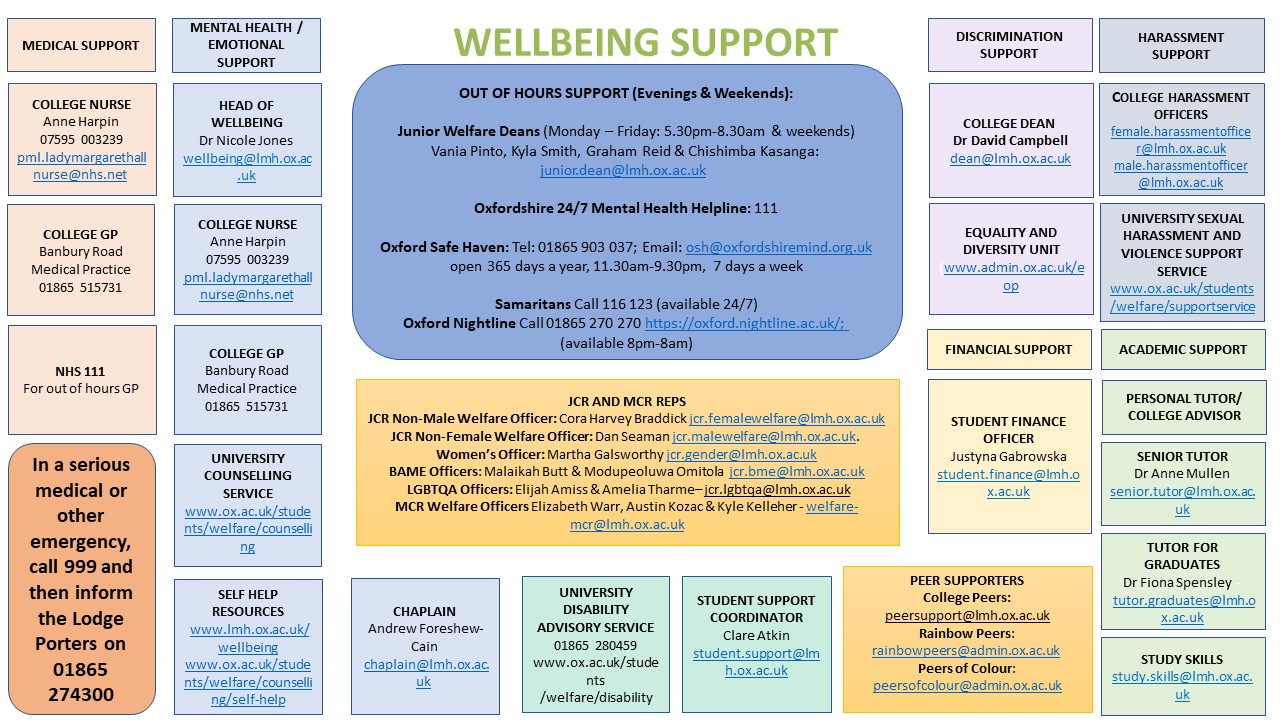 LMH is passionate about nurturing a supportive and healthy environment for our whole community. We have a team of health professionals, tutors, support staff, and students dedicated to provide help and advice. These pages introduce you to the wellbeing team and their roles. The Oxford University Student Union's Student Advice Service is also a great resource. On this page, see who does what for wellbeing, and how you can contact them.
(Logo by © Niamh Simpson)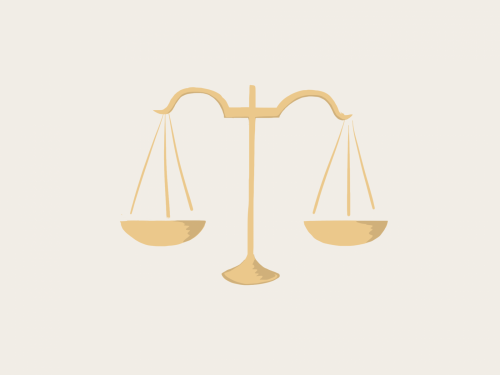 Head of Wellbeing
Dr Nicole Jones is our Head of Wellbeing and coordinates the student wellbeing and welfare provision.  A clinical psychologist, she has worked in the NHS for many years, with a particular interest in adult mental health and wellbeing. She provides support to all undergraduate and graduate students dealing with a range of issues related to welfare and wellbeing. 
Nicole can be contacted for one-off chats and check-ins, advice, and signposting to guided self-help and relevant services within College, the University and the NHS. She is available in college on Mondays, Wednesdays and Fridays, and you can book a time to meet on her booking page Head of Wellbeing (office365.com) or by emailing wellbeing@lmh.ox.ac.uk
She is also responsible for supporting our estranged and care experienced students and works closely with the Dean, Nurse, Chaplain and Junior Deans.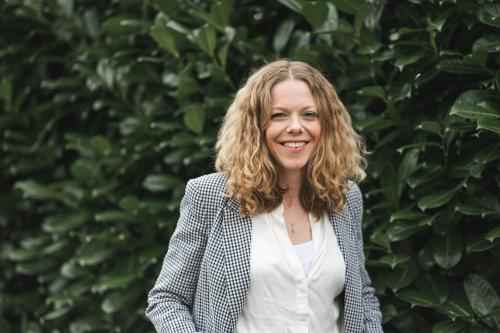 College Nurse
Anne Harpin is available Mondays, Wednesdays, Thursdays, Fridays (8.30am-3pm) and Tuesdays (1pm-7pm). You can get in touch via Email: pml.ladymargarethallnurse@nhs.net or Tel: 07595003239. 
She can help you manage health problems and illnesses and arrange for referrals when necessary. She can treat minor illnesses and injuries and advise on sexual health (please check the leaflet below). Contraception is available to all men and women, including emergency contraception.  Anne is a go-to contact for emotional and psychological issues.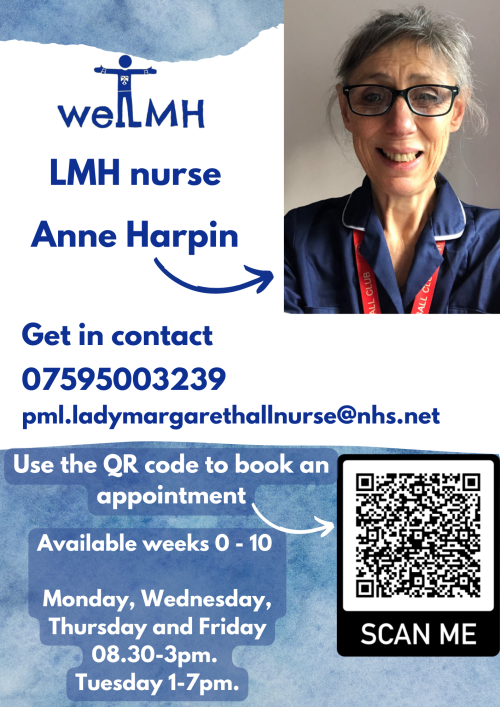 Doctors' Practice
LMH requires all students to register under the NHS (or make a private arrangement) with the College Doctors who are part of the Banbury Road Medical Centre, 172 Banbury Road - tel: 01865 515731. To ensure you receive continuity of care, it is advisable that you remain registered for the duration of your course. You will still be able to receive treatment elsewhere on the NHS, for example during vacations, by registering as a 'temporary resident'.
Student Support Co-ordinator
Clare Atkin is part of the Academic Office team and it is her role to facilitate the academic support of both undergraduate and postgraduate students with registered disabilities throughout the student's academic life cycle – starting when they come to interview, through to when they sit their final examinations, in liaison with the Disability Advisory Service. Clare is also Secretary to both Welfare Committee and Grants Committee.
You can email Clare at student.support@lmh.ox.ac.uk.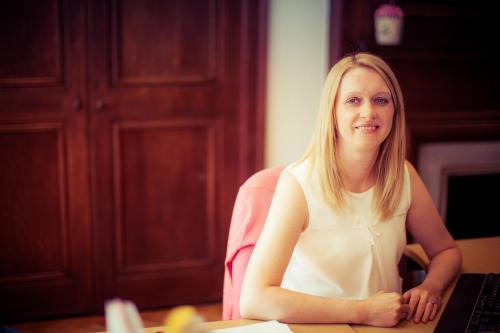 The Dean
Dr David Campbell is a stipendiary lecturer in law here at LMH and working with the Junior Deans manages College discipline, always seeking to ensure that LMH is a safe, inclusive and supportive community.  David is always happy to hear from students who have any concerns or comments and can be contacted on - dean@lmh.ox.ac.uk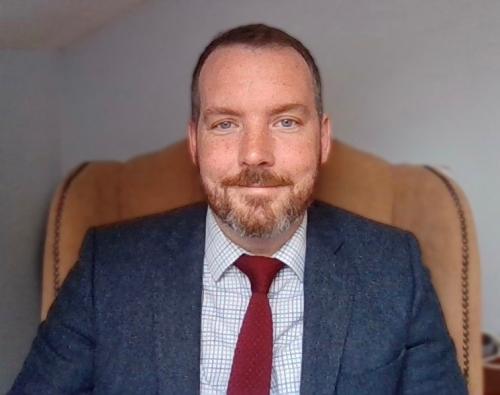 Junior Welfare Deans
The Junior Welfare Deans, Vania Pinto, Chishimba Kasanga, Graham Reid and Kyla Smith are also an invaluable support for welfare issues. They are graduate students at LMH who are trained to provide welfare support and they also assist the Dean in maintaining a safe and secure environment within the community. One of them is on duty from 5.30pm-8.30am every week day and throughout the weekends. They are available for emergency advice and support at any time during those hours and you can contact them at junior.dean@lmh.ox.ac.uk or through the lodge.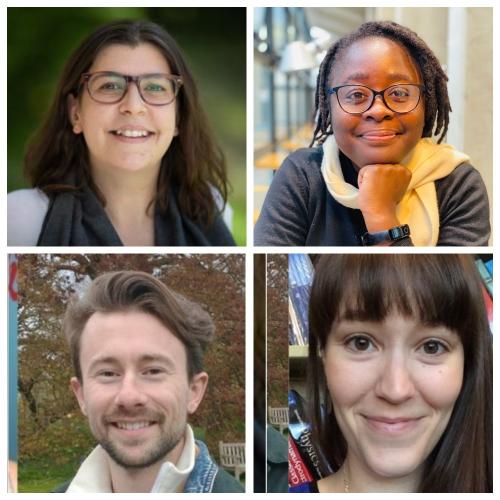 Chaplain
The Chaplain – Andrew Foreshew-Cain is the Chaplain here at LMH and part of the Welfare team.  He is available to speak to any member of the community here and works with the team to ensure that the college is open, inclusive and warm hearted.  He is not just here for Christian students and part of his role is to ensure that all faiths and beliefs are respected and enabled to flourish here at LMH. If you'd like to speak to him he can be contacted on chaplain@lmh.ox.ac.uk or 07812453230.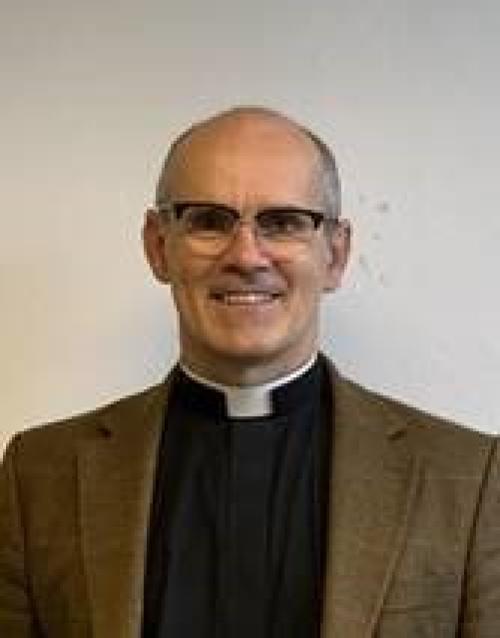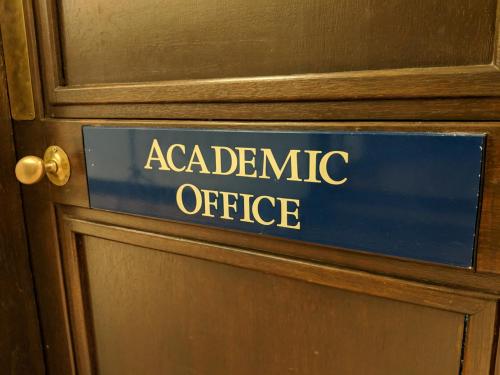 Lodge Staff
If you need information about well-being and are not sure where to go, contact Lodge staff at 01865 274300. You should also contact them immediately if there is any medical emergency or cause for serious worry. They will be able to direct you to the right person. The Lodge is staffed 24/7; it is always a good place to go if you need a quick chat.
On Twitter: @lodgelmh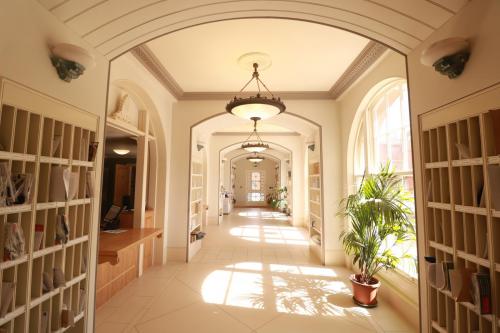 Peer Supporters
The Peer Support Programme (see poster below) is a scheme run across the University by the Counselling Service. A team of students from the JCR and MCR, across a range of years and subjects, have been trained in active listening support - and you can contact either should you wish to speak with them. They are trained to help with welfare concerns and work to strict confidentiality rules. They have access to a range of resources they can refer you to, or can spend some time with you to support you through hard times. 
Peer supporters abide by a Code of Practice, attend regular supervisions to consolidate their training and develop their skills, and are available to be contacted for any difficulty big or small you might encounter during term. They are available to talk to any student confidentially. They can also be found at teas and events organised by the JCR and MCR.
For Hilary Term 2023:
Cora Harvey Braddick (Peer Support Co-ordinator) peersupport@lmh.ox.ac.uk 
Amongst our Peer supporters we have Peers of colour and Rainbow Peers, as well as Peer supports who are members of both the JCR and the MCR.
JCR and MCR Support – Hilary Term 2023