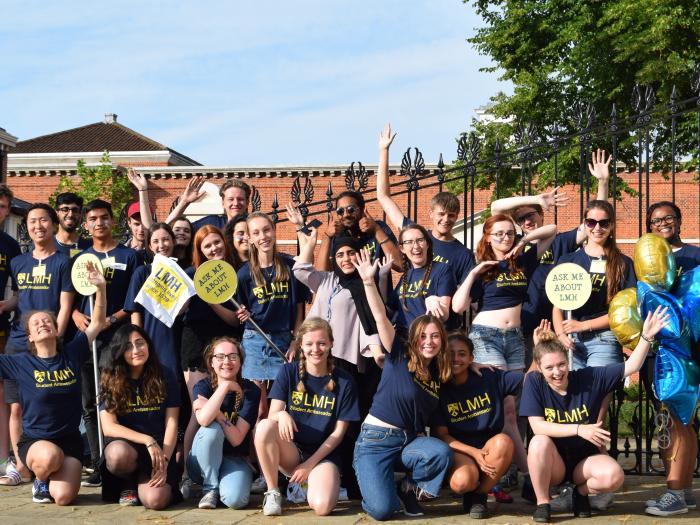 Come and pay us a visit
Open Days are a fantastic opportunity to meet with tutors and current undergraduates, to have a tour of the College, and to find out more about the Oxford Admissions process. You can visit multiple colleges and University departments.
LMH is excited to open our doors to visitors as part of the University of Oxford Open Days this summer. Come along and see what we have to offer!
We have Open Days on the following dates this year:
You can book your place for the Admissions Talk (11am) and Lunch in Hall (1pm) via the links above. We recommend booking these sessions in advance, although there may be some walk-in spaces available on the day. 
The full timetable for our September Open Day is below, LMH is open from 9.30am to 6pm each day. 
LMH Open Day Timetable:
All Day - Tours of LMH
Take a look around the college with our current students as your guides. See our range of facilities, on-site accommodation and extensive grounds!
11:00-12:00 - Admissions Talk
Join us for a talk from our Head of Access and Admissions, Eleanor Chamings-Manley, about the admissions process at the University of Oxford. Booking is required.
12:00-12.55 - Meet the Tutors
Meet our Tutors in your subject and discuss what it is like to study here at LMH. 
(Please note that for Biochemistry applicants, the tutors will be partaking in the Meet the Tutors session in the Biochemistry department.)
13:00-14:00 - Lunch
Enjoy a free lunch in LMH's Dining Hall. Booking is required.
17:00-18:00 - Ice Cream
Finish the day off with a lovely free ice cream as you wander around LMH.
Overnight Accommodation
We have a limited amount of free overnight accommodation for non-selective state school groups travelling over 60 miles on Thursday 14th September. To book, please email outreach@lmh.ox.ac.uk with the subject 'Open Day Accommodation Booking' and provide the following information:
school name

lead contact name

number of rooms being requested

dietary requirements of any students who would like the free breakfast provided.
Visitors wishing to book accommodation must book onto at least one LMH session, for example the Admissions Talk.
What about other Colleges and Departments?