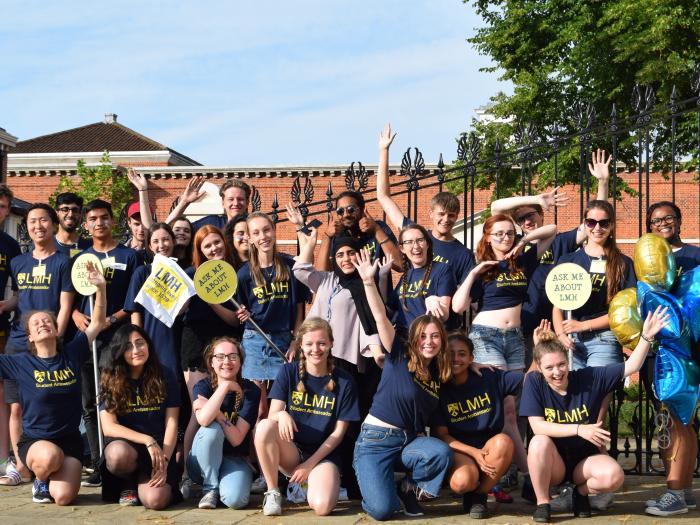 Come and pay us a visit
Open Days are a fantastic opportunity to meet with tutors and current undergraduates, to have a tour of the College, and to find out more about the Oxford Admissions process. You can visit multiple colleges and University departments.
Covid-19 Update
In the light of continued developments with coronavirus (Covid-19) our 2020 July Open Days will not be going ahead. At the moment we are hoping that the 18 September Open Day will run but realise this may not be possible if social distancing is still in place. In the meantime, we are strongly committed to making sure you will have plenty of alternative online opportunities to discover Oxford and all that it has to offer you. We are busy developing these resources at the moment and look forward to sharing them soon. Do keep an eye on this page for any updates. Anyone thinking of applying to Oxford this October, should sign up for the latest news on developments in undergraduate admissions and outreach. Our admissions timeline will also give you a useful overview of the steps involved in making an application. Course choice is the most important decision you need to make when considering university so we suggest you start by exploring your course options. We wish you and your family well during these difficult times and look forward to welcoming you on a visit to Oxford soon.
We are taking part in a University of Oxford Virtual Open Day for Undergraduate students on the 1st and 2nd July. You can find the registration link here.
Below, see a typical example of an Open Day. 
Tours and refreshments throughout
11.00–12.00: Admissions talk by our Senior Access Officer, Marrium Khan, with a welcome from the Principal, Alan Rusbridger
12.00–12.55: Meet the tutors* OR talk for parents and carers
13.00-14.00: Free hot lunch  
15.00-15.45: Observe a Mock Interview 
17.00-18.00: Get a scoop on LMH: G&D's Ice Cream and Tea
*Some of our tutors will also be running sessions in their departments, so if you express an interest in one of our courses, we will provide you with further information regarding additional subject activities provided by our tutors.

**This year's timetable TBC
What about other Colleges and Departments?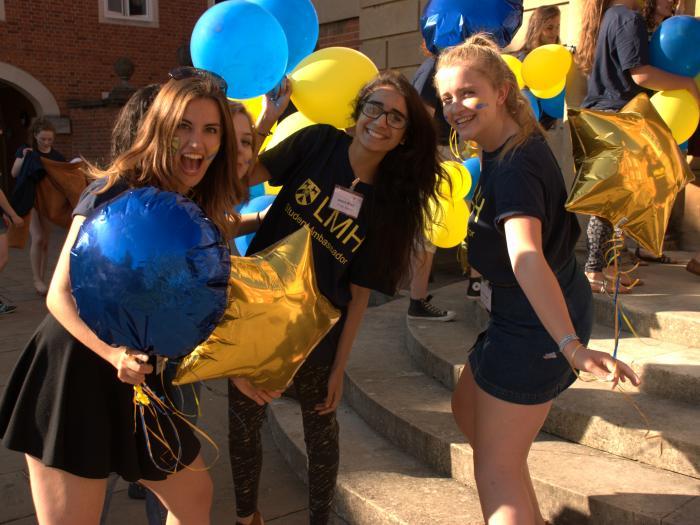 Typical sessions at the Open Days
In 2019 we held two Demonstration Interviews with tutors in English and PPE.
Pictured, Prof Helen Barr analyses a poem with student Chloe. This is a typical exercise in one of the interviews you can have as an English student, although this poem would not usually be used. You can watch highlights of the session on YouTube here.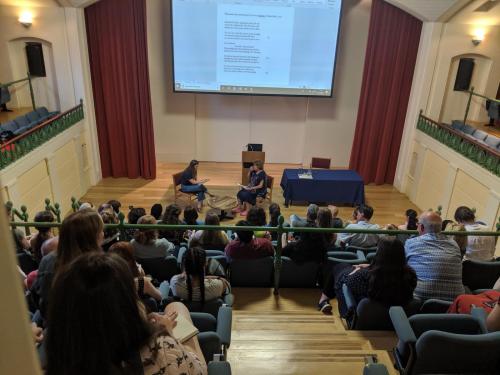 Prof Christina Kuhn held an Ancient Rome taster study session for 8 lucky students during the July 2019 Open Days. Students used the virtual reality headsets that Prof Kuhn has been commended for in her teaching, to explore the Colosseum and see how it was built, amongst other things.