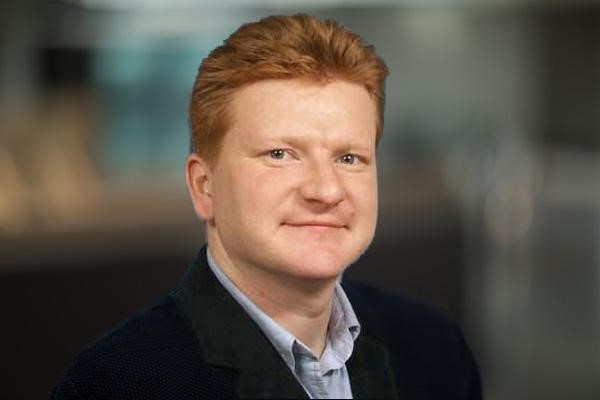 Biography
I was appointed to a lecturership at LMH and then became an RCUK Fellow in October 2007.  
I became a Fellow and Tutor in Biochemistry at LMH in 2012 and was promoted to a full Professor in 2016.

 
Research interests
Work in my group is focused on developing and applying computational methods, including docking and molecular dynamics simulations, to receptor proteins such as ligand-gated ion channels. These are receptors that, upon binding of a ligand, change their conformation such that ions can pass through a central pore and down their electrochemical gradient.

We are particularly interested in two distinct families of these receptors:
1. The ionotropic glutamate receptors;
2. The nicotinic acetylcholine receptor. Although there has been a recent increase in the amount of structural information available, many questions still remain concerning the dynamics associated with these process. An understanding of these processes should be useful in the design of new drug treatments for a range of diseases including Alzheimer's, Parkinson's, and epilepsy.
Teaching
In 2011 I was given a University Excellence in Teaching Award for development of novel teaching methods in undergraduate teaching and the development of graduate courses in Computational Biochemistry and Bioinformatics.
Courses
Publications
The solvation structure of alprazolam. Sridhar A, Johnston AJ, Varathan L, McLain SE, Biggin PC. Phys Chem Chem Phys. 2016 18:22416-22425.
Guiding lead optimization with GPCR structure modeling and molecular dynamics. Heifetz A, James T, Morao I, Bodkin MJ, Biggin PC. Curr Opin Pharmacol. 2016 30:14-21.
A Numbering System for MFS Transporter Proteins. Lee J, Sands ZA, Biggin PC. Front Mol Biosci. 2016 3:21.
Using the fragment molecular orbital method to investigate agonist-orexin-2 receptor interactions. Heifetz A, Aldeghi M, Chudyk EI, Fedorov DG, Bodkin MJ, Biggin PC. Biochem Soc Trans. 2016 44:574-81.
Distinct Structural Pathways Coordinate the Activation of AMPA Receptor-Auxiliary Subunit Complexes. Dawe GB, Musgaard M, Aurousseau MR, Nayeem N, Green T, Biggin PC, Bowie D. Neuron. 2016 89:1264-76. 
Application of an Integrated GPCR SAR-Modeling Platform To Explain the Activation Selectivity of Human 5-HT2C over 5-HT2B. Heifetz A, Storer RI, McMurray G, James T, Morao I, Aldeghi M, Bodkin MJ, Biggin PC. ACS Chem Biol. 2016 11:1372-82. 
Accurate calculation of the absolute free energy of binding for drug molecules. Aldeghi M, Heifetz A, Bodkin MJ, Knapp S, Biggin PC. Chem Sci. 2016 7:207-218.
Role of an Absolutely Conserved Tryptophan Pair in the Extracellular Domain of Cys-Loop Receptors. Braun N, Lynagh T, Yu R, Biggin PC, Pless SA. ACS Chem Neurosci. 2016 7:339-48.
Selective targeting of the BRG/PB1 bromodomains impairs embryonic and trophoblast stem cell maintenance. Fedorov O, Castex J, Tallant C, Owen DR, Martin S, Aldeghi M, Monteiro O, Filippakopoulos P, Picaud S, Trzupek JD, Gerstenberger BS, Bountra C, Willmann D, Wells C, Philpott M, Rogers C, Biggin PC, Brennan PE, Bunnage ME, Schüle R, Günther T, Knapp S, Müller S. Sci Adv. 2015 1(10):e1500723. 
Kainate receptor pore-forming and auxiliary subunits regulate channel block by a novel mechanism. Brown PM, Aurousseau MR, Musgaard M, Biggin PC, Bowie D. J Physiol. 2016 594:1821-40.
On the atomic structure of cocaine in solution. Johnston AJ, Busch S, Pardo LC, Callear SK, Biggin PC, McLain SE. Phys Chem Chem Phys. 2016 18:991-9. 
The Fragment Molecular Orbital Method Reveals New Insight into the Chemical Nature of GPCR-Ligand Interactions. Heifetz A, Chudyk EI, Gleave L, Aldeghi M, Cherezov V, Fedorov DG, Biggin PC, Bodkin MJ. J Chem Inf Model. 2016 56:159-72.