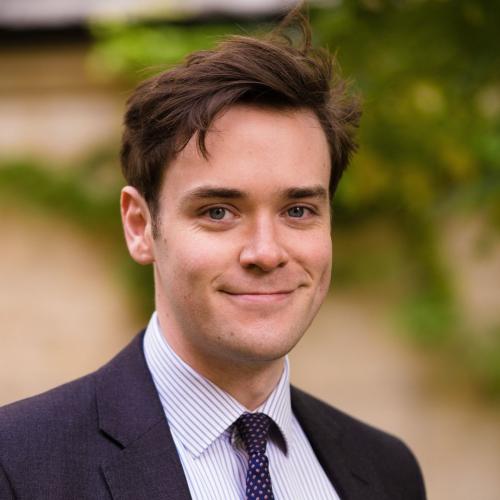 Biography
I read for undergraduate and graduate degrees in History at Christ Church, Oxford, where the Arts and Humanities Research Council; the Deutscher Akademischer Austauschdienst; and a Scouloudi Fellowship at the Institute of Historical Research in London supported my research.
After being awarded my doctorate in 2015, I was a Lecturer at St John's College, Oxford, before returning to Christ Church as the Walter Dingwall Junior Research Fellow in History. From 2020 to 2023 I was Darby Fellow and Tutor in Modern History at Lincoln College, Oxford, during which time I also held visiting positions at the Huntington Library; the University of Marburg; and the Leibniz Institute of European History in Mainz. I joined Lady Margaret Hall as a Tutorial Fellow in 2023, and am also Associate Professor in the History of European Political and Social Thought, 1848-c.1950, in the Faculty of History.   
Research Interests
My work focuses on modern European intellectual history, especially in Britain and Germany. I am particularly interested in the role which religious thought and scepticism have played in understandings of history and social science, and in liberal conceptions of 'progress', since approximately 1800. My current book project explores the rich relationship between secularism and progressive social thought in Europe and North America during the nineteenth and twentieth centuries. 
Teaching
I teach broadly across modern British, European, and world history, as well as intellectual history.  
For Prelims I teach outline papers in British History 6 (1830-1951); British History 7 (since 1900); and European and World History 4 (1815-1914). I teach set text-based papers in Historiography: Tacitus to Weber, and Foreign Texts: Meinecke and Kehr. I also offer an Optional Subject in Theories of the State.
For Finals I teach outline papers in British History 6 (1815-1924); British History 7 (since 1900); European and World History 10: the European Century (1820-1925); and European and World History 13: Europe Divided (1914-1989). I also offer a Further Subject in Intellect and Culture in Victorian Britain, and teach Disciplines of History.
I also teach for the History Faculty's MSt and MPhil programmes, and welcome requests for master's and doctoral supervision.          
Selected Publications
'Historical introduction: theology in the new empire (1871-1888)', in Mark Chapman (ed.), The Oxford History of Modern German Theology: Volume 2: 1848-1914 [Oxford University Press; in press].
'Interpretation and theology', in Scott McLaren (ed.), A Cultural History of the Bible in the Age of Empire, 1820-1920 [Bloomsbury; in press].  
'The popes and the Protestant churches', in Melodie H. Eichbauer and Robert A. Ventresca (eds), The Cambridge History of the Papacy: Volume 2: the Papacy and the Governance of the Church [Cambridge University Press; in press].
'Thomas Carlyle's place in German intellectual history, 1830-1939: Kulturprotestantismus and the creation of a prophet', Carlyle Studies Annual [in press].     
'August Neander and the religion of history in the nineteenth-century "priesthood of letters"', Historical Journal, 63:3 (2020), pp. 633-59.
God and Progress: religion and history in British intellectual culture, 1845-1914 (Oxford University Press, 2019).
'A history of "rationalism" in Victorian Britain', Modern Intellectual History, 15:1 (2018), pp. 63-91.
'The age of Athanasius: the Church of England and the Athanasian Creed, 1870-1873', Church History and Religious Culture, 97:2 (2017), pp. 220-47.    
'The British Luther commemoration of 1883-1884 in European context', Historical Journal, 58:2 (2015), pp. 543-64.