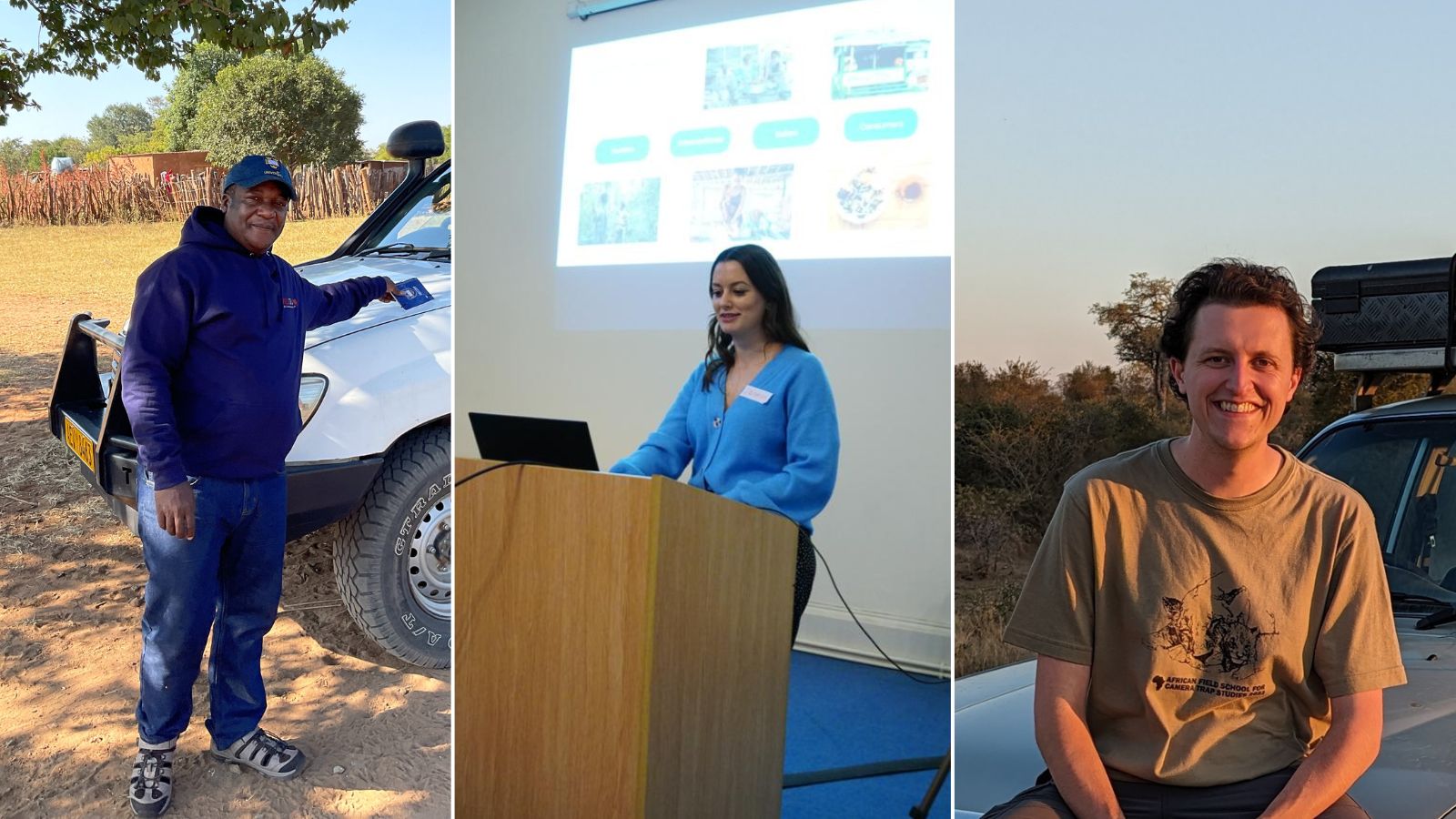 Meet the Valerie Mitchell Scholars
LMH and WildCRU (the Wildlife Conservation Research Unit, part of the Department of Biology at the University of Oxford) currently support three Valerie Mitchell LMH/WildCRU Graduate Scholars, all of whom are pursuing DPhils in different aspects of wildlife conservation. The fully-funded scholarships were made possible thanks to the generosity of LMH alumna Valerie Mitchell (1971, Modern Languages).
Meet the Valerie Mitchell Scholars and find out more about how their research will contribute to global conservation efforts below.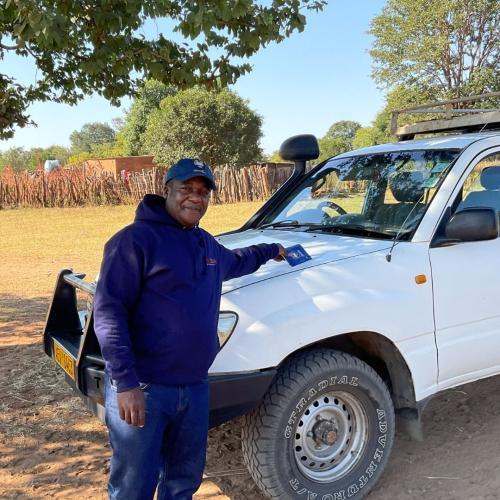 Godfrey Mtare
Second year DPhil student and WildCRU member Godfrey Mtare is exploring the issue of transboundary landscape connectivity and how it propels a robust wildlife economy. Godfrey's research is focused on the importance of connectivity between protected areas in an increasingly human dominated landscape for the continued viability of KAZA TFCA's carnivore populations. His thesis research is strongly influenced, among others, by findings that "human-carnivore conflict is a primary driver of carnivore declines worldwide and can inflict substantial costs on local communities", with "livestock depredation by predator species, particularly lions, continuing to be a source of conflict with pastoral farmers in the Hwange-Kazuma-Chobe Wildlife Dispersal Area (WDA)."
Godfrey aims to scrutinize human-lion conflict, its impacts, and potential solutions, with a focus on the Kavango Zambezi Transfrontier Conservation Area (KAZA TFCA) in Southern Africa, which is the world's largest terrestrial TFCA. As Godfrey posits, KAZA TFCA "is home to the largest geographically intact population of African lions and other carnivores remaining in the wild, and is vital for genetic diversity within the region".
The overarching goal of Godfrey's study is to maintain a large carnivore habitat network across KAZA where African lions are secured within and outside protected areas, can co-exist with people, move freely among protected areas, and which provides an enabling environment for tourism development; hence a robust and thriving wildlife economy. Through his research, Godfrey seeks to create a spatial model of human-lion conflict in the Hwange-Kazuma-Chobe Wildlife Dispersal Area (WDA) which can then be used as a tool to identify areas of concern and help to prioritise human-lion conflict mitigation efforts. He also aims to identify the current connectivity and future threats that might require action to maintain vital landscape connectivity (such as wildlife corridors). Time for action is running out, as Godfrey shares that, globally, "lion numbers are estimated to have been reduced by more than 43% during the period 1993–2014 (over approximately three lion generations)".
Godfrey's study will examine and test factors that influence lion movement between the protected and communal areas in the Hwange-Kazuma-Chobe WDA; hence validate the landscape resistance and connectivity map developed for lions by WildCRU within the KAZA TFCA. As part of this study, he will also disentangle the economic value of African lion, largely because an understanding of local socio-economic factors in KAZA TFCA is envisioned to result in tangible conservation gains within the landscape. Further, his study will also delve into the bottom-up approach in transfrontier conservation, focusing on KAZA TFCA's Hwange-Kazuma-Chobe WDA.
Godfrey hopes that his work can help to identify and unlock potential local solutions to conserve the world's lion populations for the benefit of local communities. This will be critical in setting KAZA TFCA on a new path to improve the prospects for people, lions and tourism development as it will demonstrate the importance of landscape connectivity in propelling a robust wildlife economy, whilst unpacking the true value of African lion, community engagement, and the role all this can play in delivering sustainable socio-economic benefits.
Tom Pavey
Currently in the first year of his DPhil, Tom Pavey's research focuses on lion conservation, with the goal of "holistically addressing how climate change is affecting lions, and providing recommendations on effective conservation strategies for use by local communities and policymakers".
Tom's research spans the fields of ecology and conservation. The first part of his thesis project will be to map current lion distribution, using data from a range of GMCs to project shifts or changes in lion populations in a range of different climatic scenarios.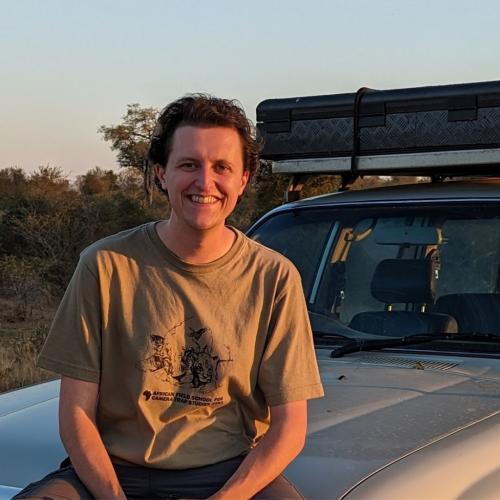 Tom will then use these data models and "run them using palaeoclimatic data dating back to the Last Glacial Maximum to produce maps of lion distribution up to ~20,000 years ago". This will help to assess climatic influence on lion distribution, as it provides evidence on drivers from a time when there was no widespread or significant human influence. Tom is interested in exploring how climate change, and the associated change in temperatures and precipitation patterns, might be affecting lion behaviour.
In his own words, Tom is "aiming to help rectify the relative deficit in both academia and conservation action regarding the impact rapid climate change will have on organisms by unravelling the processes happening to landscapes as change occurs. This will allow me to predict how landscapes will shift in order to provide the most appropriate strategies to conserve species and manage landscapes as they alter in the future."
Tom recently presented a poster at the International Congress for Conservation Biology (ICCB) in Kigali, Rwanda, attended by over 1,500 conservation researchers and practitioners.
Alongside his studies, Tom has been appointed as an Oxford Sparks Ambassador, receiving training on scientific videomaking with a view to making Oxford's scientific research accessible to a wider audience. Passionate about science communications, Tom has also become a Climate Outreach Ambassador and is working on further honing his public engagement skills so that he can share his research with the wider public.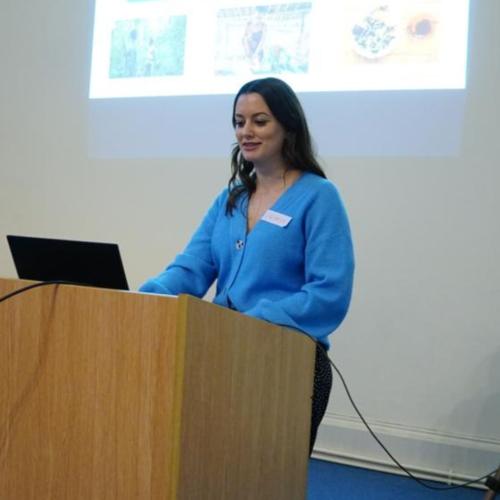 Jasmin Willis
First year DPhil student Jasmin Willis is in the process of mapping out her project and thesis, which will, she says, "assess the role of women in wild meat systems, their degree of influence in wild meat decision-making, and to what extent conservation projects to mitigate unsustainable wild meat use consider and involve women in their design, implementation and evaluation, as well as whether considering women in these projects enhances conservation outcomes".
In April this year, Jasmin co-managed the organization of the first ever Ecology and Conservation Section Symposium on behalf of Oxford University's Department of Biology. The symposium brought together 60 DPhil and Masters students and gave them an opportunity to present their work to date and network with other research groups, and Jasmin was one of the students who presented on her project ideas.
Jasmin has also recently presented at the International Congress for Conservation Biology (ICCB) in Kigali, Rwanda, attended by over 1,500 conservation researchers and practitioners.
Alongside her academic work, Jasmin has a passion for sharing her research and communicating about science to non-scientific audiences. Since beginning her DPhil, Jasmin has participated in two family outreach events, one of which was 'Super Science Saturday' at the Oxford Natural History Museum, and the other at the Cherwell Collective food bank and community café. She and her fellow students hosted a stall with activities to teach visitors about how wildlife interacts with different habitats, and how technology is used by field conservationists to track wildlife behaviour.