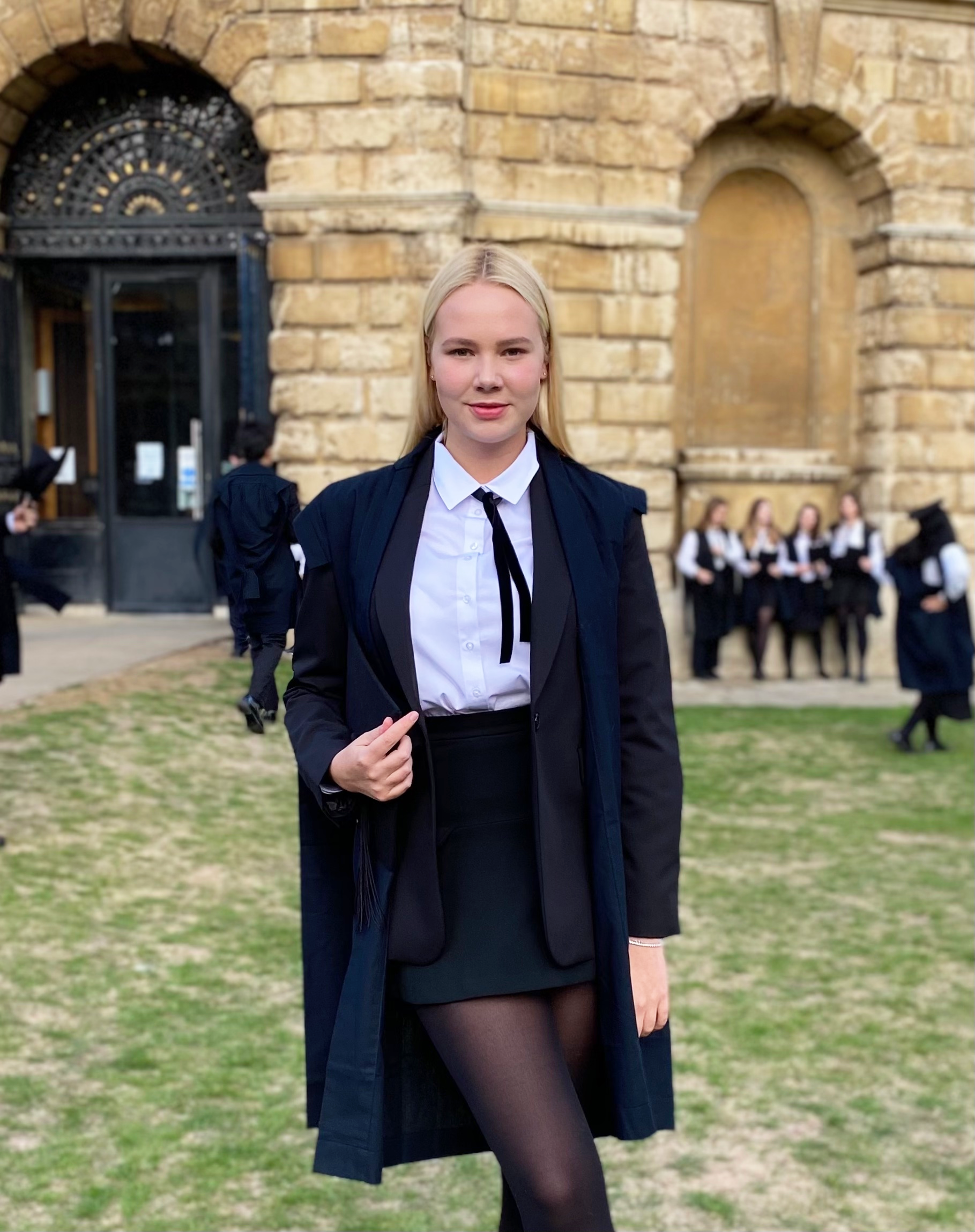 In October 2022, thanks to alumni support, we welcomed our first Ukrainian Graduate Scholar, Veronika Starodub who is studying for an MSc in Statistical Science. We spoke to Veronika recently, and are delighted to share the story of her background and her initial impressions of life at LMH.
Veronika was born in Ukraine and spent her childhood there. She took her Undergraduate degree at The American University in Blagoevgrad, Bulgaria, where she majored in Mathematics and Economics.
Talking about this most recent chapter in her academic career, Veronika says: "Now I am pursuing a Master's degree in Statistical Science, which has been possible because I received a fully funded Graduate Scholarship as a student from Ukraine. I am incredibly grateful for this funding, not just for myself but for all the bright Ukrainians who have received it".
Veronika hopes to go back to Ukraine and use her newly acquired knowledge and experience in rebuilding her country which has been brutally damaged by the war. "Only with the high-class education that the University of Oxford provides, we will be able to implement innovative ideas in our Motherland".
Mathematics has been a true passion for Veronika for a long time. She strongly believes that it can help resolve vital issues of the day. "I am passionate about mathematics and all its possible applications to solve real-world problems. Specifically, I am interested in finance and the statistical analysis of financial data. In the future, I want to apply the knowledge acquired at Oxford in Ukraine's financial industry, which requires help as never before, after all the damage that the war caused to our economic system".
We are delighted that Veronika's stay at LMH has brought her nothing but joy, and the College has become a second home for her during such dark times in her Motherland.
"I am incredibly thankful to LMH and all the donors who helped me with the funding for the programme. Although I didn't specifically choose LMH, I am unbelievably happy that I have become part of the LMH family! The College is a very diverse and inclusive society. I appreciate the progressive views of LMH toward all minorities since its foundation. And the gardens are just stunning! My favorite place in the whole of Oxford is our riverside with picturesque landscapes, weeping willows that bent their branches into the water, and a fast-flowing river, which is mesmerizing. I find peace there after crazy busy Oxford days. LMH has become home for me, and I am sure that my love for the College will grow even more during the next months here!"
Whilst we sought to raise £20,000 for this scholarship, we were blown away by the support from alumni and friends, which exceeded £56,000. The additional funds raised, alongside gifts made during our Telephone Campaign, will enable us to join the University's Refugee Academic Futures Programme, which will provide support for those with refugee status, or with lived experience of forced migration. We are very proud to be able to provide this support and are incredibly grateful to those who enabled us to take part. Thank you for making LMH what it is today.