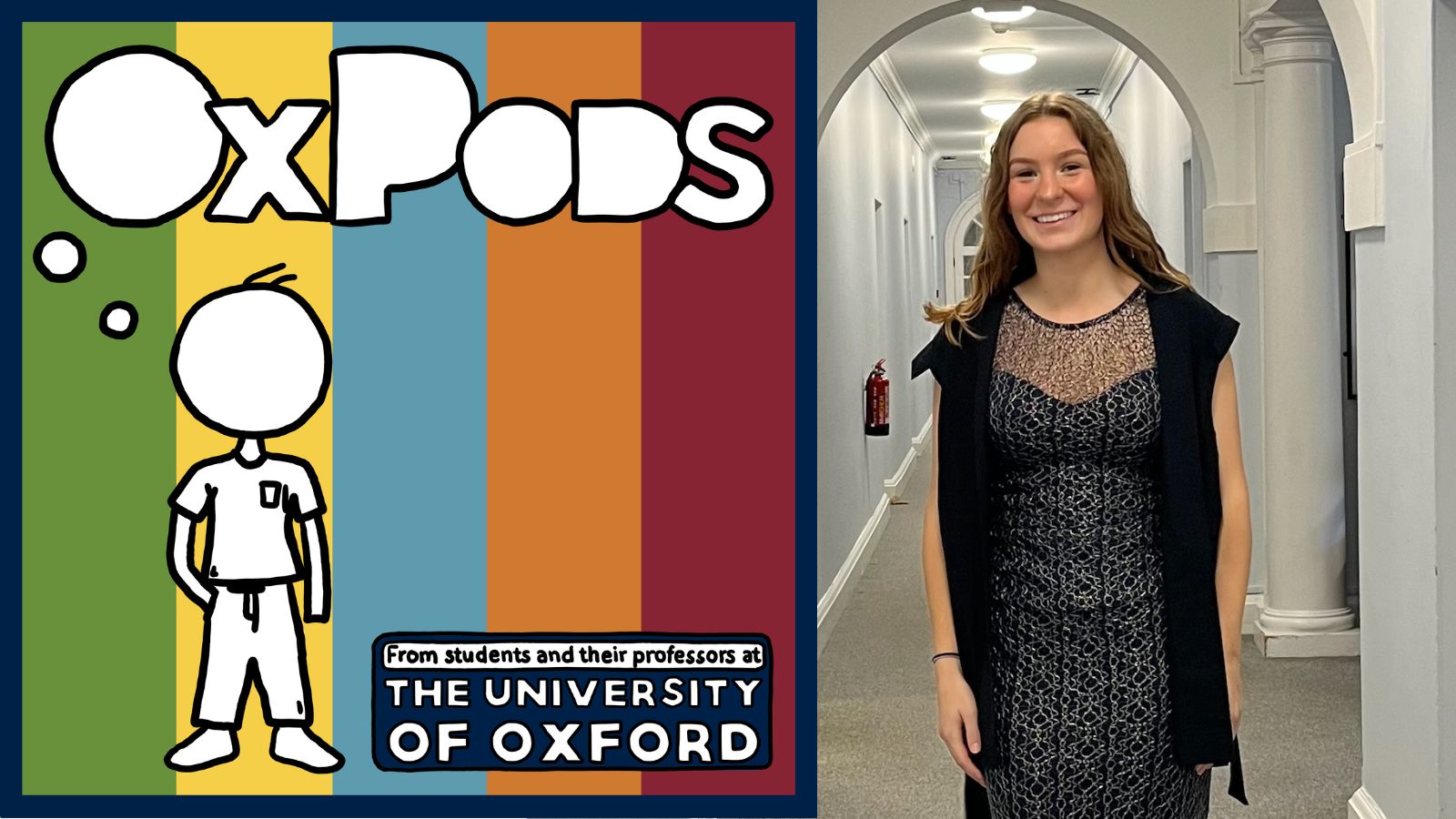 In this Student Spotlight, Alice Hazell (2022, Classical Archaeology and Ancient History) talks about her experience of Oxford and LMH so far, and how she came to be interviewing her tutors and professors on OxPods, the Oxford University student podcast.
Can you tell us a bit about yourself and the course you're studying at LMH?
I'm Alice, a first-year undergraduate student studying Classical Archaeology and Ancient History. I've always loved history and archaeology, and I grew up in Turkey, so the history of the Ancient Greeks and Romans has always been a particular interest of mine. I didn't realise that Classical Archaeology and Ancient History was a course until Lower Sixth, but as soon as I found out about it, I knew it was the one for me!
How did you get involved in podcasting?
From the start of my time here at Oxford, I have been involved in OxPods - a student podcasting society where students interview their tutors and professors about topics within their subjects. I saw an advertisement to get involved on the LMH JCR Facebook page and it immediately sparked my interest. I've always loved podcasts – I listen to one almost every day – and podcasts have played a key role in developing my academic interest in the ancient world. I really wanted to get involved in OxPods to make subjects that might seem inaccessible, accessible. As we see them almost every day, I think it's easy to take for granted that we have the world's leading experts on so many subjects at Oxford. It's a real privilege to study here and I'm keen to share some of the amazing things I've learnt from my tutors here to the wider world.
How do you go about creating a podcast?
So far, I've recorded four episodes. I really enjoy the creative process behind making each episode, and there's no one place where I get ideas for episodes from - sometimes I'll hear something in a lecture or tutorial, see a poster in the faculty, or even just hear my friends talking about something interesting. I always discuss the idea with another member of the OxPods team, it's good to get a second opinion from someone who doesn't study the same subject as me to make sure that the topic will be interesting for lots of people. I then contact the expert on the topic to see if they will come on the podcast to speak. To begin with, I found this quite intimidating, but I was blown away by how keen the tutors and professors have been to come on the podcast. The podcast wouldn't be possible without them, so their support and involvement has been amazing.
What's your favourite part of the process?
Conducting the interviews is definitely the highlight of working on OxPods. I always learn something new and the tutors I speak to are passionate about their subjects, so the interviews are always enjoyable. A lot of the people I interview I've only ever interacted with through lectures, or I've read their research online, so meeting them in-person is really interesting, and I genuinely enjoy hearing what they have to say.
What are the benefits of being involved in OxPods?
As I generally conduct interviews on my own subject, it's been really helpful for me to learn more about parts of my subject in more detail. My interview skills have improved a lot since I first started at OxPods, and this has actually been really helpful in my academic life. Phrasing and asking questions concisely under pressure is difficult, and I think my tutorials and classes have become more productive as a result of me developing this skill. If anybody would be interested in getting involved in OxPods, you can get in touch through our website (oxpods.co.uk) or Instagram @ox.pods. It's been a really great experience and the nature of the work means that it's really flexible, which works well with the Oxford lifestyle.
What other activities are you involved in outside of your academic work?
Alongside my course and OxPods, I play netball for college, run, and go to the gym. Exercise is a priority for me - it helps me relax and is something I've always enjoyed. LMH has its own gym, netball courts, as well as Uni Parks on the doorstep, so I'm lucky enough to able to fit everything in relatively easily.
What's your favourite thing about LMH?
A lot of people complain about LMH's distance from the centre of town, but for me it's a highlight. Walking through Uni Parks to get to class every day gives me time to think and spend a bit of time in nature, and being away from the city centre helps me maintain a balance between my academic and personal life. After a long day of lectures and essay writing, it's so nice to get away from the bustle of the city centre, go the gym, and chat with my friends in Hall. LMH has a really strong sense of community, and everyone is super supportive of each other. It makes a huge difference, both in academics and extracurriculars, to know that you have people cheering you on - it's definitely the thing I love most about LMH.
Listen to Oxpods
Alice's most recent podcast focused on 'Protecting the Archaeology of the Middle East and North Africa'. Alice spoke to Dr Bill Finlayson, a professor of pre-historic environment and society and the director of the EAMENA project, to discuss the current threats to archaeological sites, what can be done to protect them, and why we should care about archaeology.
Before that, Alice spoke to Dr Volker Heuchert, Curator of Greek and Roman provincial coins at the Ashmolean Museum, for a podcast on 'The Invention of Coinage'. You can listen to her podcasts on the OxPods website.
Oxpods graphics designed by: Auriane Swannell.