Oxford Study Skills Centre, the first of its kind at Oxford University, has opened at LMH under the direction of Dr Margaret Coombe. It is housed in Old Old Hall, the site where the first nine female students lived when LMH opened its doors in 1879.
The Centre will offer a range of classes and one-to-one sessions on all aspects of learning for students of any college at Oxford University.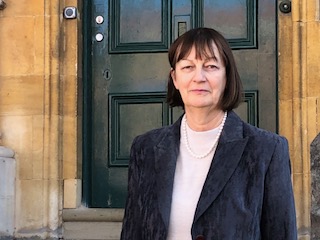 Dr Coombe, an alumna of LMH twice over, is an experienced mentor and teacher of skills, experience gained not only in academia but in the professions and commerce.
The moment to build on her experience here at LMH has never been better. The University is committed in its Strategic Plan to widen access and support all students, while the College is additionally developing and promoting a strategy of new measures to support our academic community, reduce anxiety-related problems, increase the number of direct applicants to the College and produce ever better academic outcomes.
Alan Rusbridger, Principal of LMH, said: "While our Centre will be unique in Oxford, study skills centres have long been established at other world class universities which have recognised the benefits to staff and students. Harvard has an extensive Writing Centre and puts huge financial resources behind research into improving teaching and learning strategies. The University of La Rochelle named its centre the 'Maison de la Réussite', the 'Success Centre'. Numerous studies by educational psychologists have shown that having a key set of study strategies accounts in large part for the variance in students' exam scores."
While some students may discover some skills for themselves, many benefit from instruction from teachers who understand the relationship between effective study and learning, and who have the time to invest in teaching this. It is not about doing things 'right' but working with each student to develop their latent potential and overcome their lack of confidence or engagement in their work. Study skills show students how to take ownership of their learning and to develop positive attitudes. Learning these skills is useful not only at Oxford, but in the students' future lives, improving confidence and employability.
Dr Coombe said: "I first began teaching evening classes in London many years ago, and was formally trained in mentoring and staff training over several years in the City shortly after qualifying in the professions. Having thereafter spent 18 years in establishing and expanding a new concept primary school, I returned to academia and teaching some 14 years ago. I know how important training and skills are in all walks of life, and my experience in Oxford helping students fulfil their potential led me to approach LMH to help establish a formal Centre open to undergraduates of all colleges and disciplines. Thanks to the farsightedness of the Principal, Fellows and staff this has now begun to function, will be able to help many more than I can alone and expand as time goes on."
2018-19 will see the gradual establishment of the Centre and by the time we commemorate LMH's 140th anniversary in September 2019, we aim to have one more reason to celebrate the College's pioneering spirit: a fully operational Study Skills Centre.