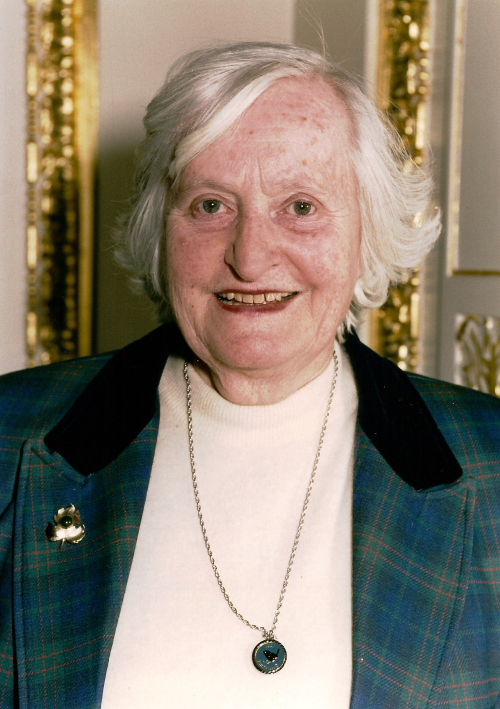 LMH is sad to announce the peaceful death at the age of 103 of alumna, Cathy Avent (1939 English), on 3 December 2022.
Cathy arrived at LMH the month after war broke out in 1939 and, after graduation, spent the rest of the war and its aftermath in the WRNS (Women's Royal Naval Service). She never questioned her desire to join the Wrens. In an interview she said: "I had no naval background, but I had always fancied – that was I wanted to do…It was romanticism, basically, and, of course, the feeling if they would accept me – that was a very prestigious thing to be in". Deciding against a permanent naval commission, she then completed a Graduate Diploma in Social Sciences and Administration at LSE, before embarking on a distinguished 'career in careers', lecturing, writing and consulting on careers education as well as giving guidance on the relationship between educational qualifications and the requirements of careers.
She began as Assistant Youth Employment Officer at London County Council's new Youth Employment Bureau in 1949 and went on to work with grammar and public schools. Cathy became a member of the Central Advisory Council for Education in 1957 until 1963 and, later, went on to become Senior Inspector of Careers Guidance for the Inner London Education Authority (ILEA).
She was awarded an OBE (Order of the British Empire) in 1977.
Cathy remained closely in touch with the College and had served on the LMHA Committee since 1982, becoming Honorary Secretary in 1985, President in 1990 and Vice-President in 1994. Her knowledge was vital to the College at the time the Development Office was established and the more formal alumni engagement activities got under way. She masterminded, with Hilda Pipe, the production and publication of the invaluable Lady Margaret Hall Register, a document we still turn to regularly.
She will be remembered fondly by all those at LMH who knew her and were fortunate to have worked alongside her.
Cathy's funeral is on Monday 9 January at 12 noon at St Jude on the Hill, London NW11.
A live stream of the funeral service from Monday 9th Jan at the Parish Church of St Jude on the Hill, Hampstead Garden Suburb.