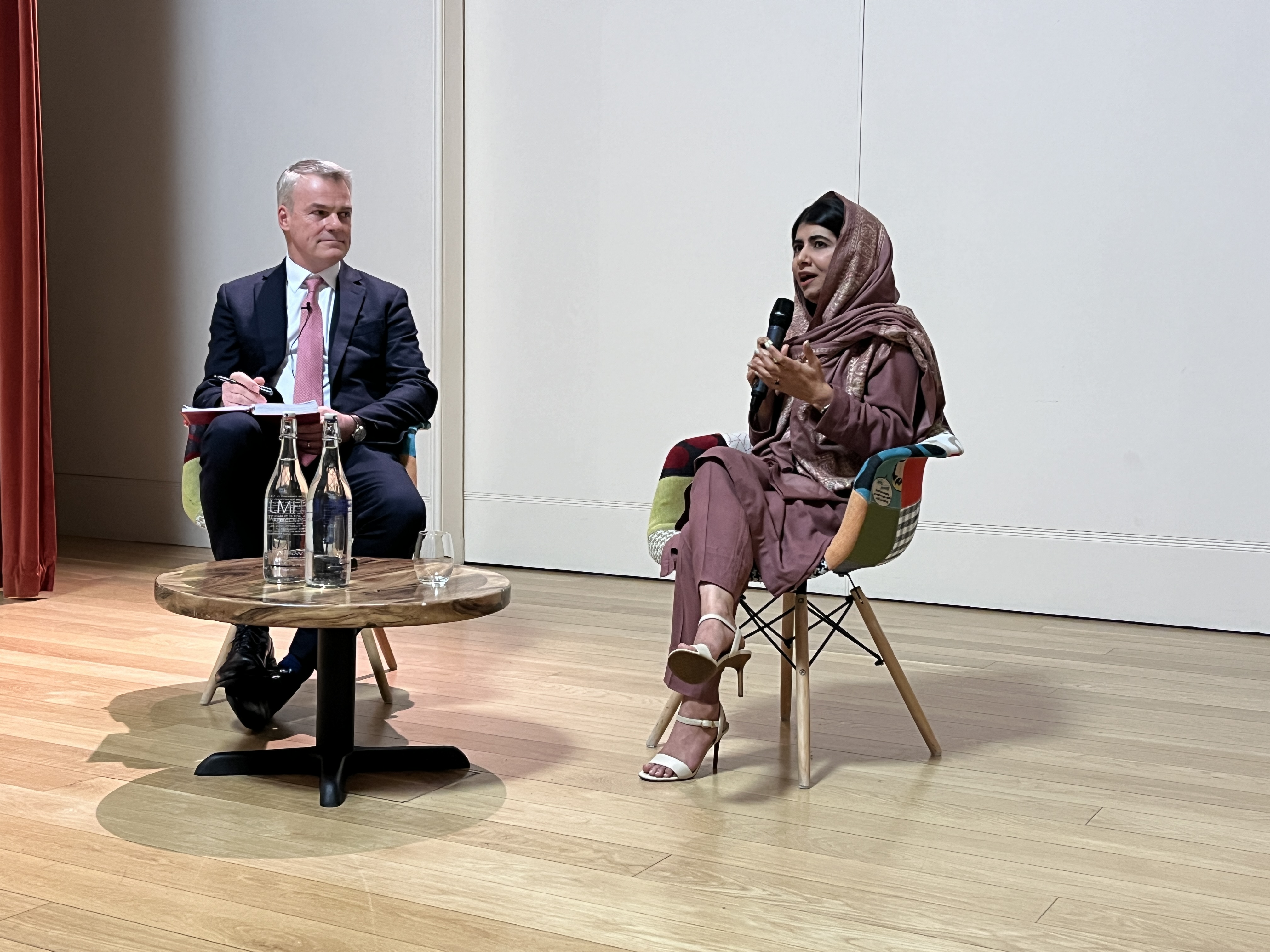 We were delighted to welcome alumna and Nobel Peace Prize Laureate Malala Yousafzai (2017, PPE) back to LMH for an 'In Conversation' with Principal Professor Stephen Blyth on Thursday 2 November. 
Co-founder and executive chair of the Malala Fund, Malala began her campaign for education at age 11 when she anonymously blogged for the BBC about life under the Taliban in Pakistan's Swat Valley. Inspired by her father's activism, Malala soon began advocating publicly for girls' education — attracting international media attention and awards.
In her conversation with the Principal, Malala reminisced about her time at LMH (citing the College's outdoor spaces and gardens as the things she missed most), reflecting on how she felt instantly at home here and how the diverse group of friends she made continue to play a pivotal role in her life. 
Speaking about her work with the Malala Fund, Malala said it was 'a dream and an honour' to be in a position to be able to take meaningful action to help girls all over the world gain access to education. Staggering statistics point to over 120 million girls worldwide being out of school due to factors such as poverty, conflict, forced marriages, and gender discrimination, with a further 20 million at risk of not returning to education after the Covid pandemic. 
Reflecting on the challenges she has faced when meeting governments and world leaders to discuss prioritising education for girls (which the Malala Fund believes should involve a commitment to at least 12 years of schooling, rather than just a primary education), Malala pointed to the difficulty of getting leaders to make real financial commitments to deliver on their promises. Sometimes, she said, there is a big gap between what is promised by politicians and what is actually delivered. 
Asked whether she finds this frustrating, Malala replied that one of the most important lessons she has learned through her years as an activist is that you must persevere, even when things seem impossible. She emphasised that the Malala Fund isn't about her, or any one girl. Malala tells her story because it isn't unique; similar things are happening to girls all over the world, with tens of millions being denied access to even a basic education. 
Continuing on the theme of access to education, the Principal asked Malala about her involvement with the Oxford Pakistan Programme, which launched in 2021 with the aim of increasing representation of Pakistani and British Pakistani students at the University of Oxford through graduate scholarships, with many of the recipients being based at LMH.  
Malala believes that the OPP is already making an impact in opening up new educational opportunities for talented Pakistani and British-Pakistani students from areas or backgrounds where students almost never attended any university, let alone had the opportunity to study at one of the top universities in the world. She emphasised how vital it was to invest in the youth of Pakistan to unlock the country's huge potential, and her hope that those who benefitted from this fantastic educational opportunity could return to Pakistan and feed this back into their communities. 
Malala described the feeling of graduating from Oxford as a 'complete dream come true', and something she could never have imagined in 2008, when she was banned from attending school by the Taliban and experiencing the daily terror of war. This is what she wants for all girls – not necessarily that they follow the same educational path, but for every girl to have the autonomy to decide her own path in life and pursue her dreams. Malala remains determined, through the work of the Malala Fund, to use her voice to amplify the voices of girls everywhere fighting for equality, and to help build a cleaner, safer and more peaceful world where access to learning is accepted as a basic human right.