Now editor of Prospect magazine and having recently become a grandfather (of Laith, aged 9 months), former LMH Principal Alan Rusbridger has kept up a busy pace since leaving Oxford in 2021. During his six years as head of the College, Alan pioneered the LMH Foundation Year Programme, which has supported 62 talented students from socio-economically disadvantaged backgrounds and seen 44 former Foundation Year students matriculate at Oxford.
Recently awarded an honorary degree from Trinity College Dublin for his contributions to access in education and for his work in journalism, current LMH (and former Foundation Year) student Aneela Shah (2020, English) interviewed the former Principal as he reflected on his time at LMH and his legacy of innovation in equality and access that the College continues to build on.
Read the interview below.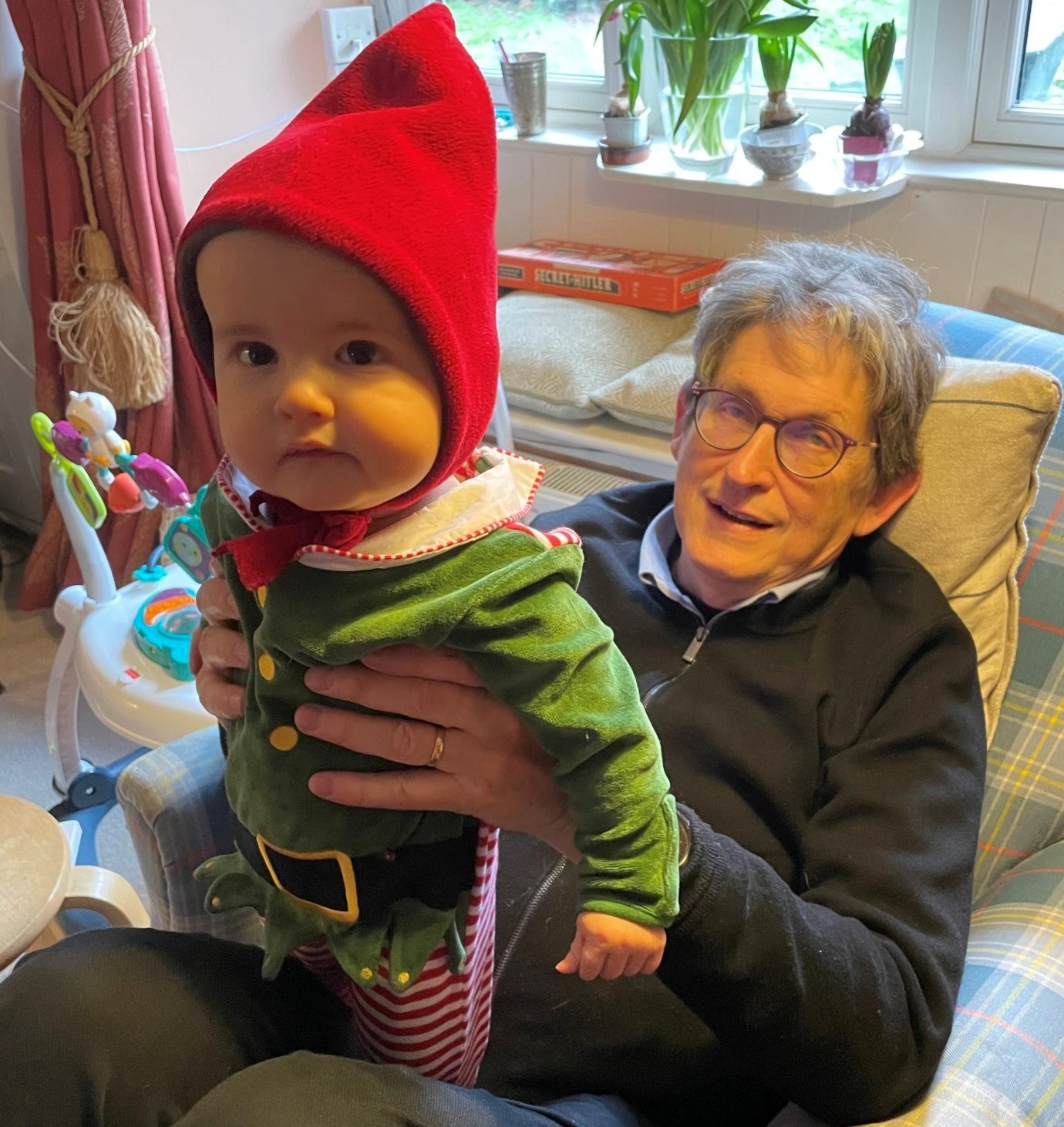 Aneela: For six years, you were Principal of LMH. Many would link your time here with the Foundation Year, and a clear mission to improve access to higher education at Oxford. Would you say this is a fair characterisation?
Alan: I think that the Foundation Year was the biggest change I was part of at LMH. It was the coming together of two things. One was a sense that LMH needed a new surge of identity. It had been the first women's college that had been tremendously brave, bold, and innovative in allowing an Oxford education for those who had always been denied it. It had been amazing for 100 years and people knew the college as having blazed that trail. But by the time I arrived in 2015, it was slightly wondering, what's our unique selling point now that we have been a mixed college for 35 years.
Secondly, I arrived asking myself about the solution to this problem that people have been talking about in Oxbridge, for years - which is how do you create a fair application process and how do you make all people feel welcome? What do you do about young people who haven't had the same advantages as others? So here was a college that needed its identity refreshing, and a very good and important cause. And then by accident I learned about this scheme at Trinity College Dublin, and it all sort of came together, more or less at the end of my first term, and really dominated much of my time for the next six years.
Aneela: When you started the ball rolling with the idea of the Foundation Year, LMH was not a rich college, and it is not a rich college now. An access scheme like the Foundation Year would require a lot of funding from generous donors. Is it surprising that LMH went ahead with such a change despite this?  
Alan: There are some colleges that are far wealthier and have enough resources, so they maybe don't have to think about changing. But colleges like LMH, that are newer and thus not as well off, must be more creative and innovative in order to create an identity for themselves. So I don't think it's an accident that LMH has got this sort of streak of innovation and reinvention in it.
Aneela: You mentioned Trinity College Dublin at the start of this interview. Congratulations on receiving your honorary degree. What was your experience of the degree ceremony like and were you surprised to receive this degree?
Alan: I was really surprised! It was such an honour, especially as it was from such a great university, and because of Trinity College Dublin's connection to LMH [their 'Trinity Access Programme' inspired what became LMH's Foundation Year]. What I really loved about the day was there were four of us. The other three were distinguished, Irish individuals – a human rights lawyer, an artist and a professor. Part of the day felt familiar to Oxford – it was in Latin for starters! And yet it seemed much more intimate too -  informal and warm and fun. And the award was also both for my work in journalism as well as for the work that we did at LMH, and so it was very nice to have two parts of my working life recognized.
Aneela: You recently returned to journalism by becoming editor of Prospect magazine, and prior to that, spent 20 years as editor of The Guardian. How would you sum up your time in journalism?
Alan: Well I think we now live in a world where we struggle to work out what's true. Societies don't work unless we can agree on facts. We've seen how America under Trump became a very alarming place because of this idea that there were alternative facts and alternative forms of news, and such polarization that people couldn't even agree on the basic things. The role of journalism is informing people, which today includes thinking about how you can achieve that in a market economy. It's not clear, for instance, that there is a market particularly in local news for local newspapers. So how do local communities remain informed? So we see people are returning to the idea of good information as a public service. And that's what we at The Guardian tried to do. It's what the BBC, at its best, does. There's a growing trend in philanthropists backing public interest news organisations.
Now I'm at Prospect, which is a very different kind of beast. It's monthly, whereas The Guardian was almost minute by minute. And it's been very interesting, particularly in the last year of British politics when you didn't even know who's going to be Prime Minister next Thursday. That's challenging when you're producing a magazine that looks six weeks to two months ahead. I think that's what we're trying to do with this magazine – look over the horizon. The day-to-day bustle of journalism is incredibly important. But, particularly at a time of social media, where we glance at our mobile phones fifty times a day, it's important that somebody steps off that hamster wheel and says, "Well, hold on. Let's take the longer view here. And let's be a bit more considered." And I'm enjoying it greatly.
Aneela: That all sounds very interesting and new! I want to take a moment to acknowledge that I was one of the students that took part in the very Foundation Year you started. This interview wouldn't be happening without it. There are so many other success stories from the Foundation Year– students becoming global ambassadors like Vee Kativhu, others receiving full scholarships for PhD programmes. The human impact of the Foundation Year is undoubtable. How does it feel to hear about the impact of your work – was this your expected vision?
Alan: Well the way I see it, there's two aspects to this. Firstly, it was commonly accepted that Oxford, Cambridge and other Russell Groups universities have struggled with this issue: the more competitive that they get, the harder they are to get in to. And so therefore, the people with the best secondary education are often the people with the best chance of getting in. A lot of this is the fault of the English education system, which is hugely socially engineered and unequal and has suffered from all kinds of underinvestment. This creates a real problem in understanding the context and potential of young people applying for great universities. And here's one approach to trying to solve it.
When we first went to Dublin to look at the Trinity Access Programme (TAP), they were very clever. They introduced us to TAP students, past and present. And that made for a fascinating day: human stories that hit you. You meet these incredible people, and hear their stories. I remember meeting one individual, who had previously been a single, teenage mother and addicted to drugs. But after the TAP programme, she completely turned her life around and she is now a senator in the Irish government. Such amazing people with such touching stories. So we've seen this transformative effect of education on these young people at Trinity. And they said "we take them and we give them this extra year and at the end of it, they perform exactly the same as the other students. They are just as bright, but they're also often amazingly resilient, amazingly resourceful."
Some of the students at Dublin and at Oxford had come from very, very difficult backgrounds. And yet, at the end of three or four years they have mostly not only caught up but in some cases have overtaken their contemporaries. Maybe we shouldn't be surprised. Here you have this person from this background who may have got a grade or two grades less than someone from a more fortunate background. But when you hear what they've overcome to do so comparatively well, you think, "Boy, you know, this person has astonishing potential."
And so, how do you change a system to recognize that these are extraordinary people? And you're right to say that one of the lessons we learned from LMH was that yes, we changed their lives, but they changed LMH, and are now changing Oxford. They're going out into the world and doing extraordinary things already. And we will all be changed by them.
In the 2023-24 academic year, the Foundation Year model pioneered at Trinity College Dublin and then at LMH will be rolled out across the University of Oxford as the Astrophoria Foundation Year. The University of Cambridge welcomed the first participants to its Cambridge Foundation Year in 2022.
(Image on right: LMH undergraduate and former Foundation Year student Aneela Shah, who interviewed Alan Rusbridger)