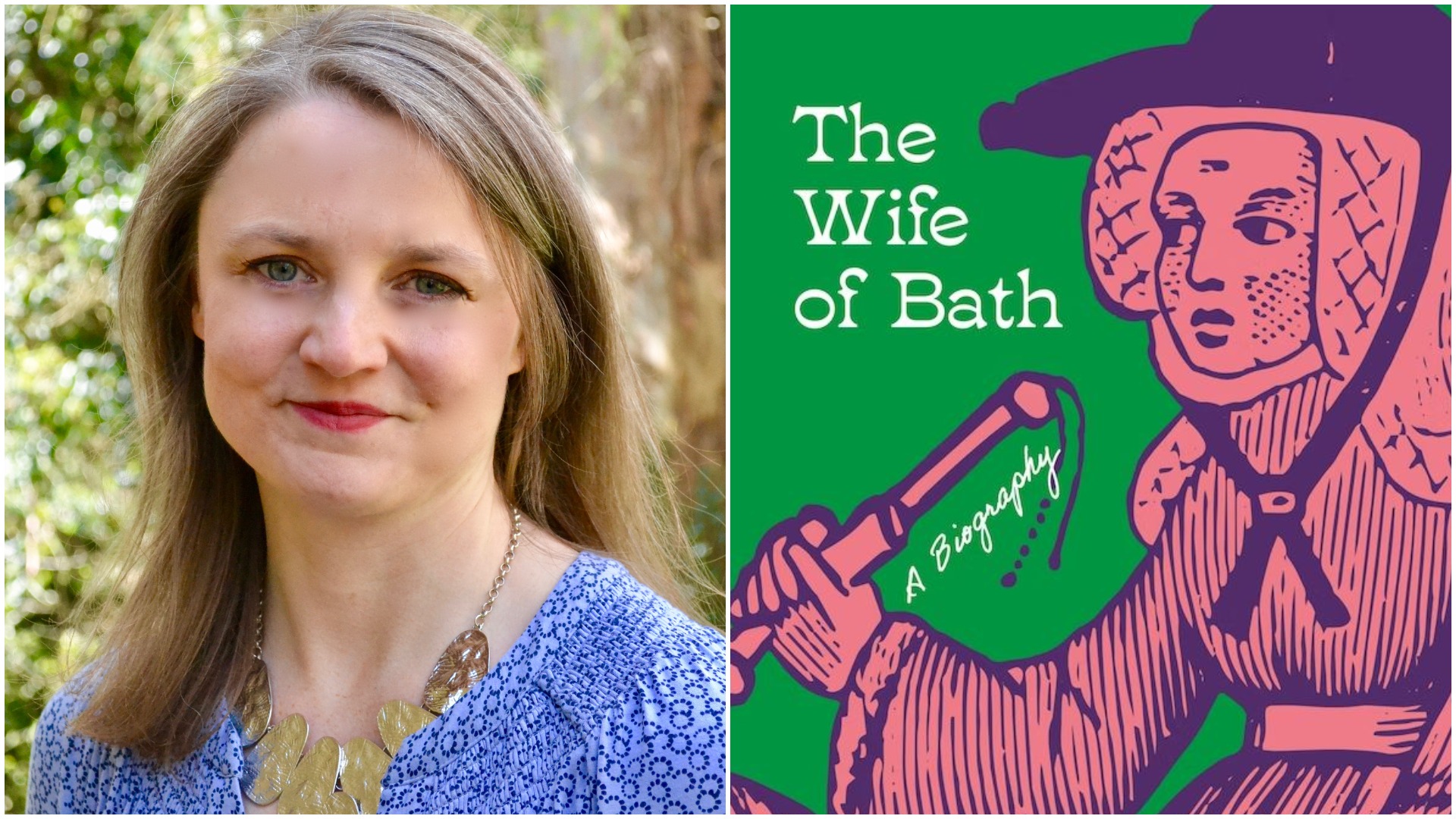 Congratulations to Marion Turner, J.R.R. Tolkien Professor of English Literature and Language at the University of Oxford, and a Professorial Fellow of LMH, who has recently released a new book, 'The Wife of Bath: A Biography'.
In The Wife of Bath, Marion Turner tells the fascinating story of where Chaucer's favourite character came from, how she related to real medieval women, and where her many travels have taken her since the fourteenth century, from Falstaff and Molly Bloom to #MeToo and Black Lives Matter. Few literary characters have led such colourful lives or matched the Wife of Bath's influence or capacity for reinvention in poetry, drama, fiction, and film, ever since her triumphant debut in Chaucer's Canterbury Tales.
Professor Turner celebrated the book launch in early January at an event held in the Old Library in LMH, where members gathered to hear her talk about her latest publication. Published by Princeton UP, the book is available from all usual suppliers including Blackwell's, Waterstones and Amazon. It has been very positively reviewed, in publications including the Telegraph, the Guardian (where it was 'book of the day'), the Financial Times, the Independent, Country Life, the Sunday Times, History Today, and the Literary Review.
We are very pleased to share an interview with Professor Turner about her new publication.
Interview
What inspired you to create this book, and why did you decide to focus exactly on the "Wife of Bath"?
My previous book was a biography of Chaucer (Chaucer: A European Life). I wanted to write a book about women – writing about the Wife of Bath was a way of writing about the connection between literary women and real women. It was also a way of telling the stories of many different women. I connect her fictional experiences to the experiences of all kinds of medieval women – from the duchess who married a teenager when she was in her sixties, to the women who formed a guild to protest against price-fixing in the 1360s; from the maid who abandons her employer while travelling across Europe to get a better job to the female blacksmiths, skinners, and parchment-makers making a living in London. I wanted to tell many women's stories. I also wanted to range right across time – and the 'afterlife' part of this experimental biography allowed me to do that, coming right up to the present day. The book moves through authors including Shakespeare, James Joyce, Ted Hughes, and Zadie Smith.
Why do you think Chaucer's characters from 14th century, especially "Wife of Bath", remain interesting for modern people?
The Wife of Bath talks about many serious issues that are still relevant today – domestic abuse, rape, the silencing and invisibility of older women, the bias of the canon, the weight of misogynist texts. But alongside these deadly serious issues, she is also funny, self-deprecating, rude, inappropriate, surprising – her humour and sharp-ness captures people's imaginations.
How long did it take you to write this book, and did you face any difficulties?
I wrote most of this book during the pandemic. It was a very strange time for me – my husband and I were both working full time and we had two children, aged 8 and 11, at home the whole time, trying to do home school. There were obvious difficulties – but I also found that when they went back to school, I wrote with an unprecedented intensity. And of course, there was something very interesting about writing a book about women's work and about opportunities for women after the plague, at this particular moment in our history!
Did anything surprise you during the creation of the book?
Lots of things surprised me. I was particularly amazed by how many authors had been influenced by the Wife of Bath and I ended up changing the structure of the book to focus more on the afterlife than I had originally intended. It started to feel like every author who had ever written was influenced by her! I was especially surprised to find out about Voltaire's version, and about other recent non-Anglophone versions, for instance in Brazil.
Are you planning to write and release more books about Chaucer's works? What might be the central idea of the next publications?
I've got a few things in the pipeline. In particular, I'm curating an exhibition at the Bodleian, called Chaucer Here and Now, which will open this December and run until April 2024. It is about Chaucer across time, and will feature some of the most important and beautiful Chaucer manuscripts, as well as early printed books, and many later objects including William Morris's Kelmscott Chaucer, and then recent books such as a Russian Chaucer, an Esperanto version, cartoons, and pop-up books. There's an accompanying book too, which I have edited.
Questions by Anna Ponomarenko, LMH Digital Communications Officer
To read and listen more about Professor Marion Turner's new book, please visit: