Second-year PPE undergraduate and former Foundation Year student Danial Hussain has been elected to serve as President of the Oxford University Student Union (OUSU) for the 2023-2024 academic year. Danial will become the first former LMH Foundation Year student to hold the position when he takes up his new role in the autumn, and he hopes that his appointment can help illustrate the "tangible results" that access programmes such as the Foundation Year can have in terms of diversifying Oxford's student body.
In an interview with The Times, published on 18th February, Danial spoke about how he almost didn't make it to Oxford at all, as "impostor syndrome" set in during his first admissions round. In his words: "I wasn't used to that environment, of being questioned that way […] I think my mind went blank and I never performed to my ability". Regrouping after this difficult rejection, Danial decided to apply for the LMH Foundation Year with the support of his teacher back home in Bradford. Speaking of his Foundation Year experience in 2020-21, Danial said: "Once I was here for a year, and I knew what it was like, that it was actually a friendly place, that gave me the confidence to go into the [admissions] interviews".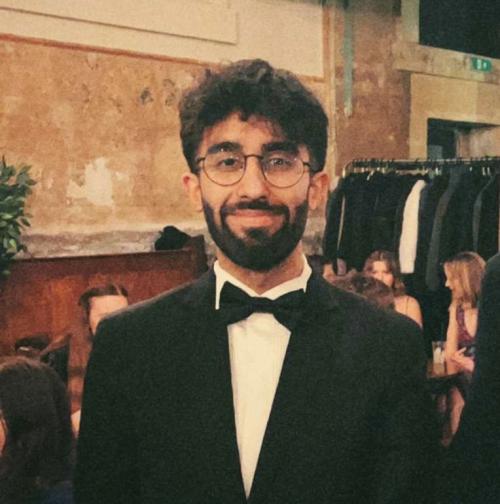 During his time in Oxford, Danial has been co-chairman of the Oxford University Labour Society and of the Oxford Student Union Class Act campaign, which supports, represents and campaigns on behalf of students from working class, low income, first generation, and state comprehensive school backgrounds, as well as care leavers and estranged students. Danial has also got involved in plenty of activities at LMH, and was a student caller during the College's 2021 telethon campaign.  
High on Danial's agenda when he takes up his new position will be campaigning for an end to the financial disparity students experience depending on which college they study at, which he feels can have an acute impact on access students like him in particular. Danial is passionate about the importance of diversity at Oxford, and of providing support to unleash the "untapped talent in British society", and he believes that Oxford benefits from this injection of new talent and perspective just as much as (if not more than) the students themselves benefit from being at Oxford. He says: "It's exciting to think that me and my friends from the foundation year are part of a new generation who are changing things". 
LMH welcomed the final cohort of Foundation Year students this academic year, before the University of Oxford's Astrophoria Foundation Year, inspired by LMH's pioneering initiative, rolls out in the autumn. The Astrophoria Foundation Year will offer 50 places for talented UK state school students with significant academic potential, who have experienced severe personal disadvantage and/or disrupted education which has resulted in them being unable to apply directly for an Oxford undergraduate degree programme. Initially, Astrophoria Foundation Year students will study at one of ten colleges, with 3 due to take up places at LMH. 
As Danial prepares to launch into his new role, he would welcome input from anyone in the LMH community who has any words of advice or support for him. If you want to get in touch with Danial, you can do so via: webadmin@lmh.ox.ac.uk and your message will be passed on.  
You can read Danial's interview in The Times in full here.