Dr Margaret Coombe, Director of the Oxford Study Skills Centre at LMH, has published a new book titled Reginald of Durham: The Life and Miracles of Saint Godric, Hermit of Finchale. This full translation of the Latin text is packed with information about medieval material culture, lay religion, illness and death, horticulture, lay morality, buildings, and much more.
Saint Godric was born into a poor family in Norfolk in around the 1070s. He became a boy peddler, adolescent merchant and adult merchant sailor, grew rich then gave it all up to travel. He visited Rome, Jerusalem, St-Gilles and Santiago de Compostela on foot. He spent some time working in the hospital in Jerusalem then came home and started to look for a place to stay away from people to meditate and serve God. That was harder done than said, but eventually he came to Finchale outside Durham and stayed for 60 years, dying in 1170. There he grew crops, grafted apple trees, built his houses and a chapel, entertained people with songs and salmon dinners, and became a good friend and counsellor. He had visions, and was the author of the first extant songs in English, which are still performed and recorded today. They were even arranged for voice by Benjamin Britten. Godric's fame grew. He came to know Archbishop Becket and many noble families, but always stayed down to earth and poor, putting his body through many torments such as sitting in icy water and starving himself. After Godric died, many miracles were recorded at the site of his hermitage, such that an abbey was built there in 1196 to minister to all the visitors. Finchale Abbey remains to this day, now a beautiful ruin managed by English Heritage.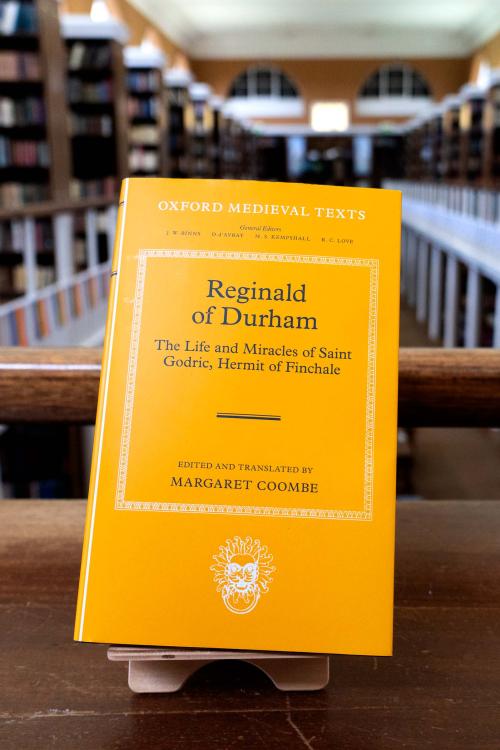 Margaret Coombe is an alumna of LMH twice over, in addition to being on the staff. Her first years here were as an undergraduate in the 1970s, studying History and French. In 2005 she embarked on postgraduate study at King's College London, alongside a full time job, where she developed a passion for medieval texts and manuscripts. Six years later, having given up her job and done an Oxford DPhil, she was offered a junior research fellowship back at LMH to work on an obscure Latin text.
Dr Coombe provided an insight into the process of producing such a mammoth work: "Running to over 1100 pages, it will make a good door stop but hopefully will be read as well, because the story of Godric is surprisingly moving and accessible. At the start, transcribing and translating all 150,000 words of Latin had to be done rigidly. I set myself a target of 5 sections of text each day. That took a few years. Next came the research: travelling to discover places mentioned in the text, delving in libraries to find more about the people mentioned, and trying to make sense of medieval ailments and understand them in 21st century terms. A draft result was submitted to publishers in 2016. The book continued to be refined and polished, alongside setting up the Study Skills centre. Submitting it all to scrutiny of an academic reader, copy editor and proof reader took five more years. I hope it will be useful to future scholars, as I take a break for a time and tidy up ten years' worth of papers, photocopies, books and maps. I may even get to see my home study carpet sometime soon!"
A copy of the book has been donated to the LMH Library. You can also purchase a copy through the link below.