After being recorded for LMH's Oral History Project on 14 August 2023 I later remembered all sorts of other things about my time at LMH.
I really wanted to go to Art School but my headmistresses wanted me to try for Oxford; I was the first Girl at Saint Martin's, Solihull to be given a place. The school was only ten years old when I joined. When I was up at LMH I went to see the Principal and asked if I could try the Ruskin School of Art as well. (At that stage it was in what is now the basement café of the Ashmolean. Most of my lectures and library were in the Taylorian next door.) She agreed! Everything was free at the time: I had a full state scholarship, the headmistresses from St Martin's did not have to pay, although they had said they would do so to save me from an arranged marriage!
So, for a term I went to Life classes and painted green nudes but had to admit that it was impossible to do both: there were too many essays to write.
I helped to organise the Summer Ball in 1957, in the Japanese style. I painted scrolls and we sat on cushions on the floor and girls lent Samurai helmets and swords and made Japanese flower arrangements and beautiful ladies in kimonos from the Japanese Embassy came and brought me two enormous bottles of sake. Some of my scrolls were stolen, which was very flattering! I used to paint on the floor of my room at midnight and sell my pictures for 10 shillings to my friends. I have one left (shown here).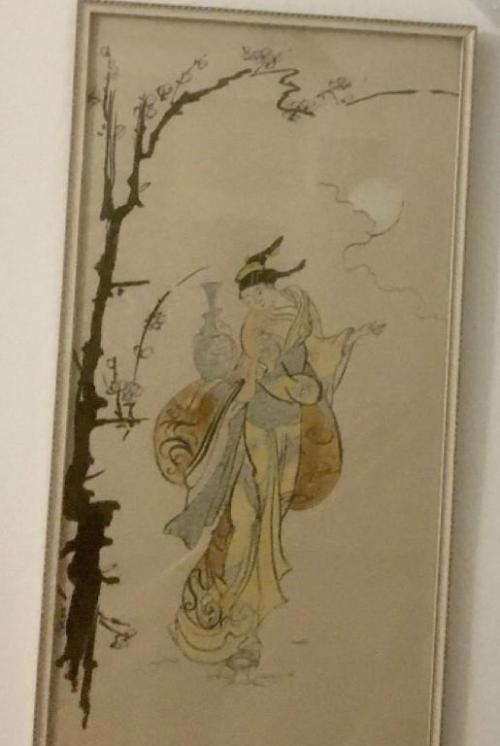 LMH also gave me a travelling scholarship, as I had to tell them my story (my friends did not know) that I was probably the only student reading French who had never been to France! I could not ask my kind headmistresses for money. So, I spent six weeks in France, first at a Russian Colonie de Vacances near Grenoble for the children of Russian emigres in Paris. There was a Russian priest, a tent which was used as a church and lessons for the children. There were other Oxbridge students there as well. We slept in tents on palliasses. I made friends for life and climbed rocks in my espadrilles and swam in the lake in Petichet.
Then I went to a course for British teachers of French in Besançon. Barbara Canning from LMH joined me. We were shocked by the poor French of some of the teachers. All were much older than us – 20 at the time. Then I watched Brian (my future husband) fencing in Paris. I returned to London with just one pound in my purse, missed the last train to Solihull and slept on the floor of an LMH historian friend's house in Hammersmith. Her mother was the first to hear about Brian! The 'Aunts' (the headmistresses at St Martin's, which was my home in the vacations) told me to go and have a cold bath!
The JCR had a sewing machine and I made lots of circular skirts and a fabulous Dior turquoise taffeta evening dress for one of the balls. I am amazed how much extra-curricular activity could be fitted in. We were young! We were so lucky. Beautiful gardens and the river ... friendship ... husbands...