"Gertrude Bell came from an affluent County Durham family. She came up to LMH in 1886 and was one of the earliest women to claim a First in Modern History at Oxford. She was also the first woman to be awarded a prize by the Royal Geographical Society; the first woman officer in British military intelligence; the first to climb the Great Englehorn in the Alps - where the Gertudspitze peak is named after her; the first woman to travel alone through the remoter reaches of the Arabian desert and the first to plant daffodils in Mesopotamia! Despite this emancipated pioneering, Gertrude Bell was not a feminist; in fact she campaigned against female suffrage.
Soon after leaving Oxford Gertrude Bell visited her uncle who was British Minister in Teheran and then embarked on her extraordinarily adventurous career as a traveller, explorer, archaeologist, historian, Arabist and writer. Bell was a natural linguist, speaking Arabic, French, German, Persian and Turkish. She was a member of British Intelligence Services in Mesopotamia, mentioned four times in despatches, awarded CBE and was an expert member of the British delegation on the Middle East at the Versailles conference. Her career culminated in working with T. E. Lawrence to have the recently deposed King of Syria, Faisal endorsed at the 1921 Cairo conference as King of Iraq."
 
[LMH Catalogue entry by Mary Haynes]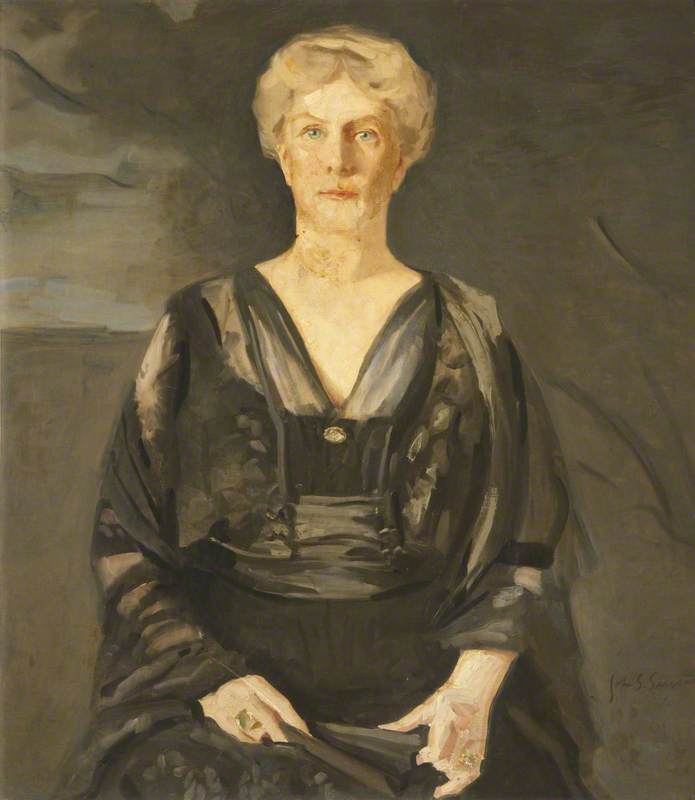 This beautiful portrait (oil on canvas), currently housed in Talbot Hall at LMH, was donated by Mr Lowell Thomas, who acquired it in New England. Lowell had written a book on Lawrence of Arabia, and had met Gertrude Bell in London after one of his presentations. As he grew older, Lowell Thomas considered donating the portrait to Iraq, but was advised not to due to the turbulent political situation in that country. Instead, he donated it to Gertrude's old college. The painting is by John Singer Sargent, one of the most fashionable portrait painters in England and the USA in the late 19th century. Gertrude Bell and John Singer Sargent had actually met several years before she sat for him, and Gertrude described him as 'delightful'.
Find out more about our paintings