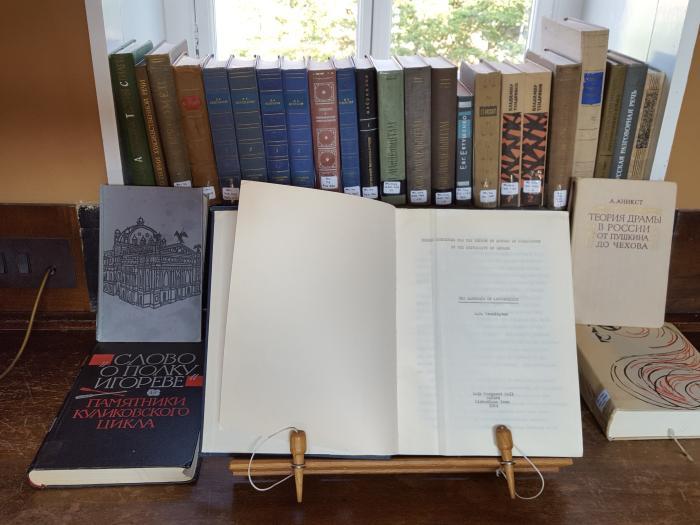 LMH library contains one of the largest collections of Russian and Slavonic works in Oxford college libraries, a small fraction of which is shown here. Much like the rest of the circulating library, this collection has grown through acquisitions of books from reading lists or requested by readers, alongside donations from alumni and academics. However, the core of our Slavonic section is largely the donated library of one women, Professor Anne Pennington.
Anne Pennington (1934–81) first came to LMH as a student to read French and Russian in 1952. In 1964 she completed her DPhil thesis on the language of the seventeenth-century writer Grigorii  Karpovich Kotoshikhin (1630–67), which she later donated to LMH library. In 1959 she became a fellow of Lady Margaret Hall and was appointed as a University lecturer in Russian the following year. From 1980 she was the Professor of Comparative Slavonic Philology.
Professor Pennington had a wide range of intellectual pursuits and was interested in the culture and languages of all Slavs, especially the Balkan Slavs. She travelled to the Balkans frequently, where her research focused on the region's medieval music tradition. While there she discovered several manuscripts of Stefan the Serb, attributed the origin of numerous manuscripts to the scriptorium of the Putna monastery in Moldavia and determined the pronunciation norm of fifteenth-century Serbian church singing. In collaboration with Oxford colleagues Andrew Harvey and Peter Levi, she also translated Balkan Slavonic folksongs and multiple volumes of poetry, namely the works of Vlasto Popa and Blazhe Koneski.  Anne herself was a passionate and talented Balkan folk dancer.
Anne Pennington died in 1980 but lives on at LMH, not just through her library donation and scholarly contributions, but also through memories of colleagues and former students, who speak just as highly of her character as they do of her contribution to scholarship.