Organ Scholars play a vital role in running LMH Chapel Choir, assisting the Director of Chapel Music in accompanying, conducting, and preparing the choir for weekly services and rehearsals as well as extra concerts, events, and tours. Organ Scholars are also at the heart of LMH's extensive musical activities, where they can pursue their own projects and make use of facilities such as the college's Harrison organ, two-manual harpsichord, and seven grand pianos (including one Steinway A). In short, Organ Scholarships are a brilliant opportunity to develop your all-round musical skills!
There are usually two Organ Scholars at LMH at any one time, both of whom receive three one-hour conducting lessons per term; four one-hour organ lessons per term; opportunities for paid extra services; the right to wear a scholar's gown; accommodation in specifically-designated rooms with pianos; priority in room balloting; and a stipend of £500 per year. This is in addition to all the other perks of membership of LMH Chapel Choir - free meals on Fridays and Sundays following SCR drinks, lots of fun choir socials, and performing a wide range of repertoire to a good standard in a relaxed environment. The Organ Scholars also run the LMH Chamber Choir, about which more information can be found here.
Organ Scholars are selected by auditions which are organised centrally by the Music Faculty. These usually take place alongside or prior to your academic interviews, before you start at Oxford, and as a result the whole application process is slightly different than for other undergraduates – further information can be found here. In general we expect candidates for Organ Scholarships to have developed some skills in organ playing before they start at LMH, but the main things we're looking for are enthusiasm, potential, and a willingness to learn – and we're also very happy for potential applicants to visit LMH informally, to meet students, see the Chapel and organ, and get a feel for what we do.
Please do contact the Director of Chapel Music if you have any questions, need advice, or just want to find out more. We'd be really glad to have you as part of the team of scholars at LMH!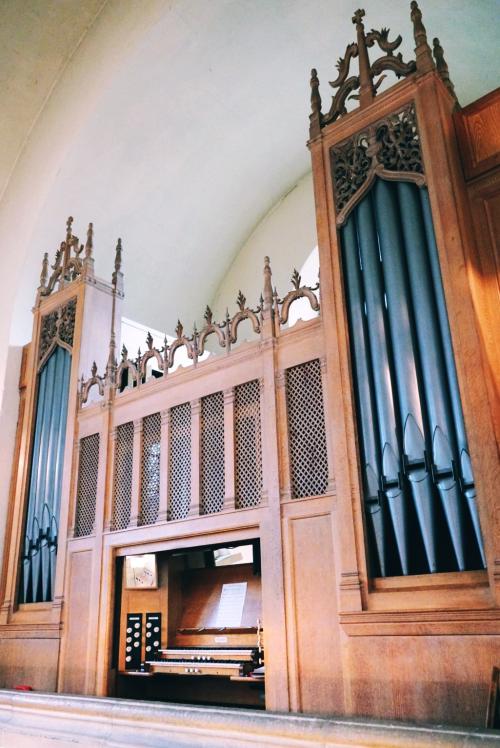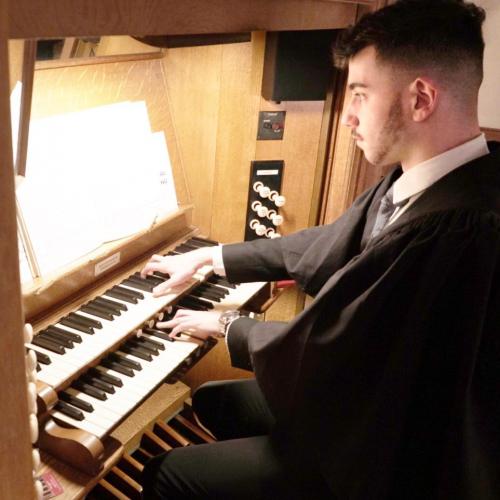 Jim Bate is the Junior Organ Scholar at Lady Margaret Hall, where he is also a second-year music student. He studied at Solihull School in sixth form, where he was examined in Maths, Economics, and Music. Jim conducts numerous ensembles such as LMH Chapel Choir and LMH Chamber Choir, and finds occasional opportunities to conduct larger ensembles such as the Oxfordshire County Youth Orchestra with the Oxford Conducting Institute. He currently studies the organ with Stephen Farr and conducting with Paul Burke.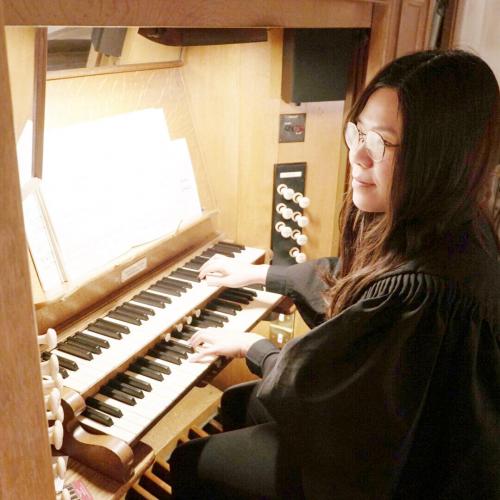 Ceri Yan is the Kaifeng Senior Organ Scholar at Lady Margaret Hall, where she is also a third-year music student. Born in Hong Kong, Ceri began her musical education at the age of three on the piano and joined the Hong Kong Academy for Performing Arts when she was six, achieving LTCL in piano in 2011. Prior to going to Oxford she was a student at The King's School, Canterbury, where she picked up the organ in sixth form under the tutelage of Adrian Bawtree. At King's Ceri performed with the school's Symphony and Chamber Orchestras, having played Saint-Saëns Symphony No. 3 (the 'Organ' symphony), and was awarded the Recital Prize in her last year. Ceri currently studies organ with Dr Nicholas Prozzillo, piano with Andrew West at the Royal Academy of Music, and conducting with Paul Spicer.