Both LMH and the wider University offer a wealth of information and support for mental wellbeing.
(Logo by © Niamh Simpson)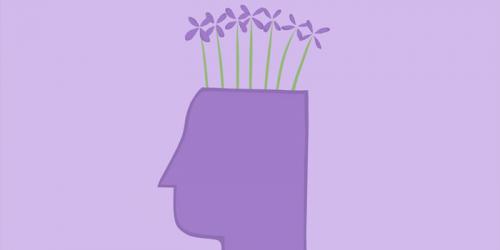 If you feel you may be experiencing a mental health condition or are concerned that you might be, please contact one of many people who can offer support, both within college, the university and the NHS.

Within LMH do contact the Welfare Team - there is a list of people here.

Your GP will be able to listen to your difficulties and refer you to further professional support if this is helpful.

The university has an excellent Counselling Service, with professional psychologists who operate a confidential service that you can refer yourself to without involving anyone else. They can speak with you in person, with an appointment or via a drop-in clinic or by skype/phone if you wish. In addition their website provides many links, podcasts and articles that you can use for self-help remotely.
Emergencies and NHS
In an emergency, if you need immediate help call 999 (or 112 from a mobile phone).

NHS non-emergency services -111 - can also help put you in touch with mental or physical health.
Further Support
The following will speak with you in complete confidence, and also have websites you might find useful:
Nightline (an Oxford-based confidential night-time listening service, 8pm-8am, 0th week to 9th week during Oxford term time

) – 01865 270 270

Samaritans (at least two branches in Oxford here) – 08457 90 90 90 or 116 123 (UK) or 115 123 (ROI)
Saneline (for anyone coping with mental illness

) - 

0300 304 7000 (6pm - 11pm)
Oxfordshire Mind Guide - 01865 247 788, 9.30am – 4.30pm on weekdays, info@oxfordshiremind.org.uk
Minding Your Head, Lifeline - 0808 808 8000
OU Counselling service – 01865 270 300, counselling@admin.ox.ac.uk (during term - Weeks 0-9 - reception is open 09:00-17:00, Monday-Friday. For pre-arranged appointments the Service remains open until 20:00, Monday-Thursday)
Togetherall - an online service providing access to millions with anxiety, depression and other common mental health issues.
For eating disorders (also if you think you may have one), you can talk confidentially to Anne Harpin who is a

vailable in College during 

Weeks 0 to 9

 of each term. You can find her in the 

surgery at the end of the Deneke Ground Floor Corridor

 between 

08:30am - 3pm on weekdays

.

 

She can help you manage health problems and illnesses and arrange for referrals when necessary. She can treat minor injuries and advise on contraception and the emergency pill.  Anne is a go-to contact for emotional and psychological issues. 

01865 274319 

or

 07595 003239

. 

You can also contact

 a member of the LMH Welfare Team.
There is also Oxford Student Minds - Peer Support Group.
Email for the Motivate Me Course & Supporting Supporters for Eating Difficulties Workshops edoxford@studentminds.org.uk

Welfare teas are offered by the JCR and are a great way to meet new people and talk to our wonderful Welfare reps.

Do also check out our Apps page.