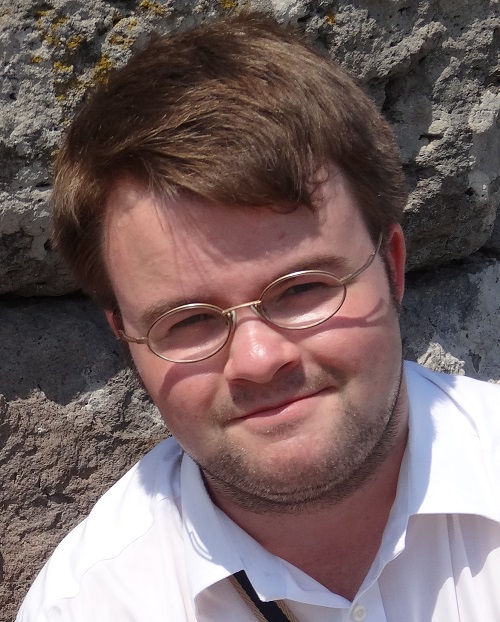 Biography
I was an undergraduate and postgraduate in Oxford, and held lectureships during that time at Jesus College (2010) and at Magdalen College (2012-13); I then taught ancient Greek literature and language at Merton College as the Leventis Research Fellow in Ancient Greek (2013-17). After a year at the University of Birmingham as a Teaching Fellow in Classical Greek History and Language (2017-18), I returned to Oxford as a Departmental Lecturer in the Classics Faculty in association with St Hugh's College (2018-19), then with LMH (2019-21), and then with St Hugh's again (2021-22), in conjunction with a Stipendiary Lectureship (in Latin) at LMH. I am currently the organizing tutor for the languages and literature side of Classics at LMH.
Research interests
My research focuses on Greek and Roman rhetorical prose literature, especially the surviving political oratory of democratic Athens. My first book, The Rhetoric of the Past in Demosthenes and Aeschines: Oratory, History, and Politics in Classical Athens (OUP, 2020) looks at how the two prominent fourth-century Athenian politicians in the title deployed examples from, and ideas about, Athens's past to persuade mass citizen audiences in the city's lawcourts and political Assembly.
I am also very interested in genres with which oratory has close relationships, especially comedy and historiography: my next book project examines the ways that classical Athenian comedy and oratory interacted. Virtually any developments in the study of fifth- and especially fourth-century Greece tend to interest me, though, and I enjoy trying to keep abreast when I can (and for teaching purposes) of developments in research (including archaeological research) on mainland Greek states beyond Athens.
Teaching
Since 2010, I have taught widely in ancient Greek literature, language, and history, both in Oxford and in Birmingham. In some of the posts I have held to date I have also taught Latin language and literature and late republican Roman history. My main remit in my current role at LMH is the delivery of the bulk of the college's undergraduate teaching in ancient Greek literature and language. I particularly enjoy teaching papers which combine literary and historical approaches, as my research does – and that means, above all, the Greek special subjects (especially Aristophanes' Political Comedy) in Classics Mods and CAAH Prelims. I also teach and supervise postgraduate students on the MSt and MPhil courses, and give Faculty lectures on Greek topics.
Selected publications
(2022) 'Changing the Sail: Propertius 3.21, Catullus 64 and Ovid Heroides 5', Classical Quarterly 72.
(2021) 'Audience Memory as Evidence in the Trial on the Crown', in A. Markantonatos, V. Liotsakis, and A. Serafim (eds.), Witnesses and Evidence in Ancient Greek Literature, Berlin (De Gruyter): 59-79.
(2020) The Rhetoric of the Past in Demosthenes and Aeschines: Oratory, History, and Politics in Classical Athens (Oxford: OUP).
(2019) 'Aristotle's Demosthenes, the Killing of Nicanor, and the Composition of the Rhetoric', Classical Philology 114: 645-56.
(2019) 'Views on the Past', in G. Martin (ed.), The Oxford Handbook of Demosthenes, Oxford: 179-90.
(2018) 'Philocrates and the Orgas', Hermes 146: 349-57.
(2017) 'Demosthenes and the Islands: On Organization 34', Mnemosyne 70: 501-11.
(2017) 'The Orator and the Ghosts: Performing the Past in Fourth-Century Athens', in S. Papaioannou, A. Serafim, and B. da Vela (eds.), The Theatre of Justice: Aspects of Performance in Greco-Roman Oratory and Rhetoric, Leiden: 57-74.
(2017) 'Livia's Shadow: A Subtext in Tacitus, Annals 1.10.5?', Eranos 108 (2014/15): 53-61.
(2017) 'Plutarch's Aesion: A Note on Plutarch, Demosthenes 11.4', Mnemosyne 70: 316-24.
(2016) 'Nostalgia, Politics, and Persuasion in Demosthenes' Letters', in E. Sanders and M. Johncock (eds.), Emotion and Persuasion in Classical Antiquity, Stuttgart: 75-90.