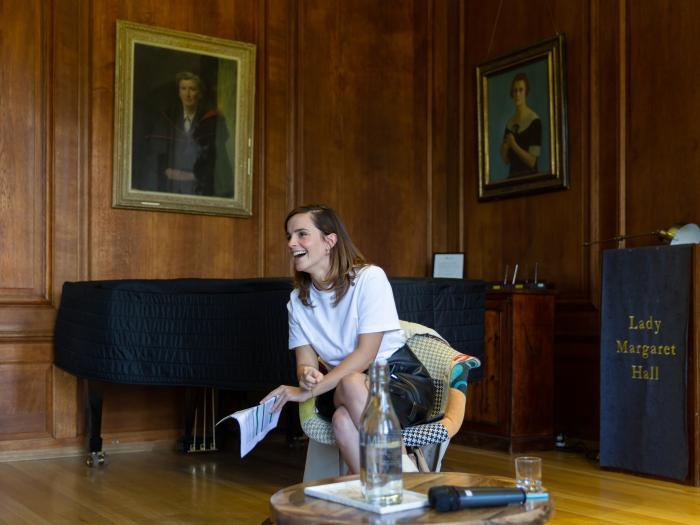 Emma is a Global Goodwill Ambassador for UN WOMEN, and works to promote gender equality and the empowerment of women. Her notable work on the HeForShe campaign earned her a place on Time Magazine's TIME 100 list of the world's most influential people in 2015. Her inaugural speech at the UN General Assembly was ignited 1.2 billion social media conversations across the world . Within three days of her speech, 100,000 men had signed up to show their support for HeForShe. There are now over 2 million supporters. Emma's work for UN Women has taken her to Uruguay, Canada and Malawi. Emma is also a high profile supporter for Camfed, a movement to educate girls in rural Africa, and has visited projects in Bangladesh and Zambia. 
In October 2016 Emma was honoured for her humanitarian work by Harper's Bazaar, who awarded her their Inspiration Award. Emma was also awarded the Woman of the Year Award at the Elle Style Awards 2017. Emma frequently tops 'most inspirational' or 'most influential' polls amongst young people. 
Emma currently supports more than thirty organisations in the equality and women's rights movements – from shelters for women and children that have experienced domestic abuse to sports programmes empowering girls. 
Emma is also a well-known thought-leader on ethical and sustainable fashion, working with brands such as People Tree. For the 2017 press tour of BEAUTY AND THE BEAST, she curated a fully ethical wardrobe and documented brands and suppliers on a bespoke Instagram account with half a million followers in order to raise awareness of sustainable consumption. For the 2016 Met Ball, Emma worked with the team at Calvin Klein to create a gown made from fabric engineered from used plastic bottles, as well as inspiring the brand to incorporate sustainable elements into the looks for Margot Robbie and Lupita Nyong'o. The gown is currently displayed at London's Victoria and Albert Museum. In 2018, she guest-edited Australian Vogue's first-ever sustainability issue, focussed on conscious consumption.
In 2018, Emma has played a pivotal part in the launch of the TIME'S UP campaign, a movement that was founded by a collective of women in Hollywood to combat sexual harassment and promote equality in the workplace. She is part of the Entertainment Steering Committee and brought the movement to the UK, coordinating its launch at the UK BAFTAs and building a network of hundreds of women from across the industry. In the UK, her careful consultation with the women's and equality movement led to the establishment of a new UK Justice and Equality Fund that aims to end cultures of harassment, abuse and impunity by resourcing expert organisations in this field. She also helped launch new UK industry-wide guidelines on harassment and bullying with the BFI, BAFTA, ACAS and other leading bodies.
In January 2016, Emma started a feminist book club. Entitled 'Our Shared Shelf', the club selects a different feminist book every other month. Within weeks, 100,000 readers had signed up to participate. As part of the club, Emma has interviewed featured writers from Marjane Satrapi and Caitlin Moran to bell hooks and Gloria Steinem. She donates multiple copies of the book of the month to the LMH library for students to read and discuss together.
Photo of Emma Watson at LMH in May 2019 by Amaal Said @amaalsaid