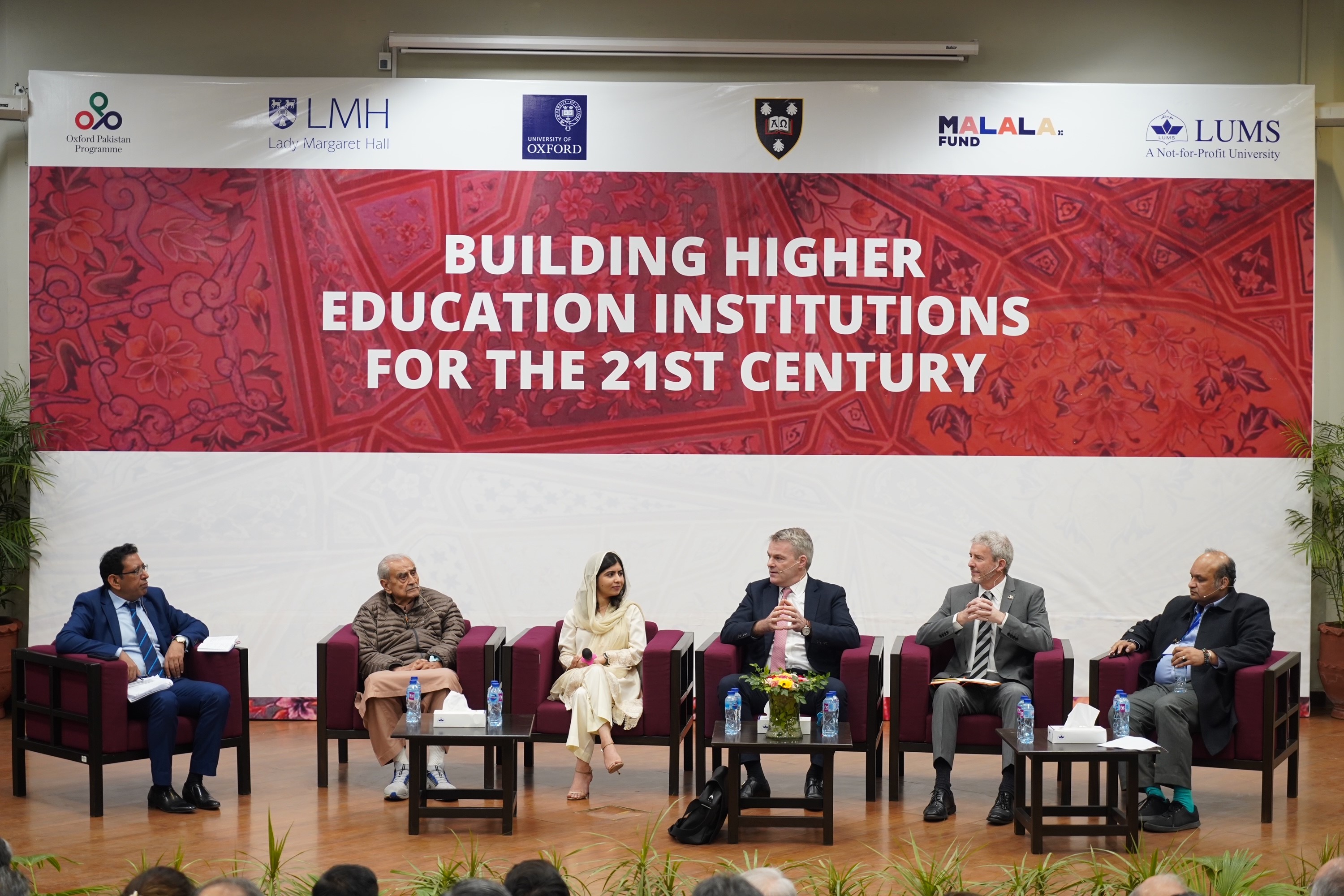 Professor Stephen Blyth, Principal of Lady Margaret Hall, led a high-level delegation from the University of Oxford to Pakistan in December. This was a historic visit by senior faculty from Oxford representing the Oxford Pakistan Programme (OPP), based at LMH.
The OPP is the first initiative of its kind to support a long-term presence for Pakistan-related activities at the University of Oxford, and has three core objectives:
to address the underrepresentation of Pakistani origin students at Oxford;

to raise the academic profile of Pakistan and Pakistan-related areas of interest amongst Oxford's faculty;

to promote the global connectivity of Pakistani academic institutions by promoting faculty exchange between them and Oxford. 
The OPP delegation included its three co-founders, LMH alumnus Haroon Zaman, Dr. Talha Pirzada and Professor Adeel Malik; LMH Development Director Richard Hunt; and Dr. Nick Brown, Principal of Linacre College.
The delegation met with the President of Pakistan; senior government ministers including the Minister for Education, the Minister for Planning and the Chairman of the Higher Education Commission; the Chief Justice of the Supreme Court; former Prime Minister Imran Khan; the World Bank; and the British High Commissioner, among others. Discussions highlighted the importance of Pakistani origin students and academics benefiting from and contributing to the world's preeminent global university.
The visit included a panel discussion at the Lahore University of Management Sciences (LUMS) entitled "Building higher education institutions for the 21st Century". The panel included Nobel Laureate and LMH alumna Malala Yousafzai, Professor Stephen Blyth and the founder of LUMS, Syed Babar Ali OBE.
The trip culminated in a fundraising dinner for Pakistan's business community hosted by OPP donor, Syed Sheharyar Ali. Attendees appreciated the importance of the OPP in investing in the education of the most talented Pakistani students at Oxford, as well as the significance of the delegation's visit to Pakistan.
LMH has a long connection with Pakistan, counting both Malala Yousafzai and former Pakistan Prime Minister, Benazir Bhutto, among its alumnae.