Alicia Hayden, wildlife artist, photographer, filmmaker, writer, and LMH alumna (2021, BA Biological Sciences) is going to release a film 'Watchman' next year and hold an art exhibition – 'Artivism', which will take place in Bristol in December.
Please find below the first-hand account from Alicia about the main idea of her film, the process of its creation and how she came up with the art exhibition idea.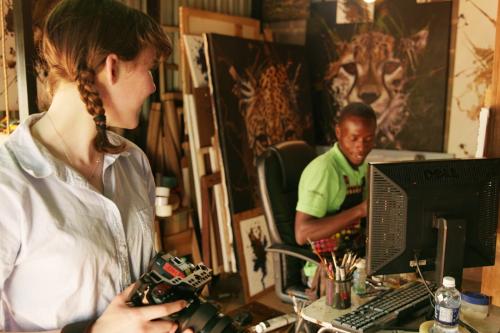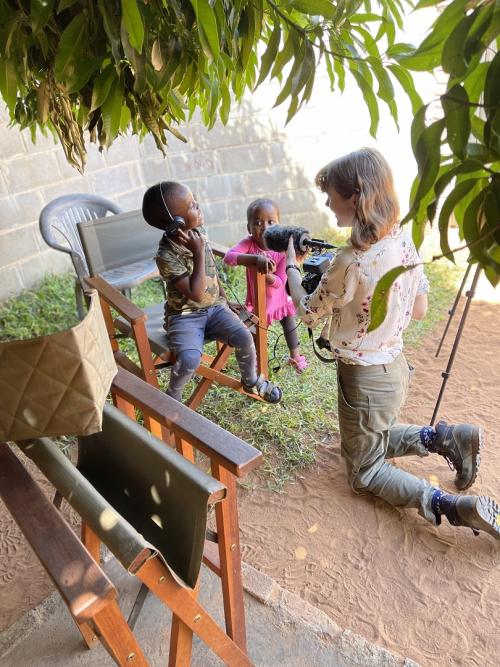 Film - The Watchman
As part of my Master's in Wildlife Filmmaking at the University of the West of England (UWE), I had to produce a short film - and I decided to do mine about a Zimbabwean wildlife artist called Tichaona Ncube. 
As a wildlife artist myself, I knew I wanted to tell a story that showed the power of art for wildlife conservation - I met Tich through the David Shepherd Wildlife Foundation's Artist Panel in 2021, and I was blown away by his enthusiasm for using art to protect the wildlife of Victoria Falls. When chatting to Tich, I realised he hadn't ever had a solo-exhibition before, so I worked with him and Kimberly Sparrow from Art of Africa to co-organise his first exhibition in Victoria Falls!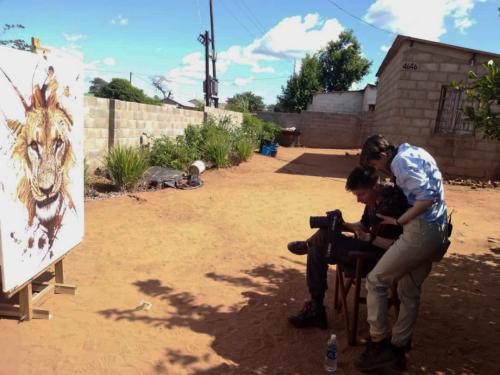 The film follows Tich as he paints elephants from life, and works towards his first exhibition - showcasing his intimate relationship with Zimbabwe's wildlife, and how art has become a family affair.
I want my film to help Tich get recognition for his extraordinary work, as well as showcase how art is an effective passive conservation method for our wildlife. 
I crowdfunded my film over two months earlier this year, and filmed The Watchman in Victoria Falls over 6 days in May, with help from second camera Jacob Burley. I then spent the summer producing hand-drawn digital animations for my film, as well as editing it! 
The film will be released publicly in 2023; you can watch the trailer here, and keep an eye out for updates on my social media pages!
Exhibition - Exploring Artivism
I wanted to organise my first wildlife art exhibition focusing on artivism - which is where art is used to communicate about a scientific issue, with the aim of inciting a change in thought or behaviour. Artivism is something I feel particularly passionately about; I first discovered it through fellow wildlife artist and artivist Martin Aveling, and after winning the David Shepherd Wildlife Foundation's Wildlife Artist of the Year "Human Impact" category in 2021 with my piece "When the Whale Sang", my confidence was boosted, and I started creating more and more artivism pieces!
The exhibition will contain 25 pieces, from palaeoart, to how we're impacting wildlife species across the globe, to a cautiously optimistic future. 
The exhibition preview evening will be on December 1st, 6.30-8.30pm; and the exhibition will also be open on December 2nd 9-5pm, at Bower Ashton Campus (F-Block Gallery), UWE, Bristol. Entry is free, and it is open to all.