Tasneem Khatib, LMH alumna (Medicine, 2004), has been awarded the prestigious Degree of Doctor of Medicine.
She told us more about her journey on reaching this achievement:
"My Doctor of Medicine studies focused on the development of new tools to diagnose, repair and regenerate the optic nerve in glaucoma, which is the leading cause of irreversible blindness worldwide. Having first experienced translational medicine at the Nuffield Laboratory of Ophthalmology during my undergraduate time at Oxford, I was able to combine clinical and lab based research alongside my surgical ophthalmic training. I experienced the forefront of translational medicine and therapeutics and how pre clinical treatments can be taken forward to clinical trial testing through collaboration with industry. I was also invited to join the international Retinal Ganglion Cell Repopulation, Stem Cell Transplantation, and Optic Nerve Regeneration Consortium and I'm very excited to see what's next!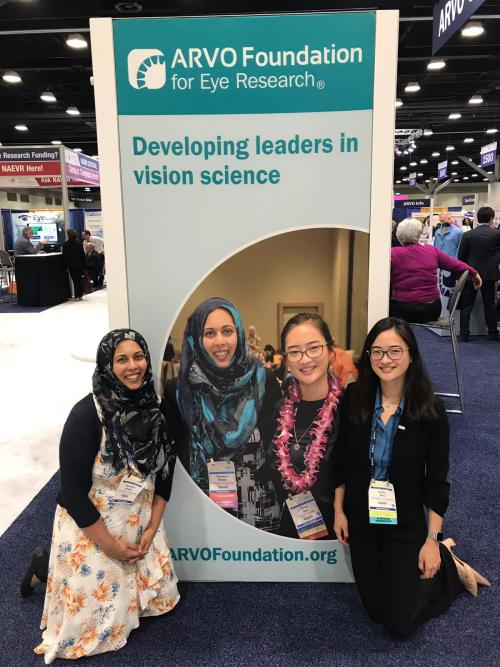 "I was fortunate to be able to publish and present my work internationally, discuss early findings with leaders in the field and engage and debate about how best to take new ideas forward which was incredibly stimulating and inspiring. I was awarded prizes for my doctoral work from the American Academy of Ophthalmology, the Association for Research in Vision and Ophthalmology (ARVO) and the European Association for Vision and Eye Research.
"I also used the time during my DM studies to lead the development of a national award to promote vision research to sixth form students while collaborating with AstraZeneca in the US and UK, and the National Eye Institute, National Institutes of Health and successfully advocated for investment in vision research at Capitol Hill with ARVO. I was selected to join the ARVO Board of Trustees and have recently completed my 2 year term representing Members-in-Training around the world.
"One of the strengths of the Doctor of Medicine is the flexibility around surgical training and I was also able to undertake the Healthcare Leadership and Management Programme at Cambridge University Hospitals NHS Foundation Trust and the Judge Business School, while also acting as the Royal College of Ophthalmologists Simulation Champion for Cambridge to help us safely get up to speed again surgically once elective surgery resumed during the pandemic.
"My studies have been a brilliant and formative experience and I've achieved things that I did not think would ever be possible. I'm so grateful to have been able to pursue this opportunity and to have had such a strong network of supportive mentors, peers, friends and family as it hasn't always been easy! It has also been such a privilege to try out new ideas, innovate, discover and be able to contribute to the scientific body of knowledge and step closer towards understanding and treating intractable glaucoma. I very much hope that I will be able to give others the same chance and provide the same opportunities that I have been fortunate enough to experience.
"I'm so glad that I didn't listen to those who told me I wouldn't get into Medicine, that I wouldn't fit in at Oxford, and that I wouldn't succeed as an academic or an ophthalmologist or a surgeon despite having a good track record. For every person that has said no, many more have said yes and been inclusive, so please keep dreaming!"