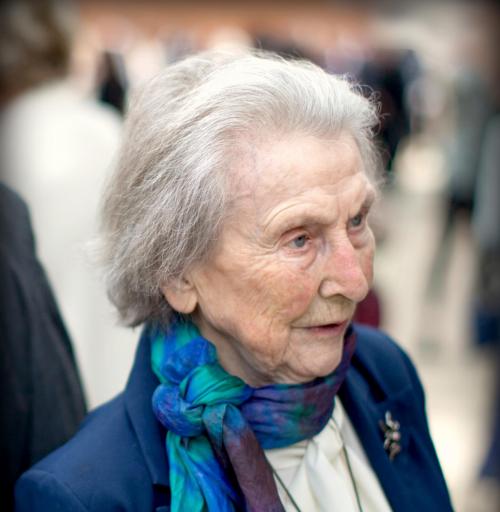 A Tribute
We are very sad to announce the death of LMH alumna and Honorary Fellow, Dame Margaret Turner-Warwick, on 21st August 2017. Former College Principal, Dame Frances Lannon (2002-2015), pays tribute to her life and work.
Dame Margaret Turner-Warwick DBE DM FRCP
19 November 1924 - 21 August 2017
A tribute
Dame Margaret Turner-Warwick was a brilliant medical scientist and clinician. She specialised in thoracic medicine and became a leading authority on respiratory diseases, on which she published over two hundred research papers. She was one of the most distinguished alumnae of Lady Margaret Hall, and an Honorary Fellow of the College.
Dame Margaret studied medicine at LMH, coming up in 1943 when only a very few women were admitted to the course in Oxford. Subsequently, her clinical training, Ph.D, and early clinical practice centred on University College Hospital and Brompton Hospital, London. Her stellar medical career continued in London, where in 1972 she became Professor and from 1984 Dean at the Cardio-thoracic Institute of London University. In 1989, she was elected President of the Royal College of Physicians, the first woman to hold this position. She was made DBE in 1991.
Margaret Turner-Warwick was a very remarkable woman. She managed the demands of her research work, clinical practice, and leadership roles in the medical profession and in policy formation with calmness and without fuss. She cared about patients and doctors and the health service, not about status. Nor was she afraid to do battle with politicians and government on behalf of the NHS.  She was devoted to her family – her husband Richard, daughters Lynne and Gillian, and grandchildren. She was very musical and enjoyed playing the violin. Friends and colleagues had the pleasure of receiving cards made from her watercolours. It was a special delight to visit the large, exuberant garden she created at home in Devon. 
Margaret remained close to LMH. She served a term as President of the Lady Margaret Hall Association (the College's alumni organisation), and for many years until very recently she was an attentive and engaged member of the Advisory Council. It is in this last role that I came to know her best when I became Principal of LMH in 2002. She was the best kind of critical friend, and a constant inspiration and guide. Her contribution to discussions was always clear and direct. She wanted to see evidence, analysis, and ambition. Once a direction was properly set and planned, she was unstintingly supportive and encouraging. I count it one of the great privileges of my life to have known her. I will miss her generosity, her warmth, and her quiet steeliness. Dame Margaret last visited LMH – characteristically travelling independently from Devon – for the official opening of the new Clore Graduate Centre, Donald Fothergill building and Leatare quadrangle on 31st May this year. She was pleased to see the completion of a project that she had done so much to shape and promote.
Frances Lannon, 30th August 2017