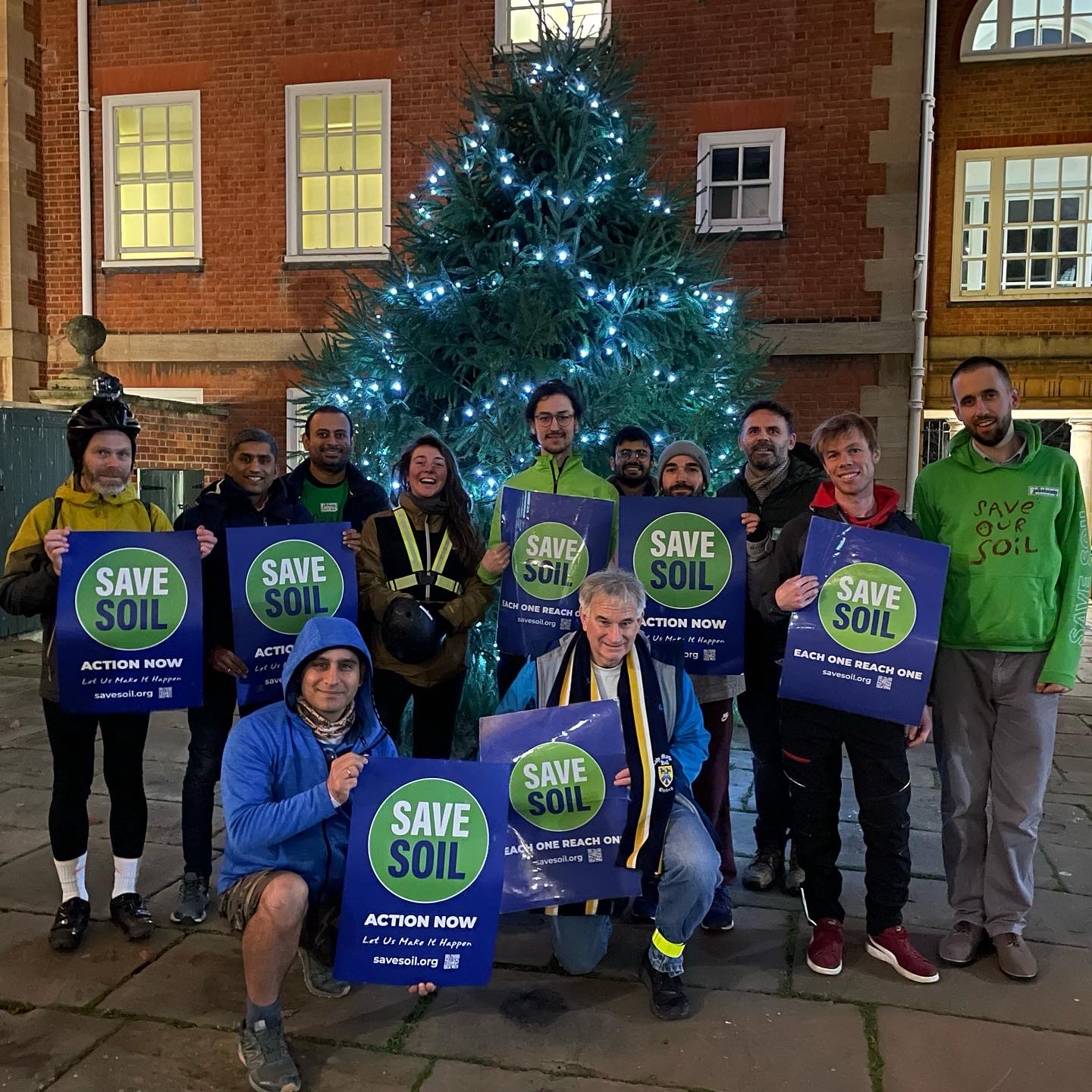 On Sunday 4th December a group of cyclists reached LMH, en route to London, as part of their epic 900 mile bicycle journey across the UK and Ireland for Cycle for Soil.
They are pictured in the Wolfson Quad with Vice Principal, Professor Todd Huffman (Fellow and Tutor in Physics, front right with College scarf), the day before World Soil Day on Monday 5th December, after a meeting with Oxford Lord Mayor James Fry at the Town Hall.
Cycle for Soil aims to raise awareness of the global soil crisis, inspire grassroots support, and speak to governments about the urgent need for soil health policies. The United Nations Food and Agriculture Organisation says we may have only 60 years of fertile agricultural soil left.
Save Soil, supported by the UN, 80+ governments, the World Food Programme and 3.9bn people, is a response to this crisis - a global people's movement to support governments in establishing concrete policies for soil health
Starting in Edinburgh on November 20th and making its way through the capital cities of Belfast, Dublin and Cardiff, the UK-Ireland leg of Cycle for Soil will ride down the days until World Soil Day on December 5th, where there will be a culmination event outside Parliament in London. The journey will continue across Europe next year.
The group were put in touch with us for this exciting opportunity by alumnus Tim Ashton (2005, Law). Prior to cycling to Oxford the campaign had visited Tim at his family's farm at Soulton in Shropshire where Save Soil had arranged an event with poetry and a presentation on the soil crisis by Dr Simon Jeffrey of Harper Adams University, who supervised Tim's masters. Tim's practice as a farmer is concerned about to sustainability and involves highlighting challenges and opportunities to do better by the environment. He maintains an active relationship with LMH and with Prof. Huffman.