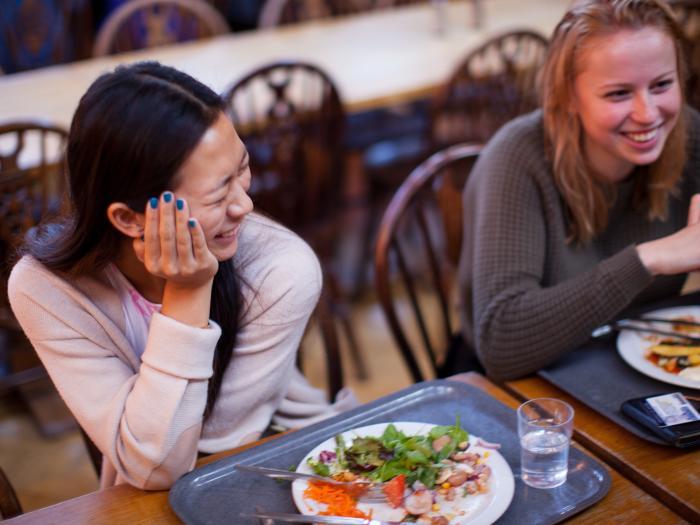 LMH cooks a mean meal
The LMH dining hall is open for breakfast, lunch and dinner Monday-Friday, as well as Saturday brunch and Sunday dinner.  Eating in Hall (360 degree view here) is a good way to relax and catch up with friends – plus the convenience of having tasty, good value food a couple of minutes away from your desk isn't something to be underestimated…
 
Food is served informally, cafeteria-style 
There are several kitchens where you can cook for yourself and friends. 
We also have vending machines (24/7) and the bar is open 7 nights a week in term
LMH is one of fewer than five Oxford Colleges to be accredited Fairtrade College
Vegetarian and vegan options are always available at meal times, and our catering staff are also always happy to cater to any other allergies or dietary requirements, such as halal.
The biggest culinary event of the week is formal hall on Friday evening: a delicious, three-course, waiter-served meal complete with candelabras and good company!
Average meal cost for each meal: Breakfast/brunch: £5-£7; Lunch & Dinner: £6-£8; Formal Halls: £12- 15 for LMH members & £17-£20 for guests.