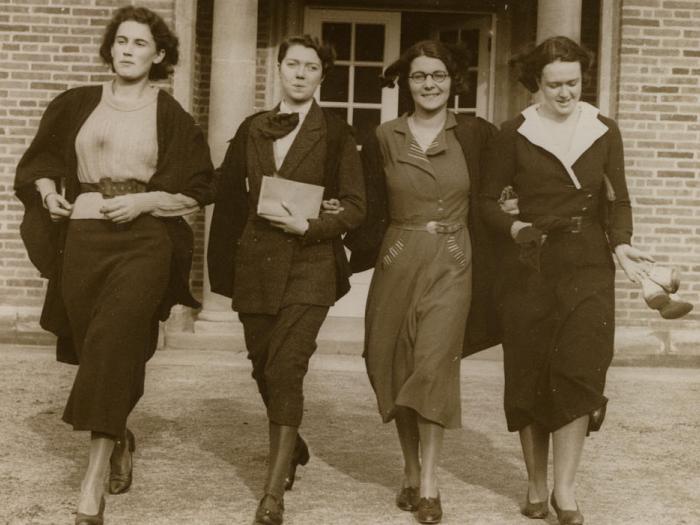 A Pioneering College
In 1878 LMH was founded and changed Oxford University for ever. It opened up Oxford to women for the first time. They were pioneers and broke boundaries, going on to lead remarkable lives, such as founding Save The Children and becoming the first female President of the British Medical Association.
Our History
LMH was founded by Edward Talbot, Warden of Keble College, and his wife Lavinia. It changed Oxford University forever by opening up Oxford to women for the first time. The College was named after Margaret Beaufort, mother of Henry VII. Elizabeth Wordsworth (1840-1932), great niece of the poet, was the first Principal.
When the first group of nine students arrived in 1879, they were pioneers, breaking through prejudice and old restrictions. Initially for all women students, tuition was arranged with Fellows in men's colleges.
The women were remarkable. A notable student from the early days was Gertrude Bell (1886 History) who took a first in Modern History, the first Oxford woman ever to achieve this result. She went on to an extraordinary career in the Middle East as an archaeologist, writer, photographer and a member of the British Intelligence Services in Mesopotamia. A film Letters from Baghdad has recently been made documenting her life.
Eglantyne Jebb (1895 History) became a school teacher and then created one of the greatest humanitarian ventures of the twentieth century. She founded Save The Children Fund in 1919 to attend to the numbers of children whose lives had been devastated by the First World War. She also drew up the Declaration of the Rights of the child, which was adopted by the League of Nations in 1926 and subsequently by the United Nations.
In those days, women were not allowed to graduate from the Oxford University and so took a steamboat to Dublin and collected their degrees from Trinity College Dublin. That changed in 1920 when they were made full members of Oxford University and in 1979 LMH men were admitted to the College, 100 years since the first group of students arrived.
We hope you enjoy finding out more about LMH's history by browsing through our archives.
Preserving our history
LMH has a fascinating history full of incredible stories. The LMH Archives, housed in the Deneke building, is the repository for the administrative records and historic collections of the College. The purpose or the Archive is to preserve the recorded heritage of the College and to make materials available for research.

Administrative records in the Archive include College statutes, Charters and Annual Reports. Other records include artefacts, photographs, personal papers, audio files, cutting albums and memorabilia.