Behind the scenes the LMH community is still a hive of activity over the summer. Find out more about how some LMH members spent their Long Vac.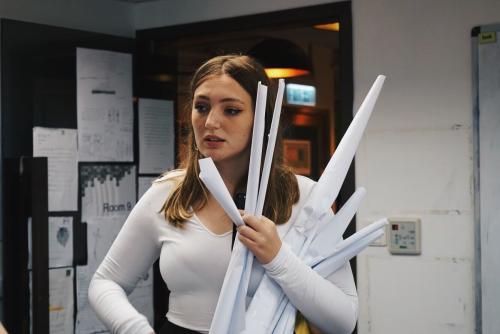 Molly Innes (2017, English lnguage and Litertaure) spent the summer in Hong Kong for an internship opportunity. 
The long vac is daunting. Naturally, I was worried that I wouldn't be able to fill it. Then I saw an internship opportunity to teach in Hong Kong for 8 weeks at summer camps, so I applied, and was accepted! I taught children between the ages of 6-18 throughout my time there, and was even able to teach them about poetry, my main literary interest. Exposing the children to English literature was really rewarding, as I am still thinking about what I want to do in the future, and teaching is something I am interested in. There was a week long camp for young children from lower socio-economic and disadvantaged backgrounds, which I was asked by the company to plan and organise. As LMH's Social Backgrounds Officer, the responsibility of being involved in such a project was an honour. My time in Hong Kong was extremely challenging, and a huge shock from the hills of Yorkshire that I am used to. That being said, I am so glad I went, and hope the children continue to read and write poems!
Moreangels Mbizah (2013 DPhil Zoology) completed her Doctorate over summer, whilst also providing inspirational material for a short film for National Geographic. She also featured on an LMH video promoting her research. 
My journey in the field of wildlife conservation began in 2009 during my Masters research project with the Lowveld Wild Dog Project (LWDP) in South-East Lowveld, Zimbabwe. My study looked at the diet and overlap in diet of four large carnivores (African wild dog, Lion, Hyena and Leopard) and the implications for the conservation of the African wild dog. I joined WildCRU in 2012 as a postgraduate diploma student. This opportunity equipped me with important theoretical and practical skills that are proving essential as I continue moving forward in the field of wildlife conservation.
Upon completion of the Diploma, I joined the Hwange Lion Project as an intern from January to August 2013. It was during this time in Hwange that I developed ideas for my DPhil thesis, I then returned to Oxford in October 2013 to start my DPhil. The focus of my doctoral thesis is to assess the effect of resource abundance and distribution, on the ecology and social behaviour of social animals using the example of a social large carnivore, the African lion. I am carrying out my study in Hwange National Park, which is a semi-arid landscape where resources are heterogeneously distributed in both space, and time and this permits us to perform natural experiments on the effects of resource distributions. As the apex predator in African savannah ecosystems, understanding how the abundance and dispersion of resources influences lion ecology and social behaviour is important for management and conservation actions.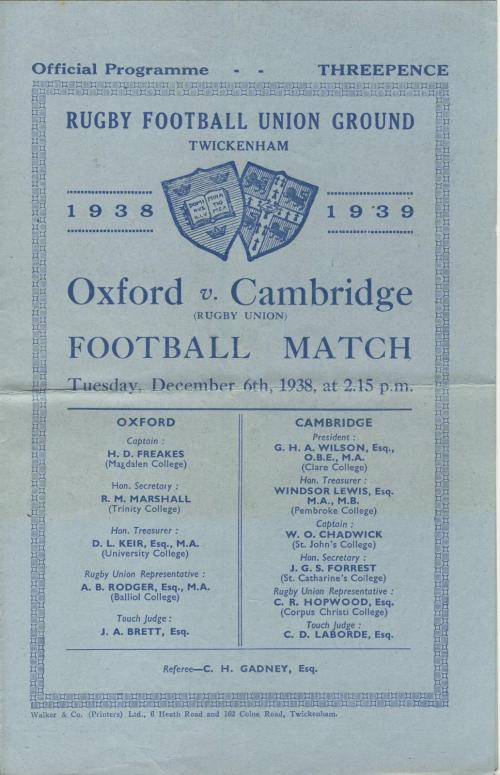 Olly Mahony is the LMH Archivist, and spent the summer cataloguing new donations from the 1930s. 
One of the real treats of my work as archivist is handling, listing and cataloguing the various papers which arrive, both internally from departments and externally, through donations from the relatives of alumni . A great strength of our historic collection is our holdings relating to the 1930s. We hold a rich collection of photographs and examination papers and now, as a result of a recent arrival of papers, sporting and theatrical programmes. This summer Dominic (my superb summer student helper) and I have been listing the papers of Catherine Walker, kindly donated by her family. Catherine, who came up in 1937 with a Scholarship to read Classics was, as Dominic and I discovered, keen on her sports (indeed she represented Oxford) and enjoyed the university social scene; with a fine selection of theatrical, musical and sporting programmes amongst her papers. Catherine also kept her tutorial and lecture notes and examination papers all together, within the original ring binders and divided by labelled section dividers! This autumn I plan to transfer the list of materials from WORD and enter them into our archive catalogue, alongside other key papers we hold.  If you would like to find out more about the archives and view a selection of our treasures please do visit this section of our website.  
Benjamin Skipp was the Director of Visiting Students, and this summer led the first residential academic programme for external clients.  
This summer witnessed a new educational initiative by LMH. While we are already regarded by many as market leaders in the provision of conference services under the headship of Helena Beveridge, until 2018 we had not attempted to combine our conference services with the provision of teaching. So, for the first time, we organised a three-week summer programme, Dimensions of Leadership for 20 participants from Xi'an Jiaotong University. Under the guidance of LMH emeritus, Professor Gillian Peele, we facilitated a range of lectures and seminars on the broad theme of leadership which enabled our visiting students to ask questions and encounter new ideas about what it means to lead, and to lead well. We were fortunate to have a number of lectures from academics connected to LMH, including Prof Ewan McKendrick previously University Registrar, Prof Dana Brown (previously Research Fellow), Dr Matthias Qian (college lecturer in Economics) and Udit Bhatia (college lecturer in Politics), as well as some visiting lecturers. Perhaps a highlight was a seminar led by Sir Frank Berman, Visiting Professor in International Law and formerly legal advisor to the Foreign Office. This seminar on the legality of action during the Gulf conflicts particularly allowed the students to consider and assess a recent example of leadership on the global stage.
The academic elements took place in a surround of social activities led by LMH students. These included punting, naturally, baking classes, ice skating and trips to the cultural spaces Oxford had to offer. In some ways, these opportunities to socialise with British students was as much valued by the visiting students as the academic components. By the end of three weeks they had made good friendships with the LMH students and this exchange of cultures was valued by all involved in the project.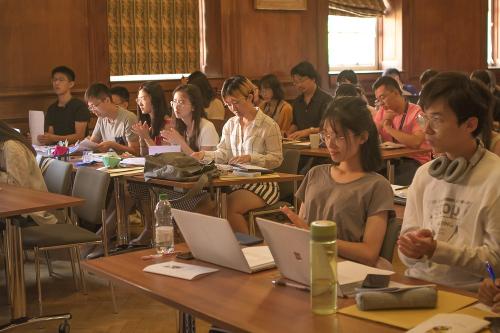 Jochen Koenigsmann, Tutor for Mathematics at LMH, was selected as Invited Speaker at the International Congress of Mathematicians (ICM) in Rio de Janeiro.
The ICM is the largest and most prominent conference for mathematicians worldwide. Like the Olympics, it meets every four years in a different country. During its opening ceremony, several prestigious prizes were awarded, such as the Fields Medal. Known as the Nobel Prize equivalent for Mathematics for those under 40, Oxford University has had three recipients.
In the mathematical fraternity being invited to talk at the ICM is called the "equivalent of an induction to a hall of fame". Professor Koenigsmann will spoke on Decidability in Local and Global Fields.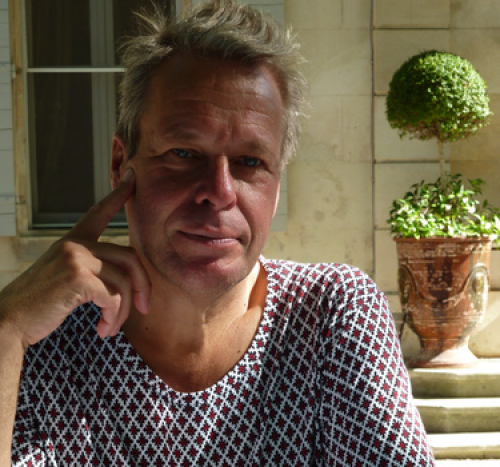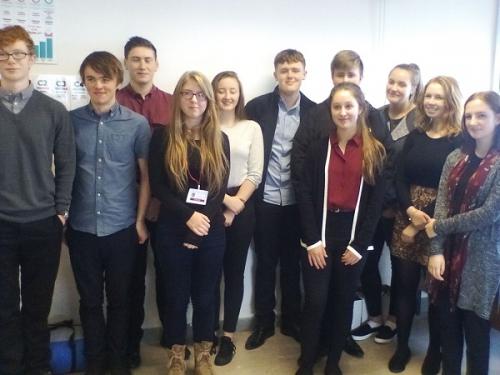 Erica Boston is a former Foundation Year student (2017 cohort) and in 2018 began her undergraduate course at LMH reading Biological Science. 
Choosing to go to university, or indeed to pursue any form of further education, is one of the most intimidating decisions a young person will have to make. The idea of applying to somewhere as world-renowned, competitive and unique as Oxbridge, at least to me, seemed ludicrous. Nobody from my school had applied to Oxbridge in years, and I, like my peers, believed the misconception that such universities are reserved only for the rich, privileged and well-connected, or else the born geniuses. Yet, in the summer before starting my Oxford degree, I visited my old high school to prove that this is not the case. Having just completed the LMH foundation year, I felt that I could share my experiences of Oxford and offer encouragement to students thinking of applying. The importance of learning from someone with a similar background to yourself cannot be underestimated, especially when the subject is one as daunting as Oxbridge admissions. I hope I was able to shed some light on how the collegiate system works, what tutorials are really like and how workload compares to other universities - all things I know I wasn't fully prepared for when I applied. Talking to students from under-represented and disadvantaged areas about Oxbridge and supporting those who wish to apply are crucial for the creation of a more socially diverse community in top universities.