Apply online for the Telephone Campaign
Follow the link below to apply online to be a student caller in the September 2022 Telephone Campaign. This will be taking place from Monday 19 September (MT -2nd week) to Sunday 02 October (MT 0th week). During the campaign, you will be given accommodation in LMH, and calling will take place using your own phone and laptop in your room. Contact the Development Office with any questions, or for an informal chat about the role.
Application Deadline EXTENDED: 9am Monday 06 June (Monday 7th week)
Interviews: 07-08 June (Tuesday and Wednesday 7th week)
Important tip for using the application form:
If you leave this form without hitting 'submit' your answers will not be saved, and you will have to begin again. 
Called in an LMH Telethon before? Contact Sarah for an alternate version of the application form. 
About the Telephone Campaign
Telephone Campaigns are a really important way for LMH to keep in touch with alumni. During the campaign a team of student callers ring alumni from all over the world. It is very much a two-way conversation: a chance for the alumni to share any news or updates about their life or their career since LMH, and a chance for us to give them an update on the latest news and events at College.
Alumni are always extremely interested to hear about your time at College. During the call we ask alumni to support one of the many wonderful projects happening at LMH with a donation, and usually about half of the people we call make a gift. This year, we will be raising money for a variety of projects including:
The LMH Ukraine Graduate Scholarship

History

Music

Welfare and Wellbeing
During the campaign you will be given College accommodation, free of charge, and will be calling from your College room. We will have video briefings before each shift, we'll play virtual games, and you will have the ability to message the rest of the callers to share stories and words of encouragement in-between calls. You will be supported by a supervisor who has the ability to drop in on your call if you need help. During shifts you will also be able to visit the Development Office for snacks, prizes, or to have a bit of a chat between calls. 
The Telephone Campaigns are run by Sarah Jones in the Development Office. 
What does the job involve?
Calling alumni 

based all over the world

Engaging 

them in conversation about their time at LMH and their life since

Speaking about your own experience at LMH, and being an ambassador for the College
Asking them to make a gift in support of LMH
Taking clear and concise notes

Recording 

information and processing donations with great attention to detail
Shifts will take place on weekday evenings (6pm-9pm), as well as two longer shifts over the weekends (usually Saturday 11am-6pm, Sunday 2pm-8pm). You will be required to attend two full day training sessions at the beginning of the Campaign (Monday 19 and Tuesday 20 September, 10am-5pm).
What skills do I need to apply?
We want student callers who can talk enthusiastically about LMH, and who care about the College. We are looking for applicants who are...
Organised

Tactful

Engaging

Friendly

Chatty

Professional

Motivated
Full training and lots of support is given, so no previous experience of calling is required. We need a variety of students from different subjects to help us connect with alumni. 
What are the benefits of taking part?
Great rate of pay (£11.50/hr)

Free accommodation in College for the duration of the campaign

Some meals free of charge on days you are working

Fun and sociable job

Transferable skills

References and experience for your CV

Help do something great for LMH

Networking opportunities
We ask that you speak to your tutor or supervisor before applying to ensure that the campaign will not interfere with your studies.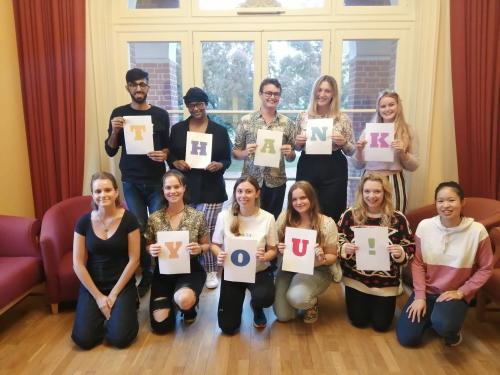 I have loved being a student caller on every telethon I've taken part in. It makes me proud to be at a college like LMH, and allows me to know more about what's really going on, which makes me feel like a more engaged student. And then on top of that, it's a pleasure to speak to the alumni, and hear their reflections on their time at LMH, and where it's taken them in life.
- Nina
I enjoyed taking part in the student telethon campaign because it gave me the opportunity to speak to a range of alumni, both recent graduates as well as older ones. It's always interesting to see what people go on to do once they graduate as well as hear about their time at LMH and what has changed since they have left. Being part of a friendly student caller team is  encouraging and gives you a chance to get to know people from college who you may not have spent much time with prior to the  campaign.
 - Shabnam