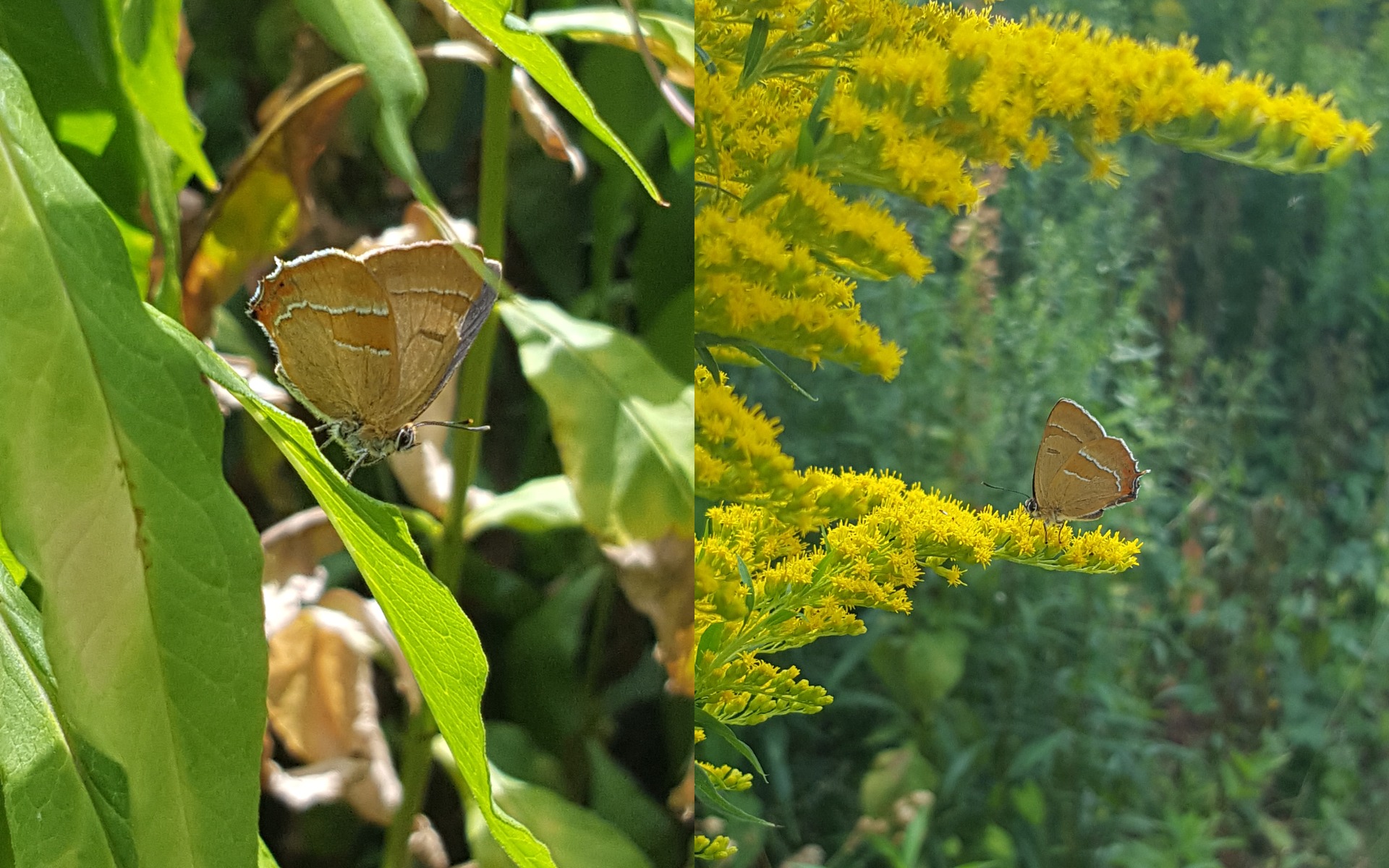 Despite the drought and soaring temperatures in the gardens this summer, our natural meadow areas have been a great success, with more plant diversity than seen previously. Some has turned up of its own accord – pyramidal and spotted orchid, for example, and some has appeared through the introduction of native seed mixes, such as knapweed and ox-eye daisy. We always plan to give nature a helping hand by bringing on more native meadow flowers from seed, and planting out the young plants into the appropriate areas in the spring.
Head Gardener Kate Hunt was thrilled to discover truth in the rumour that LMH had a colony of the rare and elusive Brown Hairstreak butterfly. She says, "I had been told about this butterfly when I first began working here nine years ago, and that whilst the adult was rarely seen but the minute eggs could be detected on blackthorn branches by the trained eye. I had looked, but never seen any evidence. Then, back in July, whilst trying to capture a lovely Hummingbird Hawkmoth on my phone camera, there appeared a beautiful bright chestnut butterfly that I had never seen before – but I knew immediately what it was! I managed to get a photograph and contacted Butterfly Conservation who confirmed that it was indeed a Brown Hairstreak. Later in the summer a couple of volunteers from Butterfly Conservation came to the College and confirmed the presence of Hairstreak eggs on some of our blackthorn bushes.
It is very rewarding to know, and have evidence, that our gardens have space for wildlife.
We have purposefully kept an area of long grass areas at the back of the hockey pitch, with the objective of increasing the vole population in order to encourage Kestrals, for whom the vole is a major food source. This year a pair have nested at LMH and it has been a joy to see them flying low across the hockey pitch from goal post to tree calling their young from the nest when it was time to fledge."
Photos: Kate Hunt 2022