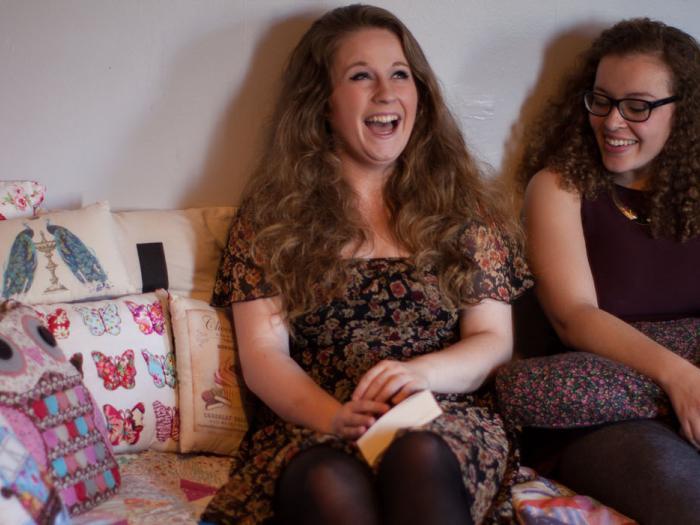 We guarantee undergraduate accommodation for all three years.
(not many of the other colleges do!)
There is an option to live out of college after your first year, although after seeing our rooms, gorgeous grounds and big library, you probably won't want to!  So, whilst freshers at other colleges with fewer available rooms have to spend their first few weeks deciding which strangers they want to live with, at LMH you can throw yourself into our busy, friendly community, with much less stress!
Rooms are assigned randomly to new students, whilst older year groups have the opportunity to choose their rooms based on a "balloting" system, (to decide the order the rooms get picked). In their first year, undergrads will most likely be grouped with other freshers - a great way to get to know your year!
 
We have 9 study bedrooms specially adapted for students with disabilities, and if you study music, you get the option of choosing a Piano Room, one big enough to fit (you've guessed it) a piano. A big portion of the rooms at LMH have ensuite bathrooms (including a small number of first year rooms); and shared bathroom facilities are always available – no horror stories about 20 people sharing one shower!
As LMH is one of the younger Oxford colleges, we get a really good deal: our accommodation is characterful and often really beautiful, most rooms with views over the quads or gardens; but they've also been designed with more modern home comforts in mind. The plus as an undergrad is that everyone pays the same price!
We're also very lucky to have at least one kitchen on every corridor at LMH (with cupboards, refrigerated storage space and cooking facilities), which are particularly spacious in our newest buildings. The dining hall  is on hand most meal times with lots of great food, but if you'd rather cook your own food, the option is always there.  
Graduate student?
LMH also houses more than 30 of its postgraduates in our new buildings, which provide brand new en-suite rooms – having under and postgrads located on the one College site is not only convenient, but also helps to foster a strong community.