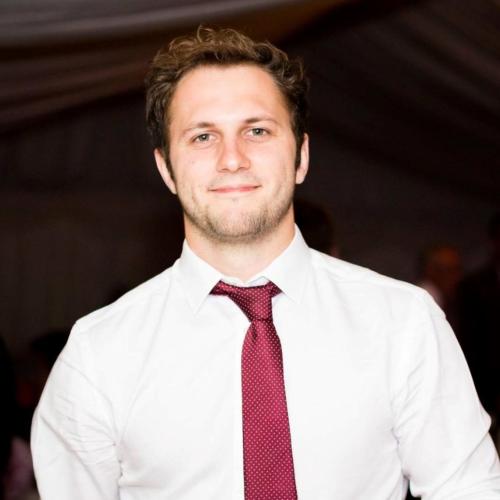 Biography
I matriculated as a medical student at LMH in 2012 under the supervision of Prof Anant Parekh, Dr Jo Begbie, and Prof Garry Brown. I developed a particular interest in physiology and neuroscience during this time and subsequently chose to defer my progression to the Oxford clinical school of medicine in order to pursue a DPhil in Ion Channels and Disease funded by the Wellcome OXION programme, during which I focused my research on peripheral nerve injury and neuropathic pain. I completed my DPhil in 2019 and returned to clinical training, which I am due to complete in July 2022. After this I will begin work as a Foundation Doctor in the NHS.
Research interests
My main research interest is to better understand the aetiology and management of chronic, neuropathic pain - often occurring after peripheral nerve injury. During my pre-clinical studies at LMH, I undertook a Final Honours School research project with Prof David Bennett and Prof John Dawes investigating the novel discovery of neuronal autoantibodies mediating chronic pain. My research project was ranked 1st place and I was awarded the Martin Wronker Research Project Prize in 2015. I remained working under Prof Bennett's supervision during my DPhil, and spent time working with collaborators Prof Margarita Calvo (Santiago, Chile), Prof Anthony Dickenson (UCL) and Prof Andrew Todd (University of Glasgow). I investigated the contribution of potassium channel Kv1.6 to acute and chronic pain, revealing a potential target for future therapies.

After the onset of the Covid-19 pandemic, I became involved in a large-scale project screening staff members across the Oxford University Hospitals Trust for SARS-CoV-2 infection and antibody responses. We were able to identify at-risk populations of healthcare workers and observe antibody response dynamics following infection and vaccination. We also conducted studies to validate rapid antigen testing, and I was involved in a screening project to monitor SARS-CoV-2 transmission in schools (SKIDs) led by Public Health England.
Teaching
Since 2017 I have tutored LMH 2nd year medical students in Neuroscience, and I became a Non-Stipendiary Lecturer in 2020 with responsibility for directing the Neuroscience teaching in College. I also have experience supervising undergraduate research projects.
Publications
Peck LJ et al. (2021)
Studying Independent Kcna6 Knock-out Mice Reveals Toxicity of Exogenous LacZ to Central Nociceptor Terminals and Differential Effects of Kv1.6 on Acute and Neuropathic Pain Sensation. Journal of Neuroscience. 2021 Nov 3;41(44):9141-9162. doi: https://doi.org/10.1523/jneurosci.0187-21.2021 PMID: 34544832.

Lumley SF et al. (2021)
An observational cohort study on the incidence of SARS-CoV-2 infection and B.1.1.7 variant infection in healthcare workers by antibody and vaccination status. Clin Infect Dis. 2021 Jul 3:ciab608. https://doi.org/10.1093/cid/ciab608. Epub ahead of print. PMID: 34216472.

Peto T; UK COVID-19 Lateral Flow Oversight Team. (2021)
COVID-19: Rapid antigen detection for SARS-CoV-2 by lateral flow assay: A national systematic evaluation of sensitivity and specificity for mass-testing. EClinicalMedicine. 2021 Jun;36:100924. https://doi.org/10.1016/j.eclinm.2021.100924. Epub 2021 May 30. PMID: 34101770; PMCID: PMC8164528.

Lumley SF et al. (2021).
The duration, dynamics and determinants of SARS-CoV-2 antibody responses in individual healthcare workers. Journal of Clininical Infectious Diseases. 2021 Jan 6:ciab004. https://doi.org/10.1093/cid/ciab004 PMID: 33400782.

Lumley SF et al. (2020).
Antibody Status and Incidence of SARS-CoV-2 Infection in Health Care Workers. New England Journal of Medicine. 2020 Dec 23:NEJMoa2034545. https://doi.org/10.1056/NEJMoa2034545 PMID: 33369366; PMCID: PMC7781098.

Eyre, DW, Lumley, SF et al. (2020).
Differential occupational risks to healthcare workers from SARS-CoV-2 observed during a prospective observational study. Elife, Aug 21;9:e60675. https://doi.org/10.7554/eLife.60675 PMID: 32820721; PMCID: PMC7486122.

McDermott, LA, Weir, GA et al. (2019).
Defining the Functional Role of Nav1.7 in Human Nociception. Neuron, 101 (5), 905-919.e8.
https://doi.org/10.1016/j.neuron.2019.01.047

Dawes, JM et al. (2018).
Immune or Genetic-Mediated Disruption of CASPR2 Causes Pain Hypersensitivity Due to Enhanced Primary Afferent Excitability. Neuron, 97 (4), 806-822.
https://doi.org.10.1016/j.neuron.2018.01.033