Biography
Before joining Lady Margaret Hall in September 2013 as a stipendiary lecturer in Classics, I taught Classics at Oriel College, Somerville College, St Hugh's College, Camden School for Girls, Oxford International College, the Ohio State University (USA) and the University of Fribourg (CH). I also teach Ancient Greek at the Department for Continuing Education and in the Development Learning and Teaching programme at the Humanities Division. I have been given a British Academy Rising Star Engagement Award (BARSEA) for 2016-17.
Research interests
I am particularly interested in Latin poetry and Roman late antiquity as well as reception and ancient religion. Current research projects include a guide to the Latin poetry of late antiquity and articles on genre in Greek and Latin poetry of the period as well as on literary unity in late Latin poetry.
Teaching
Over the course of my career, I have taught mainly Latin literature (alongside advanced Latin language classes), Ancient Greek language (alongside a few Greek literature and culture courses) and some seminars on learning and teaching in higher education.
At Oxford, I have taught most Mods papers (Virgil, Aeneid; Texts and Contexts; Latin Unseens; Latin prose comp; Homer, Iliad; Greek Unseens; the literary aspects of Thucydides and the West and of Tacitus and Tiberius; Greek language [Russell]; Latin language [Russell]) as well as a range of Greats papers (Latin Core; Ovid; Greek Core; Early Greek Hexameter Poetry) and of those relevant to the joint degrees CE and CML (Latin authors; Epic link paper; Greek authors; Tragedy link paper).
Courses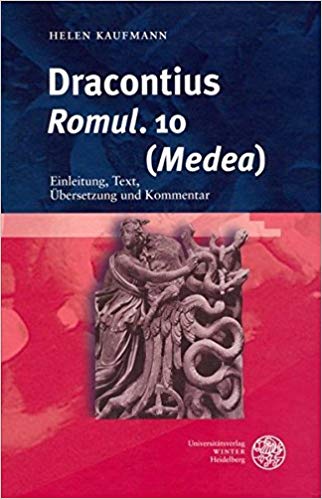 Selected publications
Dracontius: Romul. 10 (Medea). Einleitung, Text, Übersetzung und Kommentar (Heidelberg, 2006).
'Decolonizing the postcolonial colonizers: Helen in Derek Walcott's Omeros', in Ch. Martindale & R. Thomas (eds.), Classics and the Uses of Reception (Malden, 2006) 192-203.
'Missing Hierarchy. The gods in Dracontius' Medea (Romul. 10)', Archivum Bobiense 27/28 (2005/2006) 79-101.
'Virgil's underworld in the mind of Roman late antiquity', Latomus 69 (2010) 150-160.
'Papinius noster: Statius in Roman late antiquity', in W. J. Dominik, C. E. Newlands and K. Gervis (eds.), Brill's Companion on Statius (Leiden, 2015) 481-496.
'Viles vates mit literarischen Ansprüchen: Das Selbstverständnis der römischen Autoren im vandalischen Nordafrika', in A. Neumann-Hartmann and T. S. Schmidt (eds.), Munera Friburgensia. Festschrift zu Ehren von Margarethe Billerbeck (Bern, 2015) 229-245.
 'Intertextuality in late Latin poetry', in J. Elsner and J. Hernández Lobato (eds.), The Poetics of Late Latin Literature (Oxford, 2017) 149-175.
'Das Ende des mythologischen Epos in der Spätantike', in C. Schmitz, A. Jöne and J. Kortmann (eds.), Anfänge und Enden: Narrative Potentiale des antiken und nachantiken Epos (Heidelberg, 2017) 283–302.
'Images of love in Dracontius', in J. Martos and R. Moreno Soldevila (eds.), La tradición erotica en la poesía latina tardía (Nordhausen, 2017) 143–159.
'Imperial and late Latin poetry in North Africa', in R. B. Hitchner (ed.), A Companion to North Africa in Antiquity (Chichester, Malden) (forthcoming).
'Dracontius im Kontext der nordafrikanischen Dichtung der Spätantike', in S. Freund and K. Pohl (eds.), Reddere urbi litteras: Wandel und Bewahrung in den Dichtungen des Dracontius (forthcoming).
'Dracontius', in Oxford Classical Dictionary online (classics.oxfordre.com) (forthcoming).