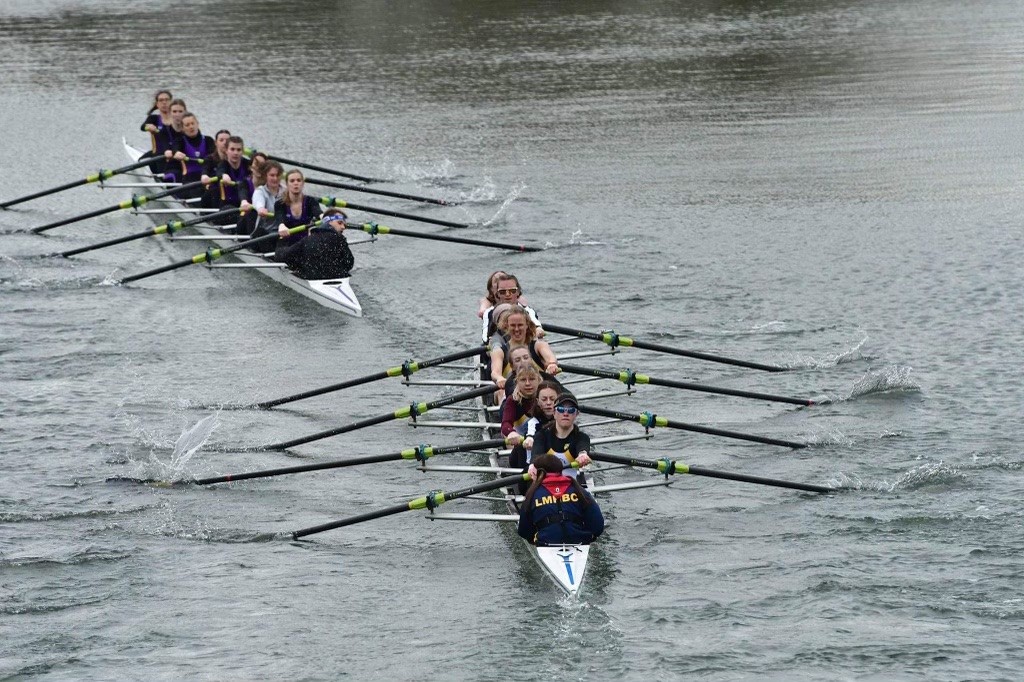 LMH Boat Club has had an exciting Hilary Term this year, with boat club members and race entries at their highest since 2019. The term began with the hope of a training week, however the weather threw a spanner in the works and unfortunately there was a red flag until the end of January…this didn't deter our athletes however, who became dedicated to their land training and even attempted journeys out of Oxford to Eton Dorney to get as much water practice in as possible. Finally, by Third Week, regular outings commenced and we got back into the swing of things. Both W1 and M1 competed at the Bedford Eights and Fours Head on 12th February, providing vital racing experience in preparation for Bumps.
Torpids came earlier, in Sixth Week, this year with LMHBC entering five crews to race! Our M2 missed out on qualifying during rowing on, as did our W3, albeit narrowly, as they were the fastest non-qualifying crew.
M1 fought hard on the Wednesday to bump Queens, and kept up the streak on Thursday by bumping Trinity, however on Friday they were chasing Jesus who stuck it out right to the finish line, although it was extremely tight. Nevertheless, the boys were not ready to give up and hunted them down on Saturday, securing an aggressive bump that resulted in their bow ball buried on the underside of our boat - no chance of appealing that! Overall, they achieved +3 in the bumps charts and are now sitting at 3rd in Division II.
W2 also had a successful Torpids campaign in Division V. On Wednesday, they bumped Pembroke who went on to bump Mansfield, thus giving them an over bump! On Thursday, they successfully bumped Merton but were also bumped by Pembroke. Friday gave the gift of another bump, this time on Christ Church, and finally on Saturday, W2 was chasing Pembroke (again), and were so close to bumping when a klaxon went off! A frustrating finish but overall the crew moved up an admirable 3 places and are happy with the result.
Finally, W1 also performed superbly this Torpids. Despite being bumped by GTC on Wednesday, rowing over on Thursday and being bumped by Lincoln on Friday they chased the bump on Hertford and started Saturday chasing New College. They managed to bump New College early on in the race, making them the sandwich boat at the bottom of Division I. They then impressively secured the bump on Jesus and so are now sitting happily in Division I, their highest position since 2004! A massive congratulations to the crew for achieving this result. 
LMHBC ended the week with a Torpids dinner, complete with speeches from the Captains and President who will be giving up their roles this term as hustings moves to the end of Hilary. The term was not yet over for the boat club however, as the women competed in the Women's Eights Head of the River Race where they came 232rd out of 305 crews, achieving a time of 4:44.08. We also entered a Trinity / LMH composite crew that came 228th with a time of 4:37.64, winning their category! Out of Oxford races like these are new to many of our boat club members who started rowing in College, and allow for even more fun and improvement on the water after bumps have finished.
Within LMH, we also attended the Sports Formal where Hamish won Best Newcomer, Olly won Sportsperson of the Year, and Amy Sankey won Female Sportsperson of the Year – a big congratulations to all of them!
With Hilary Term now at a close, we thank you for your continued support of the Boat Club; as I'm sure you remember, rowing adds so much to our university lives and we could not continue this without you. I would also like to take this opportunity to remind you of the Summer Eights Alumni Dinner taking place on 27th May. If you have not yet signed up we would encourage you to do so as soon as possible via the link below. We hope to see you there!