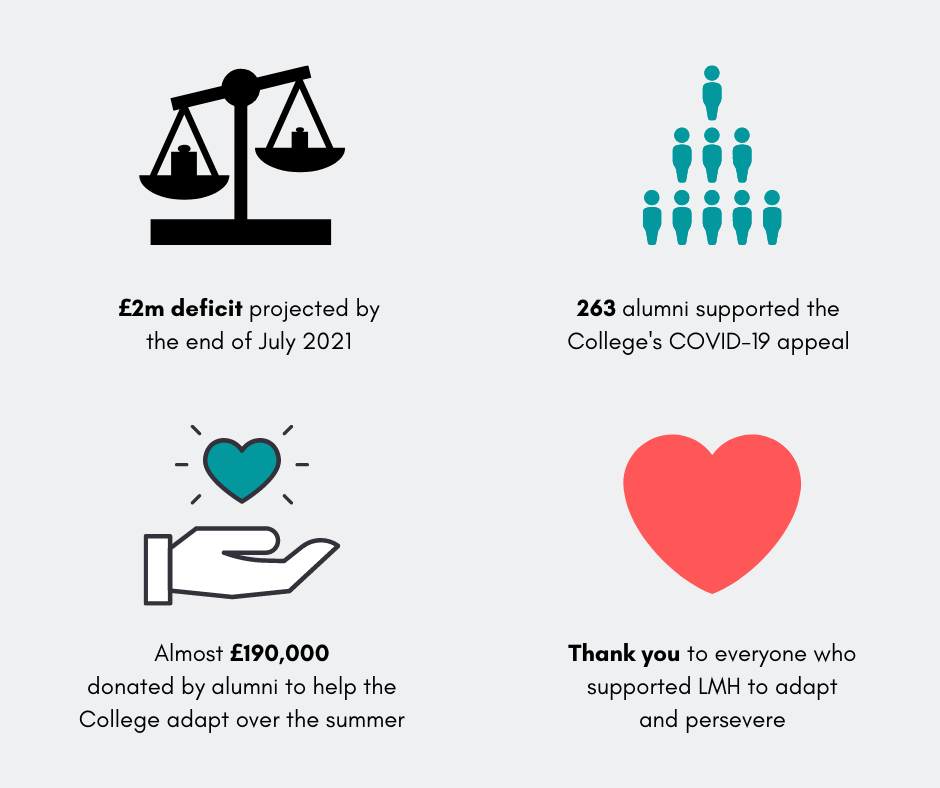 As all colleges do, LMH primarily relies on the income generated by our endowment to support our teaching, but our endowment is a tenth of some Colleges. Over recent years our growing conference business has helped to improve our financial standing, but we will generate next to nothing this year as a result of the Pandemic. Furthermore, costs have increased in some areas: the move to online learning and working has necessitated further investment in technology, as well as in new methods of teaching and academic support. The impact of quarantines and reduced social contact means students will require a robust provision of support for their wellbeing and welfare. Our central motivation through all of this is to continue delivering the highest standards of education to our students.
As a result of massive cost savings over the summer, alumni support, and active participation in the government's Job Retention Scheme, we fell just short of breaking even last academic year, with a deficit of £0.5m. In June we wrote to alumni forecasting that the College was facing a potential deficit of £4.8m by the end of July 2021 due to the disruption to our usual income streams. Although the return of the students to College, the generous commitment of support by alumni, and our work to cut costs has reduced this figure, we are still expecting a projected deficit of c£2m by the end of July 2021. LMH's Governing Body has decided to fund the remaining operating deficit through a combination of running down our free reserves and bank borrowing, rather than by using capital reserves held in our endowment. 
In the face of further uncertainty, alumni donations are more important to LMH than ever before. Your support will primarily be used to minimise the budget deficit we face this year, and to maintain normal operations. Unrestricted gifts in particular contribute to the bedrock of College life: the costs of running the tutorial system, the subsidised meals and accommodation we provide for students, virtual open days and prospectuses, emergency assistance grants for students in financial need, and much more.