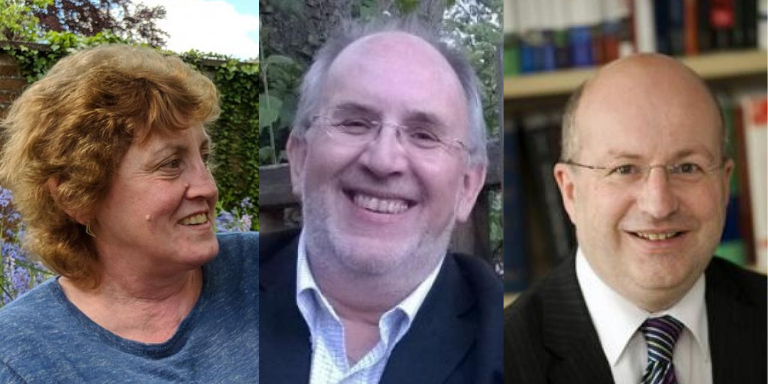 We are very sad to say farewell to three of our highly distinguished and long-standing Fellows who are retiring this month. Their contributions to LMH life have been inestimable, and their presence in LMH will be much missed.
Helen Barr, Professor of English Literature and Vice-Principal between 2013-2020, has left a tremendous legacy to the college. Helen's life and career at LMH has spanned some 42 years. She studied for the BA in English Literature at LMH, and was subsequently a graduate student and then a Lecturer at the college, her D.Phil. in Medieval Literature supervised by Professor Anne Hudson, her former undergraduate tutor and subsequent colleague. Following a period as a Lecturer at the University of Sussex, in 1995 Helen was appointed Tutorial Fellow (CUF) in English Literature at LMH, and in 2016 was appointed Professor of English. Helen has enjoyed a distinguished scholarly career in the field of late Medieval studies, and her wide teaching and research interests include areas such as modern poetry and Shakespearian studies. She has published numerous critically acclaimed articles, chapters, editions and books, including Signes and Sothe: Language in the Piers Plowman Tradition (1994), Socioliterary Practice in Late Medieval England (2001) and Transporting Chaucer (2014).
She has also contributed tirelessly and selflessly to the larger life of the college. Over the generations, Helen's generous and unwavering dedication to LMH students, to their academic progress and their welfare, has been exemplary. Former students' warm tributes to her unstinting care and tuition can be found in the next issue of the Brown Book. Helen is continuing her training as a therapist and counsellor.
Vincent Gillespie has been a Fellow of LMH since 2004, when he was appointed to the J.R.R. Tolkien Chair of English Literature. Prior to his arrival at LMH, Vincent was a long-standing Tutorial Fellow in English at St Anne's (1980-2004), following three years as a Lecturer at Reading University. Vincent's academic career as a scholar of medieval literature has been both prolific and highly distinguished. He has authored and co-edited a huge range of books, book chapters and articles, among them Looking in Holy Books (2004), A Short History of Medieval English Mysticism (2020), The Cambridge to Medieval Mysticism (co-edited with William Fanous, 2011) and, with former LMH tutor Anne Hudson, Probable Truth: Editing Medieval Texts from Britain in the Twenty-First Century (2014). He has a particular interest in religious and contemplative writing, especially the medieval mystic Julian of Norwich, and in the history of the book. He is editor of the Exeter Medieval Texts and Studies Series, and the executive secretary and then director of the Early English Text Society. In 2003 he was elected a Fellow of the Royal Historical Society and is also a Fellow of the Society of Antiquaries of London. In 2013 he was elected a Fellow of the British Academy. He is also a Fellow of the English Association.
Vincent's eclectic knowledge of not only literature but music, art, film, architecture, and all forms of culture, has inspired many conversations with colleagues and students over the years and his presence in college will be sorely missed. His ability to move seamlessly between Tarantino and Shakespeare, between medieval architecture and modern jazz, testifies to a mind endlessly curious in and delighted by intellectual and aesthetic inquiry. Vincent's deep knowledge of the wider structures of Oxford University, its history and governance, has proved invaluable to LMH.
Ewan McKendrick, Professor of English Private Law, has been a Fellow of LMH since 2000. Ewan has enjoyed an eminent and diverse career in Law and in university administration and governance. Prior to arriving at LMH in 2000, he was Professor of English Law at UCL, following a Fellowship at St Anne's. He was Linnells Lecturer in Law in the University of Oxford, 1991-1995; Lecturer in Law, London School of Economics and Political Science, 1988-1991; Lecturer in Law, University of Essex,1985-1988; Lecturer in Law, University of Central Lancashire, 1984-1985. He is a barrister in practice at 3 Verulam Buildings and was made an honorary QC in 20125.  Ewan was a Pro-Vice-Chancellor for Research between 2006-2008 and then Pro-Vice-Chancellor for Education and Academic Services and University Collection between 2008-2010 before becoming the Registrar of Oxford University between 2011 and 2018.
Not only has Ewan been a dedicated tutor to LMH law students over more than two decades, but he has also been an invaluable and reliable source of legal wisdom and advice to the college. His calm, objective and judicious handling of often difficult and controversial matters has helped shape college policy and procedures.