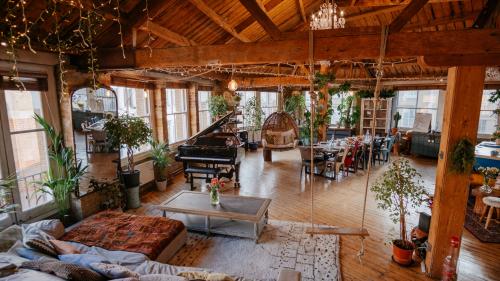 We are delighted to bring together renowned pianist Eve Egoyan, and LMH Tutor and Fellow Gascia Ouzounian, for a very special evening of music in the unique venue of the Shoreditch Treehouse, London , EC2A 3PB, very kindly provided by a LMH alumnus, Ross Elder (1992 Physics). 
The evening will present a rare opportunity to hear folk, sacred, and art music by Armenian composers, performed by Armenian Canadian pianist Eve Egoyan and violinist Gascia Ouzounian. Arno Babajanian's dazzling modernist sonata is presented alongside much-beloved works by Soviet Armenian composer Aram Khatchaturian, and sacred and folk music set by Komitas, an Armenian priest and ethnomusicologist who is widely considered the 'savior' of Armenian music. 
Eve Egoyan 
Eve Egoyan is an internationally acclaimed concert pianist based in Toronto, Canada. Eve's curiosity draws her to re-invent the piano for herself and her audiences, to curate exceptional programmes and to commission new works by like-spirited artists and composers. Her recordings have received accolades including "Best Classical", The Globe and Mail (1999), for her first solo CD, and one of "Ten Top" classical discs, The New Yorker magazine (2009), and "Top Classical Disc of the Year", The Globe and Mail (2011). Eve's recent releases include Thought and Desire, works by Linda Catlin Smith, and De Puro Amor / En Amor Duro, Maria de Alvear's epic diptych. Recent touring includes solo recitals at the following festivals: Transart, Italy; Klangspuren, Austria; the Huddersfield Festival, U.K.; the Canberra International Music Festival and the Modulus Festival, Vancouver, Canada. Eve's project, SOLO FOR DUET, is a deeply integrated virtuosic mix of sound, image, and unspoken narrative challenging traditional conceptions of piano and pianist is currently touring internationally. Eve was selected as one of the 25 greatest Canadian classical pianists of all time by the Canadian Broadcasting Corporation. She is an elected Associate of the Royal Academy of Music. Eve is thrilled to be exploring music by Armenian composers and their shared Armenian heritage with the multi-talented Gascia Ouzounian. 
Gascia Ouzounian
Gascia is associate professor of music at Oxford and fellow and tutor in music at LMH. She has performed internationally with diverse musicians and ensembles, including Yo-Yo Ma and the Silk Road Ensemble at Carnegie Hall, Bang on a Can at Mass MoCA, Sinfonia Toronto, Biomuse Trio, Hard Rain Soloist Ensemble, and many others. At Oxford she co-founded EMPRES, a group devoted to practice and research in electronic music. Eve Egoyan is one of Canada's foremost pianists specialising in contemporary music, selected as one of the 25 greatest Canadian classical pianists of all time by the CBC.
About the venue
Kindly note that in order to access the venue, guests need to climb three flights of stairs. Regrettably, there is no lift or disabled access. The venue is informal in style so there will be limited seating available on the evening.