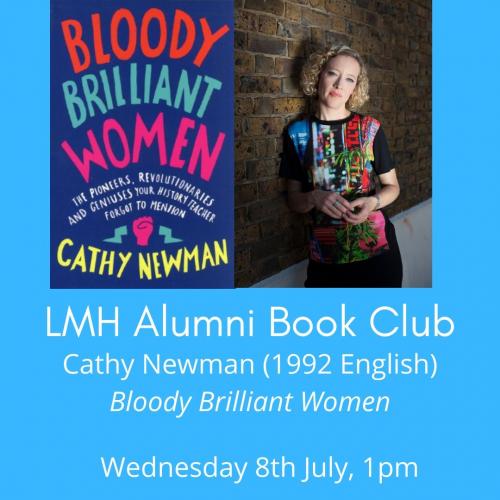 Over the course of the summer, LMH authors will join us for a virtual Q & A session as part of our new  Alumni Book Club.
Details of how to register for each event will be available nearer the time.
Cathy Newman (1992 English Language and Literature) will answer your questions on Bloody Brilliant Women.
About Cathy
Cathy Newman is the first female main presenter of Channel 4 News. She spent over a decade in Fleet Street, latterly with the Financial Times. Since joining Channel 4 News in 2006 she has broadcast a string of scoops, including allegations of violent abuse against the British barrister John Smyth, sexual harassment allegations against the Liberal Democrat peer Lord Rennard, and an investigation into a British sex offender, Simon Harris, which saw him jailed for 17 years.
She was also the only broadcast journalist to travel with Angelina Jolie and the foreign secretary William Hague to the Congo as part of a campaign against sexual violence.
Cathy's studio interviews are frequently news-making, and many have gone viral - watched by millions online - including combative encounters with the Canadian academic Jordan Peterson and the former motor-racing tycoon Max Mosley. The latter was nominated for a Royal Television Society Award in 2019, and made the front cover of Private Eye.
In April 2020 she was named as one of the launch presenters for the new Times Radio station, presenting the Friday drive time show.
She presents other Channel 4 programmes including the Alternative Election Night with Jeremy Paxman. She regularly presents Channel 4's Dispatches programmes and has appeared several times on Have I Got News For You and Christmas Celebrity Genius.
Her book - Bloody Brilliant Women: Pioneers, Revolutionaries & Geniuses Your History Teacher Forgot to Mention - about female pioneers in 20th century Britain, was published by HarperCollins in Autumn 2018. Cathy was described by the Observer as a "brilliant writer". Author Michael Morpurgo said: "This book is so important. No library, no school or university, should be without a copy."
Cathy also writes about politics for the Telegraph. She was a judge on the Baileys Women's Prize for Fiction 2015 and the Red Magazine Women of the Year Award 2016. She is a patron of Kids, a charity for disabled children, and an ambassador for both Young Minds and Music For All.
In her spare time, Cathy is a keen amateur violinist, and plays in The Statutory Instruments quartet with members of parliament and Westminster staff.
Prior to arriving at Channel 4 News, Cathy worked as chief political correspondent for the Financial Times for three years. Before that she covered politics and media for the FT. Cathy joined the FT from the Independent where she was media business correspondent.
In 2000, Cathy won the prestigious Laurence Stern Fellowship, spending four months following in the footsteps of Woodward and Bernstein at the Washington Post.
She is married with two young children.
About Bloody Brilliant Women
A fresh, opinionated history of all the brilliant women you should have learned about in school but didn't.
For hundreds of years we have heard about the great men of history, but what about herstory?
In this freewheeling history of modern Britain, Cathy Newman writes about the pioneering women who defied the odds to make careers for themselves and alter the course of modern history; women who achieved what they achieved while dismantling hostile, entrenched views about their place in society. Their role in transforming Britain is fundamental, far greater than has generally been acknowledged, and not just in the arts or education but in fields like medicine, politics, law, engineering and the military.
While a few of the women in this book are now household names, many have faded into oblivion, their personal and collective achievements mere footnotes in history. We know of Emmeline Pankhurst, Vera Brittain, Marie Stopes and Beatrice Webb. But who remembers engineer and motorbike racer Beatrice Shilling, whose ingenious device for the Spitfires' Rolls-Royce Merlin fixed an often-fatal flaw, allowing the RAF's planes to beat the German in the Battle of Britain? Or Dorothy Lawrence, the journalist who achieved her ambition to become a WW1 correspondent by pretending to be a man? And developmental biologist Anne McLaren, whose work in genetics paved the way for in vitro fertilisation?
Blending meticulous research with information gleaned from memoirs, diaries, letters, novels and other secondary sources, Bloody Brilliant Womenuses the stories of some extraordinary lives to tell the tale of 20th and 21st century Britain. It is a history for women and men. A history for our times.
[Photo credit Rachel Adams @functioningphotographer]