Imogen, 3rd year Music student at LMH
I was born and raised in Reading and was always surrounded by a pretty diverse set of races, classes, faiths and so on during my childhood. I always knew I was slightly different racially and suffered my fair share of "Where are you REALLY from?", but it only really became a proper issue for me when I went to secondary school. I encountered a lot of hostility towards Pakistani people from white students, which caused me to lie about my ethnicity until sixth form to avoid being outcast (I can't even remember what the lie was I told now it was so elaborate). I have had people ask some very bizarre questions ('why does your skin change colour in photos being my favourite') over the years. Overall, these don't bother me much as they're not usually meant to be hostile, but they do contribute to a sense of confusion about my race. 
LMH is a very accepting community. Although I have continued to experience questioning and misunderstanding about being mixed, no one has been hostile about it and most questions are asked because people want to learn more about a racial category they might not have come across before. It means a lot to be part of a college that is fighting an uphill struggle for more diversity and access at Oxford, especially with programmes like the Foundation Year making us known for those values! I hope that in the future, being of mixed heritage will become a category with which everyone is familiar and comfortable, and will be recognised for its wide range of possibilities as an ethnic category – which can only be a positive! 
 
Nathan, Foundation Year Biology student at LMH
I identify as mixed race: half Indian and half English. My father was born in Pakistan, despite being the son of two white English parents and my mother was born in Zambia to two Indian parents. Whilst I don't regard my parents' birthplaces as part of my identity, I still do have an affinity and attraction towards them. I LOVE LMH because - although it still remains predominantly white - in comparison to other colleges, it is relatively ethnically diverse. Even though, I've not yet met anyone (at least in first year) with a similar heritage to me in college, i certainly do feel included in the community, and I relish in the opportunity to learn about the many diverse backgrounds I encounter at Oxford. LMH, being particularly diverse, allows me to connect with people that have more interesting stories, due to their worldly views, and differing cultural backgrounds. My ideal future, is to create wealth to be able to help and support, not only the people I love, but also to help humans and animals through business and charity. I also would love to have an impact in the world, particularly with regards to helping people reduce their carbon footprint. A dream that perhaps could be realised by becoming an influencer.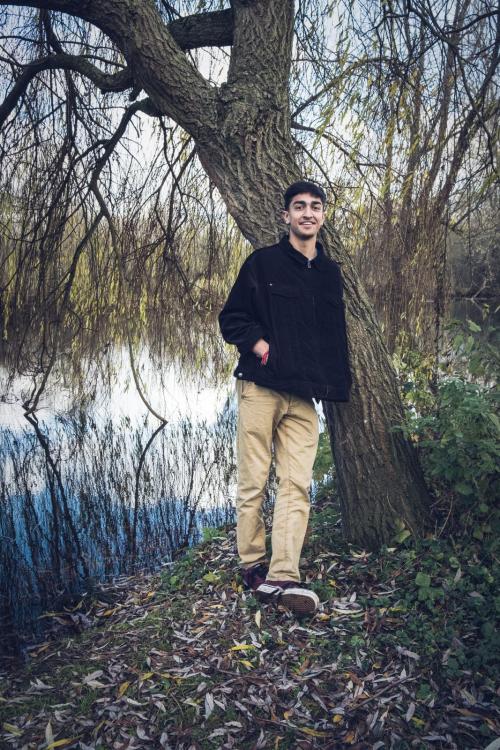 Maah-Noor, 2nd year English student at LMH
I'm very much Pakistani, from both my mother's and fathers side. This post is about the inner cultural and ancestral differences that sometimes give you a sense of being 'other', but whilst still being unified under the banner of being ethnically Pakistani. My father's parents migrated from India to Karachi, Pakistan in 1947, then moved to Abbottabad. They are known as 'Urdu – Speaking' or 'Muhajir'. My maternal grandfather was a Pashtun navy officer who travelled the world before deciding to come to Oxford – where my mother was then born and raised. 
Although I don't 'explicitly' consider myself 'mixed-heritage', I will say that I am of 'mixed cultures' as the once prominent heritages I once would have belonged to – parts of India and Iran have now diluted beautifully to become a part of Pakistan for me. That's the beauty of being Pakistani, so many cultures and colours are thrown together due to the Migration and different provinces, all a world of their own - yet the outcome is that we are all unitedly Pakistani. As for me, mixed doesn't necessarily mean geographically different but also the internal differences, that once combined through 'intercultural mixes' may cause some challenges - as individual cultures are made up of so many traditions and you do try and navigate where you fit – especially when it comes to different languages being spoken in the families etc. One side of the family may say your Urdu accent is very 'strong', that comes from being part 'Urdu-speaking' and the other side may say its 'Pathanon wali urdu' (the accent of Pathans) – as there are still some words I struggle to pronounce correctly – and that comes from being part 'Pashtun'– but it's great, you learn to strike a balance and understand that you've been blessed with many new things within culture to experiment and be a part of.  LMH for me, is a happy place. Yes, I do stick out but I'm going to quote [British-Pakistani actor and director] Riz Ahmed here and say 'where you stick out, is where you need to stick it out' I'm proud to call LMH my college it's hands down the most inclusive and progressive one here.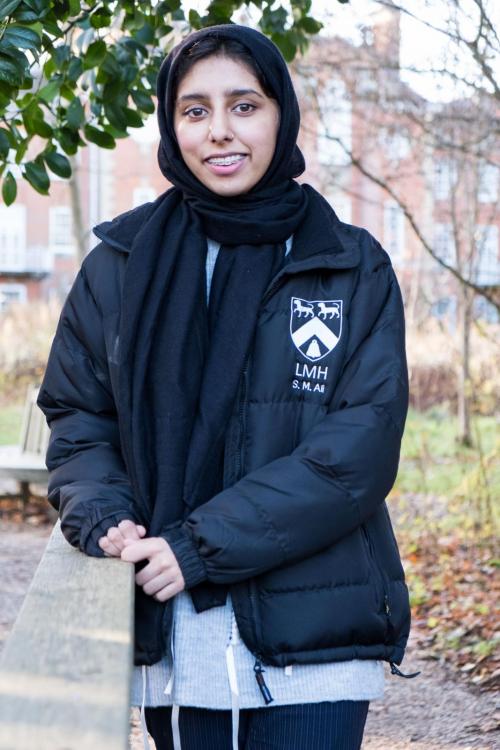 Hani, 1st year Music Student at LMH
It's not that often that you come across someone Sudanese in the UK, so understandably being half Sudanese and half English has resulted in some confusion over my race/ ethnicity. Some people ask and some just assume (often wrongly), but fortunately I've only very rarely been offended by a comment regarding my race. There have been some interesting ones though, like "can you tan?" and "where's Sudanese?!". I know that unfortunately my sister has been on the receiving end of some harsher comments, so maybe I've just been lucky (or maybe my slightly poor hearing has more advantages than I thought). Somewhat unsurprisingly, there have been a few instances in which I've felt like the odd one out, both throughout secondary school and at Oxford. It's difficult to pin one reason to this – maybe it's down to a lack of diversity and access programmes, or maybe it's just pure coincidence. Either way, I haven't felt overly uncomfortable and it's not been much of an issue. I'm glad to be able to feel confident that during my time at LMH I won't encounter any more problems than I have done in the past, but I hope to raise awareness for those with mixed heritage so that it's not something so many people still seem confused over.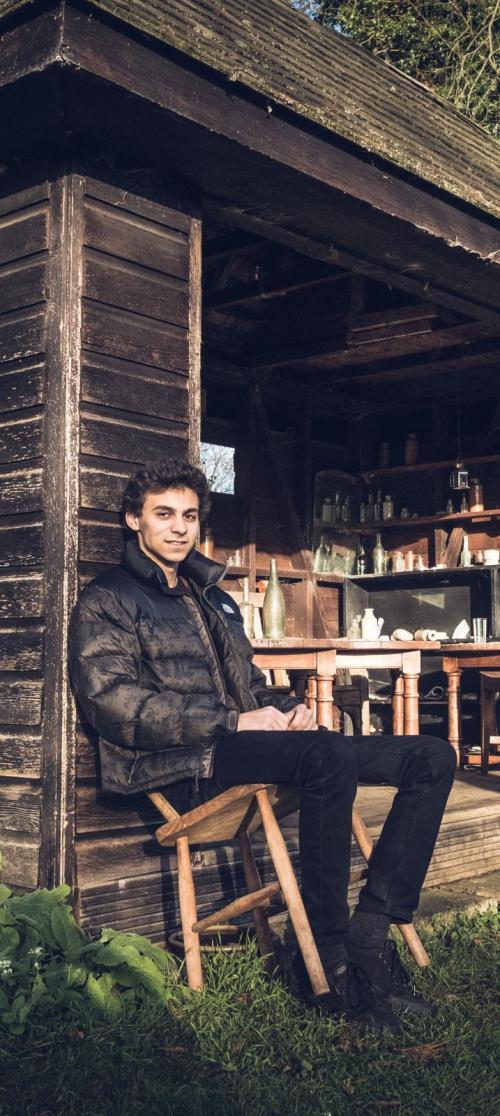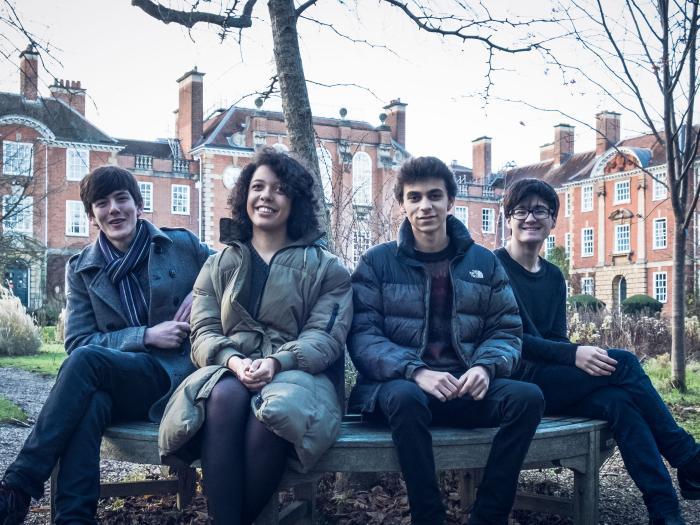 Eireann, MSc Education (Higher Education) student at LMH
Growing up mixed race/ mixed heritage is quite like being a chameleon. The space I'm in and the way I look can determine the way other perceives me and how much privilege I hold. This has really shaped my understanding of race and pushed me to be more empathetic and understanding of the variety of experiences people have of oppression and privilege. Additionally, being mixed has given me the privilege of being raised with a range of cultural influences (but to be honest, I don't think this is unique to being mixed heritage anymore). I'm really happy to be at LMH. My personal experience meant I was always interested in the study of access and widening participation, so when I applied to study for my MSc in Education, LMH felt like the perfect college choice. Their commitment to undergraduate access is embedded in social justice and I hope that one day they'll lead the way in graduate access as well.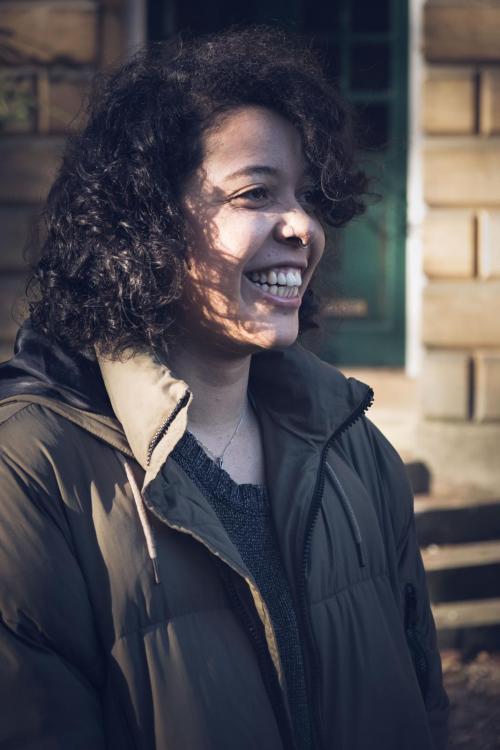 Matthew, 3rd year Medic at LMH
You'd be surprised at how long it took someone with a French(ish) name and English, Burmese and Chinese grandparents to realise they were mixed. That I was a bit different only sank in during a lecture, when I learnt just 2.2% of the UK was mixed in 2011. My lack of awareness makes sense though: my heritage isn't obvious, so aside from the occasional (normally mixed) person tentatively asking, I don't normally have cause to think about it. 
My grandparents' only shared language was English, so my family wasn't raised speaking Cantonese, Burmese or Malay, and I'm not much of a cook, so I haven't learned many of their recipes. That leaves my experience of mixed-ness revolving around others, most of whom have died: the amazing food they cooked, New Year's traditions and the unusual way they thought and spoke. 
LMH, to me, is friendly, unpretentious, with enough nature to take a break from the Oxford bubble. LMH is worth sticking up for when people joke about how 'far north' it is. It's not perfect: a few of the architects had odd tastes, and it can be a bit cliquey sometimes. But ultimately, LMH is associated with people I really care about – especially the people who loved me as a confused fresher and helped me become a slightly-less-confused 3rd year who's hopefully better equipped to show that same love I was shown.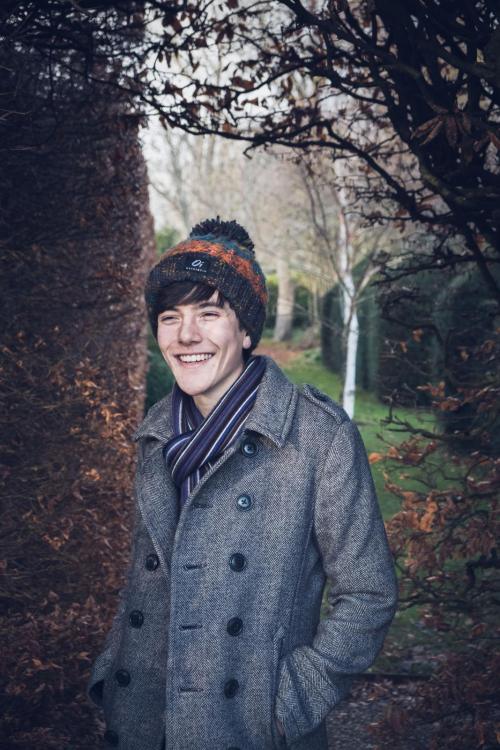 Ruby, 2nd year Law student at LMH
The ethnicity box that I would tick for government forms or applications would be "Mixed: white British and Black Caribbean". My mum is white British and my dad is black British. His parents were born and grew up in Jamaica and they emigrated to Britain in the 50s as part of the Windrush generation. To an extent, I have lost a connection with my non-white heritage because my Jamaican grandparents had their identity maliciously challenged upon arrival. Negative connotations surrounded their blackness, and it became an obstacle to normal things such as buying a home. 
Therefore, their ethnic and cultural differences weren't always a source of positivity or pride and were not openly celebrated. The main thing which does remind me of my Jamaican heritage is the food: curried goat, rice and peas, plantain and yam. Jerk seasoning always finds its way to our family roast dinners, which have become a perfect blend of British and Jamaican culture.
For most of my life, I had been one brown face in a sea of white ones. I grew up with teachers and other children asking me if my mum was really my mum because she was white and I was not. I've also been made to feel like an outsider due to people picking up on my brown face and asking me the infamous yet personal question of "Where are you from". When I tell them I'm from Cheltenham, there is always a pause, and then a follow-up question of "but where are you really/originally from", as if brown people can't be born in Britain.
I remember the first time I came across LMH  as I live in Gloucestershire which is one of LMH's target areas. LMH had a stall at my school's university fair. I talked to my parents about visiting the Oxford stall and remember saying "I bet it will be an old professor who isn't interested in talking to me, and won't think that I am capable enough to apply". I kept saying that "Oxford isn't the place for me". However, I approached the stall and found Murrium. To see a young woman of colour with a hijab was a very pleasant surprise. She was so lovely and down-to-earth and it was that moment which first put LMH on the map for me; when Oxford became more of a reality.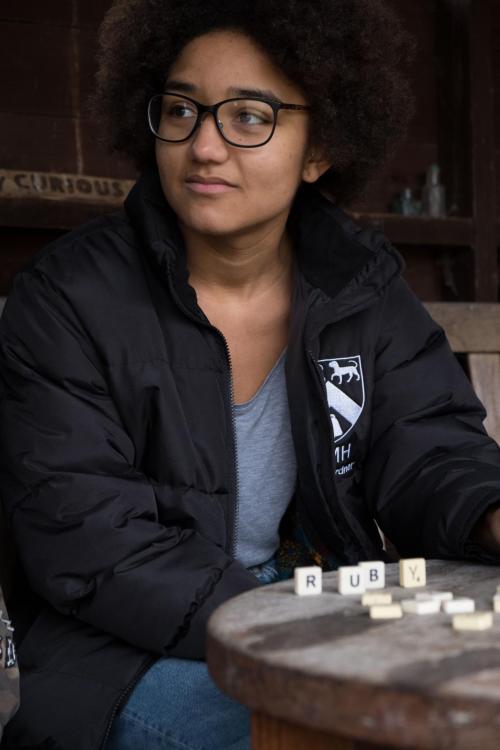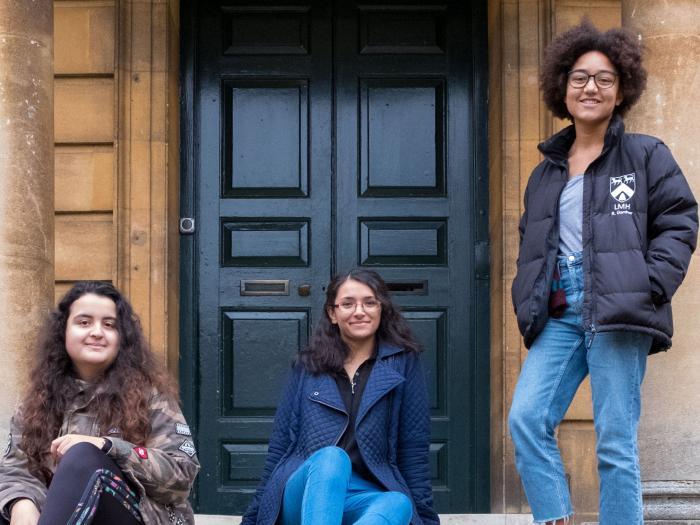 Fintan, 3rd year Classicist at LMH
I'm mixed, Asian and White. I would say that I pass as white. When I'm with my mum in Hong Kong and I try to go into Chinese spaces, I am not accepted - even though my language proficiency is really good. People in the UK would assume that I'm white, but once I tell them about my heritage, they would joke about it and use stereotypes against me. So, generally, I don't tell people, and it's alright. Yet, I feel worried about losing a connection with Hong Kong; my Cantonese has gotten a lot worse, and increasingly I feel I'm losing that part of my identity. So, I do get a bit angsty about that.
I never really engaged with my race much until this year. There wasn't much going on for those of mixed heritage. I'm very happy to have discovered a part of myself that I hadn't really tapped into, and channel it into doing something positive. Going to protests and attempting to tackle race issues has given me an impetus to engage with my identity, this year.
I'm thinking of going into journalism. Hopefully, I'll still be involved in activism—alongside that—as it's a good community. I enjoy fighting for causes that mean something, instead of accepting the status quo.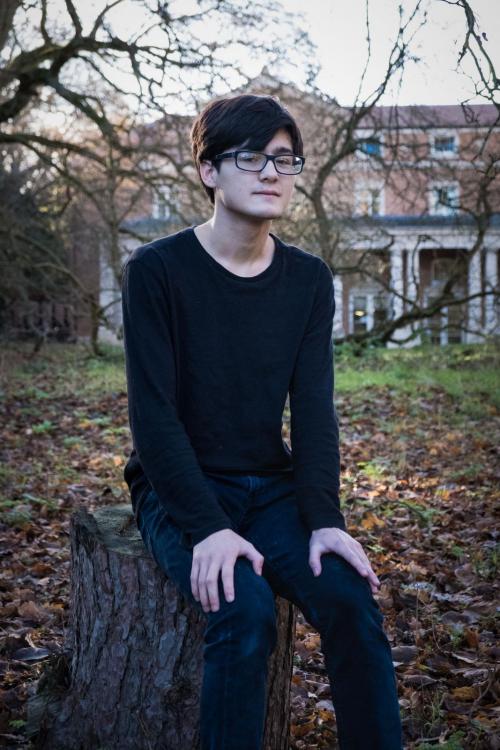 Mary, 2nd year Law (with German Law) student at LMH
The box I tick on the fun, fun government forms is 'Mixed-White and Asian'. My Mum is White British, and my dad is from Goa – he grew up in Uganda, and then he and his family left as refugees. He came to the UK as a 9-year old. 
For a long time, I didn't realise that I was mixed: I just had to choose between being British and being Indian. I also spent more time with my mum than my dad, so my image of myself was quite white. This was weird, as I'm very visibly not white. I only really realised this when I was messing around with a friend: I held her hand, and she noted the colour difference between us, saying: "Oh! This looks like one of those anti-racism posts on Facebook". After that I realised "Yikes, I'm brown". 
I don't really fit into Indian spaces, especially as my family is quite westernised, after living in Uganda and then England, and because we are Catholic. I'm also not white though, and there have been times when people asked, "Where are you from?", and then, "But where are you REALLY from?" when I said 'Reading'. Coming to Oxford has been great for exploring my identity. There was a time when I would never have worn a sari, or Indian jewellery, as I thought it was not part of my heritage. But now I do, because it IS a part of my heritage. I'm not completely Indian, but I'm not completely white. It makes no sense that the default for me not being Indian is to be white, or vice versa. I can be neither; I can be both. "LMH feels more 'me', as opposed to the central colleges I visited during open days. This isn't because of anything to do with being Mixed Heritage, as we are rather invisible, but in terms of feeling more like a diverse space; to me LMH feels more like that – not entirely what it should or could be – but diverse nevertheless. I would love to become an academic, either in the UK or Germany, depending on how my year abroad goes. Teaching others while doing my own research is the dream.