A new project reframes College history
Anyone visiting LMH soon will see another modest transformation to the College - this time to the Deneke Corridor, the main route through the heart of LMH.
We have just finished hanging a gallery of some of the most remarkable figures to have studied at LMH over nearly 140 years. They include scientists, philanthropists, artists, poets, historians, spies, lawyers, musicians, actors, medics, philosophers, journalists, public servants, prime ministers, explorers, suffragists, preachers, social reformers and much more.
The pictures of the 40-odd alumni will complement the previous collection of pictures - mostly tutors and staff - now handsomely re-hung by College Chaplain, Allan Doig, in the approaches to Talbot Hall.
From these new portraits I think you get a wonderful sense of a great variety of former students who were partly shaped by their time within these walls, and who went on to lead lives of considerable distinction. 
Many of them are, to some extent, familiar to LMH-ers. But others are new to virtually everyone. Just beyond the Committee Room, for instance, you'll find Millicent Bagot, who got a fourth at LMH in Classical Mods in 1927, before becoming one of MI5's top mole-catchers. She may even have been the model for John le Carré's enigmatic agent, Connie Sachs. We have managed to unearth the only known picture of her.
There are some interesting juxtapositions. We have used some fascinating pages from the notebooks of Tim Hetherington, the war photographer who lost his life in Libya in 2011. These are exhibited next to pictures of Palmyra, taken in around 1900 by Gertrude Bell.  Both Hetherington and Bell were restless individuals, drawn to the same region a hundred years apart, and it is good to see them bracketed together outside the Deneke Common Room.
The intention is to rotate a few portraits each year. So, if you think there's a glaring omission or if you have favourite alumni who you'd like to see on the walls in future, do shout.
There are a number of Oxford and Cambridge colleges who, embarrassed by the monopoly of portraits of men, have recently been hurriedly commissioning portraits or photographs of women. This has, to put it mildly, not been a problem for us. 
A note on the behind-the-scenes work on this project. It has been assembled by Jessica Freeman Attwood, a very talented young gallery assistant, under the supervision of an alumna, Eleanor Nairne, herself an experienced curator at the Barbican who has recently staged the much-acclaimed Basquiat exhibition.
Jessica worked extremely hard to source the most arresting and interesting photograph of each subject. In the case of all living alumni, she has sought their approval.  The photographers include Jane Bown, Mark Gerson, Angus McBean, Steve Pyke, Sarah Lee and Cecil Beaton.  Others of the images have been sourced from the LMH Archives.
(Many thanks to Archivist Oliver Mahony and Development Director Tim Pottle for all their help on research and for their liaison with alumni. Thanks also to alumni for suggestions on whom to include. And to the Maintenance Team – especially our electrician, David Pendry -  who have done such a brilliant job of transforming the walls and the lighting.)
We are intending to "open" the project on the night of the Founders and Benefactors dinner later this month.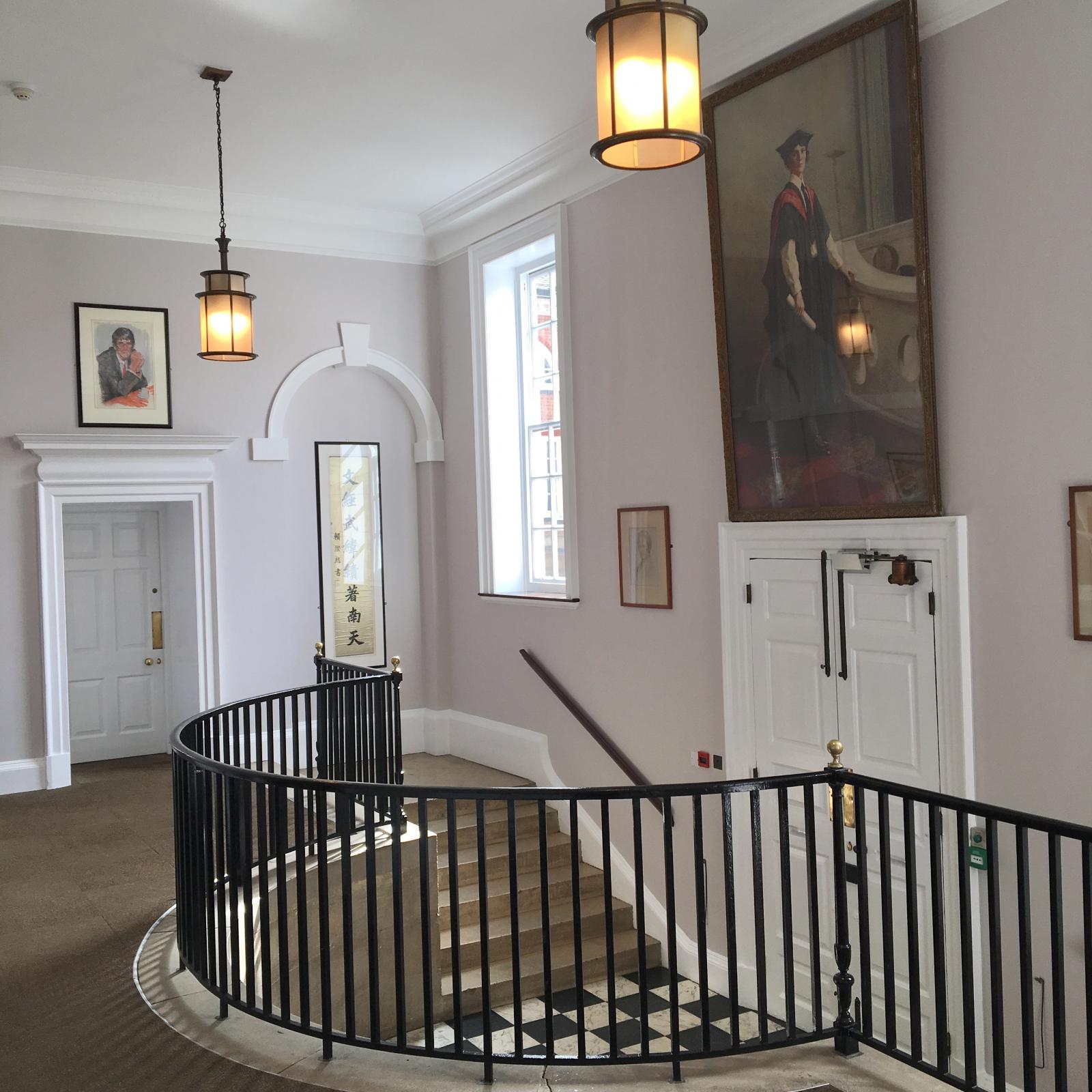 The process of re-hanging the "internal" portraits around Talbot Hall has not only improved the look of that area, but has also enabled a fresh appraisal of each picture. In particular, Allan Doig's idea of hanging the huge and impressive picture of an undergraduate in full 1926 academic regalia above the door opposite Talbot Hall, was an inspired one. In the process of moving it we discovered the subject to be Dorothy Emmet, who died, aged 95, in 2000 and who came up to LMH in 1923 to study Classics and Philosophy. Her Guardian obituary summarised her life as "Philosopher who taught Plato to unemployed Welsh miners and helped to create Manchester University's Philosophy department." One of our present Philosophy tutors, Dominic Scott, remembers having met her late in her life.
All in all, we are resurfacing and re-presenting the story of a remarkable Oxford college and of the people who went before us.
I hope alumni, tutors, staff and students all enjoy the new corridor and the story the pictures tell.